He is the MMAViking Nordic Showman of the Year. He might be the prettiest boy in fighting business. And he is going to make waves in 2013. Meet Makwan Amirkhani.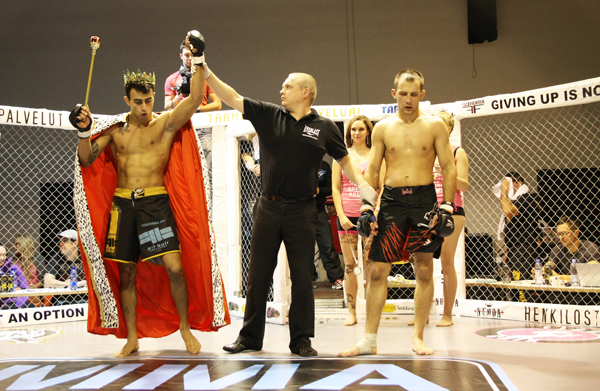 This has to be some kind of a new breed of MMA fighters, something we are not used to. Sweden has Akira Corassani and Reza Madadi but Finland is still trying to get a grip on Makwan Amirkhani.
He might not have impressive international wins yet – although he has impressed the crowds everywhere he has gone – but probably everyone in the Finnish MMA scene knows the newcomer.
You only have one chance to make a lasting first impression, and Amirkhani has made the most out of that. He has walked to the cage with half a dozen dance girls or with a crown on his shiny black hair. And he has of course kissed the ring girl after a quick submission win.
Before his fights, the Turku-based fighter likes to run his mouth. But he lives up to his big words because Amirkhani is not only a showman. At 24 he has been wrestling for almost two decades. Born in Iran, he came to Finland as a refugee in the early 1990's and started wrestling at the age of five.
"We came to Finland in 1993. Soon after we moved to Vaasa. There wasn't too many foreigners in there at the time so my childhood was a bit rough. I got bullied at school and stuff. We really had to earn our place. But I started wrestling almost right away, my dad forced me to do that. We barely knew any words of Finnish when me and my brothers first got to the gym."
It is probably his different cultural background and hard years of wrestling that have moulded Amirkhani's self-confidence in a very non-Finnish way. But wrestling has taken him a long way as an athlete as well: it is Makwan's standout ground game that has helped to built up a 7-1 record as a mixed martial artist.
He knows there is lot of work to do with striking before his dreams of international MMA career will fulfill. That's why he has set a timetable: Amirkhani calculates it will take three or four years to get where he wants to be; worthy of an UFC contract that is.
"I have decided that I will be in the UFC when I'm 27 or 28. I really don't need much more than better boxing skills then I will go far. After I get more experience and some good performances in tough bouts there will be interest outside Finland too" Amirkhani ponders.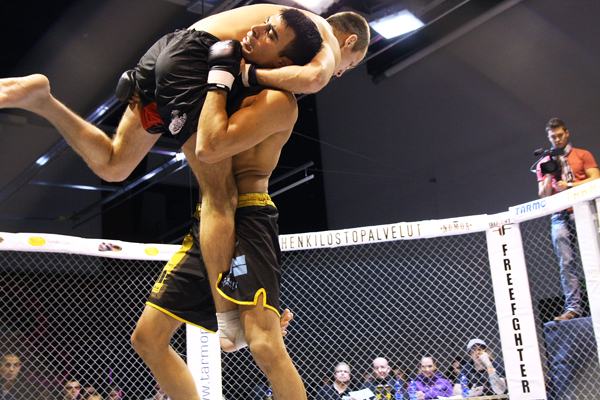 But the boy, who was bullied at school and who lost his father at an early age, is already going to places. Good showmanship and a nice winning streak in the domestic scene landed him a deal with Vision FC in December.
Amirkhani will fight in his home town Turku at Cage 21 this week but he is expected to make an international debut during the spring.
"They contacted me late last year and it sounded good right away. My manager has Iranian roots as well. We came along well and I noticed that he is truly interested in what I could become in the future."
Going abroad is no reason to start being shy. Makwan promises to bring his show to Swedish audience as well. He says he likes to go to new places and silence hostile crowds.
"I'm not going to change. I will bring my show to the Swedes if the promoters want to see that kind of stuff. It is easy for me but creates a lot of pressure to the opponents when they see me walking out big-time."
"I guess there is a risk of making myself look like a fool. But I rather do something cool and look like a fool. At least I'm trying", Amirkhani explains.
The MMA showman is just one side of the talented youngster. Amirkhani is probably the only Nordic professional fighter that has even thought of entering a beauty pageant. He already some modeling gigs under his belt so it was an easy decision to enter the Mr Finland 2012 contest last fall.
But for a hungry young lion it wasn't easy to swallow defeat. He was the crowd favorite in the final but officially he came in as first runner-up.
"I'm not going to lie, I was disappointed. Losing always feels bad. But the right man probably won and it was nice to see that kind of show."
Amirkhani could not care less about the laughs and the jeers he has gotten. The handsome fighter acknowledges that some people consider him arrogant and cocky. For him, only thing that matters is being true to himself and maybe doing what mom tells him to do.
He is not ashamed to admit that he cries after his fights, mostly out of joy, and just let his emotions run wild. His father never got to see him fight in a cage but Makwan still feels the pressure of trying show something that his father would have been proud of.
Talking one-on-one Makwan is no showman but a quiet and polite young person. That's who he truly seems to be when you brush aside all the smack talk.
"Many people seem to think that the ordinary me is the same Makwan as they see in the cage. I don't walk around talking shit with a crown and a cape on my shoulders."
Being the best athlete possible might be his biggest goal in life right now. But there are even bigger things Makwan Amirkhani wants to accomplish. Though he is far from the Finnish stereotype, he is a Finn by heart in every way. But with his background there is a lot to prove in a society which is just learning on how to deal with multi-culturalism.
Makwan does not blame anyone or anything, on the contrary, he is grateful for the chances he has gotten in Finland. And that is why he wants to be an example, not to palefaced Finns but to his fellow refugees and immigrants. Makwan Amirkhani wants to show that everyone can succeed in a country like Finland.
"Yes, that is important for me. Most immigrants think that it is not possible to succeed here if you don't have some special connections or don't speak perfect Finnish. Of course some things are difficult, but mostly it is up to you."