Finn Katja Kankaanpää (9-1-1) meets American Stephanie Eggink (4-1-0) at the Municipal Auditorium in Kansas City, Missouri. It is the strawweight title fight and co-main event of the evening. See live results and play-by-play below.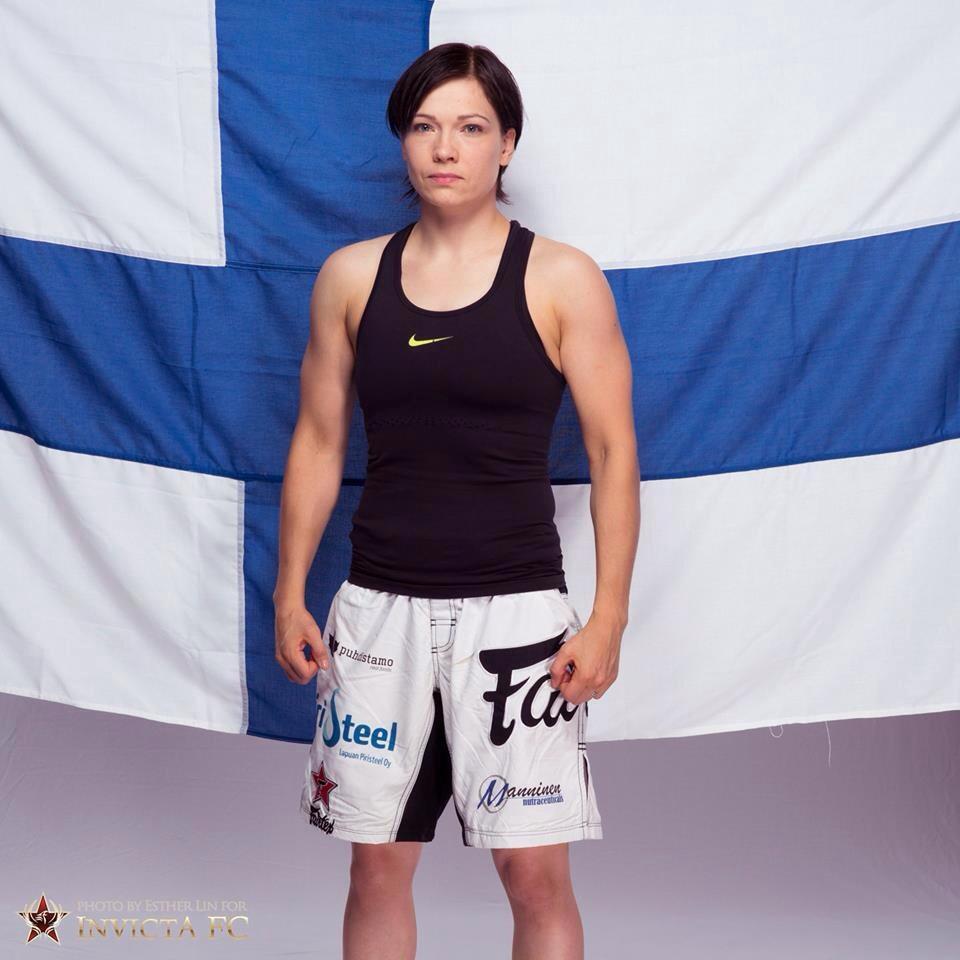 Play-by-Play
It is Eggink that comes into the cage first, and the former boxing champion seems ready to go as she sprints toward the battle area. Killer Bunny comes in next wearing her fuzzy rabbit hat, and it is cornrows in her hair. The Finn looks focused and raises her hand as she steps into the cage. Our friends at Fight Sport are on the banner, and here we go.
Round 1
There is a definite body type difference, as the tall and lean Eggink will be having a good reach advantage.
The two size each up early. Little action with first 30 seconds with nothing landing as of yet. Kankaanpaa using the jab to keep her distance, and a few land as Katja looks for a big ovehand right. It is one and a half minutes in and Katja gets the American against the cage and gets a body lock, but Eggink counters and the two break. Katja with combinations and kicks that show Eggink that she is here not just to wrestle.
Two minutes left, and again the Finn presses her opponent against the cage.and now she gets a single leg and brings the bout to the ground. In full gauard is Katja that takes control of this bout with just over a minute left, but the American goes for a triangle and she rolls Katja to her back and it is locked on, but Katja fights as she take punches to the face. Katja protects her face as she takes more punches, but she survives.
10-10 round
Round 2
The bell rings, and both fighters look to be fresh. A solid left right from Eggink, and after a missed combination of her own it is Katja that lunges in for a takedown. On her back, Snowflake looks for a triangle again, but Katja is now ready as she finds her way from full to half guard, looking to get in a position to land elbows. And Katja lands a few left ones to the head of the boxer.
Katja follows the grounded fighter who is now able to scoot away and get enough room to standup. Two minutes left, and Katja does not waste time to lock up and look for a take-down again. The American is strong, and you can see the troubles that Katja has in securing an easy take-down. Katja elects for a double-leg shot in the middle of the cage, but it is countered and the finn eats a knee. The two are throwing punches now. Solid right from Katja, and the bell rings.
10-9 Kankaanpää
Round 3
Katja looks up at her opponent, looking for punches up high, but it is Katja that dives in for a double leg. It is defended and Eggink looks for a takedown of her own with an overhook… but it is Katja that uses her underhook to trip with her legs and get the American on her back. Again, a triangle is locked on, and she is looking to finish and an armbar that is tight, but Katja slips out at the last moment. The Finn still fights from top as she defends from the very long legs of Eggink. Katja goes for an ankle lock, but it backfires and Eggink gets on top. Just over one minute left, and a crucial mistake at the end of the fight and the American looks for strikes, but Katja looking for the heal hook again, and the two end up in a stalemate position with right knee of Eggink being caught in between the legs of Katja on the bottom.
10-9 Eggink
Round 4
Good right hand from the Finn to start off the fourth round, and Katja looks for a finish against the cage to bring the fight to the ground again. Katja gets back briefly and again it is the American that quickly looks for a triangle, and Katja is OK with the fight going to the feet. Three minutes left now, and a combination for the American. Katja looks for a double leg but is countered to her back and is in full mount and raining down punches on Katja who is in trouble. In a full body lock, there isn't any where for Katja to go who continues to defend punches where the referee continues to warn about punches to the back of the head. 30 seconds left, and Eggink looks briefly for a rear-naked choke, and Katja looks to standup and the round ends.
10-9 Eggink
Round 5
5 minutes left in this war. The American stands straight up, and Katja looks again for a big right hand. Katja pushes Eggink against the cage, and eventually uses a nice trip to the ground. Now instead of being in trouble of a triangle, the Finn moves to side control and Katja looks for a darce choke… and it is tight.
Yes, it looks close… and a tap! Katja pulls it out and forces the submission. Big win for the new strawweight world champion.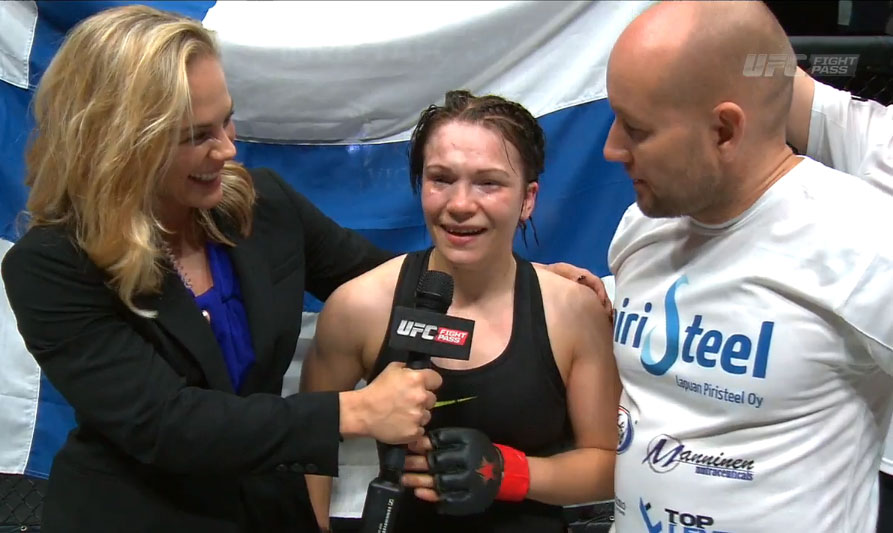 "I don't give up" says Kankaanpää in her post fight interview about her comeback victory.