Swede Max Nunes's won for the UK in this "British Invastion" card at the Sprint Center in Kansas City, Missouri. Power took on American Justin Davis on Saturday evening's Global Warrior Challenge card, where he fought last, after the headliner of USA's Bobby Lashley versus UK's Matt Larson.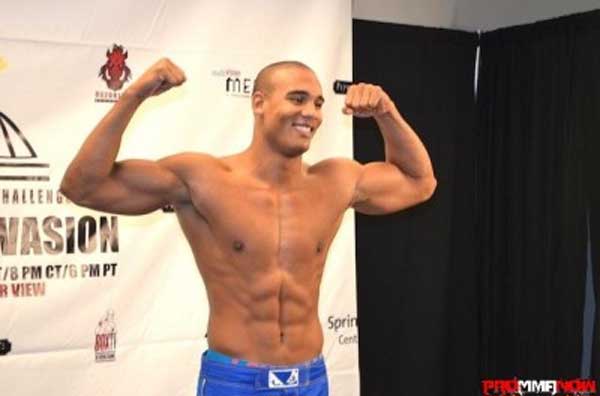 Play-by-Play and Results
The fight was not televised, but GWC promotion Tweeted the following description of the bout that lasted just over two minutes:
Max Nunes cuts Justin Davis up bad with elbows. Quick first round TKO via gnp

— Global Warrior MMA (@GWCfights) June 30, 2013
The bout ended at 2 minutes and 39 seconds over the smaller Davis, who tipped the scales under 200lbs for the bout.
Nunes was born and raised in Sweden, but with a father from the UK and now living there, he is representing the UK in this event. The UK was dominant in the matches, and was victorious in the country-versus-country format.
The Swede trained at Allstars Training Center with the likes of Bruno Carvalho and Alexander Gustafsson for the bout. Next the hot prospect who's home gym is New Wave Academy in London will next face Ason Jones for the BAMMA Light Heavyweight Title at the National Indoor Arena in Birmingham for it's 13th event going down on September 14.
Nunes now runs his record to 11 wins and 0 losses. The 24 year old has finished all of his opponents by either submission or TKO.
Event Results
Max Nunes defeats Justin Davis by TKO Rd 1
Bobby Lashley defeats Matt Larson by submission
Marcin Lazarz defeats Ricco Rodriguez by UD
Andre Winner defeats Drew Fickett by UD
Kendall Grove defeats Danny Mitchell by TKO (strikes) Rd 1
Oli Thompson defeats Kevin Asplund by TKO (strikes) Rd 1
LC Davis defeats James Saville by UD
Dayman Lake defeats Jake Heun by submission (rear naked choke) Rd 1
Jack Marshman defeats Wayne Cole by TKO (strikes) Rd 1
Michael Johnson defeats Jerome Martinez by UD
Jake Murphy defeats Tony Hervey by UD
The promotor said that the next event would involve a matchup with Brazil.
If you haven't watched MMAViking.com's exclusive interview or sit down interview with Max Nunes, watch it here.