Former MMA fighter Ville Manninen (3-1) was among the three nightclub bouncers who received the Medal of Valor from the Finnish President today for their courage, quick thinking and unselfish actions during the shooting tragedy in Hyvinkää, Finland in May of 2012. In the shooting rampage a 18 year old lunatic, who was hiding on a rooftop of a downtown building,  started gunning down people on the street with a powerful rifle. Two persons were killed and seven others were wounded including a female police. Among the severely wounded was Manninen who took a shot to the upper body while rescuing a wounded woman who was shot outside of the nightclub.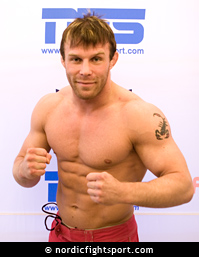 The Presidential committee praised that three security officers showed remarkable bravery and managed to act rationally when they helped people to safety while under significant danger.
Manninen, who came to MMA with an extensive wrestling pedigree, fought four pro MMA bouts during 2006-2007. The Finn started his pro fighting career with a bang when he quickly went 3-0 beating UFC lightweight Reza Madadi and then undefeated Russian Karen Grigoryan in the process. Manninen lost to Sweden's Joakim Engberg by TKO at FinnFight 9 and suffered an eye damage in the fight that ended his promising fighting career prematurely. Since retiring from MMA the Finn has competed in submission grappling and BJJ.
Martial artists were strongly presented in this heroic story as one of the bouncers is a Karate black belt and a coach at the local gym.
The shooter was sentenced to life imprisonment by the Finnish court in February of 2013.