In a surprising bout between two well-respected Swedish MMA veterans, David Bielkheden will take on Diego Gonzalez at the Golden Ring event on Friday, June 14th in Stockholm. The former training partners at HILTI will square off on the card at the Stockholm Waterfront Center, which will blend both MMA and boxing on the 6 bout card.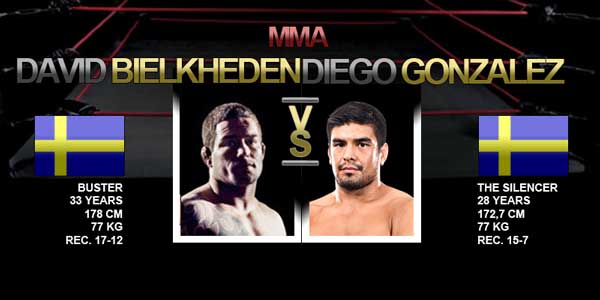 The "Silencer" is looking to return to his winning ways after dropping two straight bouts in the Cage Warriors promotion, with his last loss coming on May 4th versus Danny Roberts by TKO in the second round.  Gonzalez, who now trains at Allstars in Stockholm, tells MMA Viking that he didn't agree with the stoppage of his last bout, but immediately returned to the gym to focus on this quick-turnaround fight against Bielkheden.
Bielkheden has also lost two consecutive bouts is also in need of a win. The 33 year old hasn't fought since his October loss to Marcus Davis at Superior Challenge 8 in Malmo. The "Brazilian Swede", who now prefers "Buster" was scheduled to fight in Cage Warriors last weekend, but pulled out of the fight due to injury. Bielkheden tells MMA Viking that he will be "100%" for the upcoming Golden Ring bout.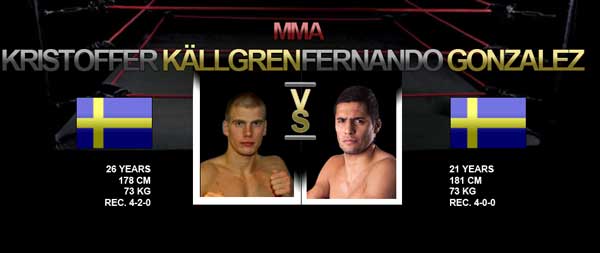 In addition to the headlining MMA bout with Diego Gonzalez, the card will also feature his cousin Fernando Gonzalez who is looking to make a name for himself.  The Swede that trains out of Allstars has a 4 win and 0 record, including submissions in each of his four bouts.  Since dropping to lightweight, Gonzalez looks to have the potential to climb the European MMA ranks quickly.  He will be taking on Kristoffer Kallgren from Escalate MMA who has a four win and two loss record, dropping his last couple bouts including the latest against Christopher Wassberg at Heroes Fighting Championships.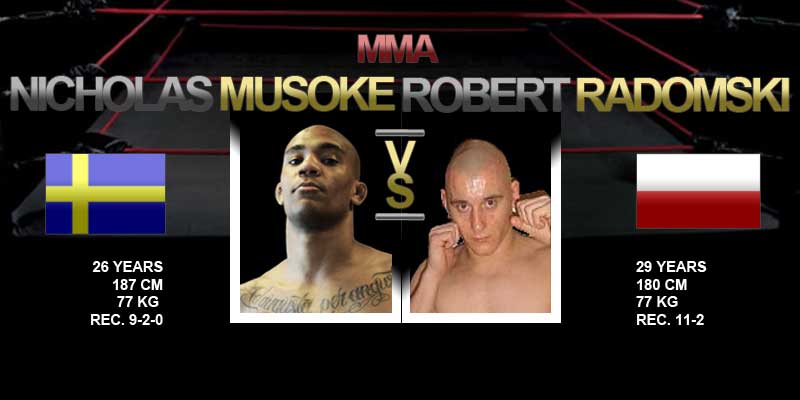 Nicholas Musoke (9 wins and 2 losses) will be looking for revenge in his bout with Robert Radomski.  "Nico", who had his last bout changed from a win to a no contest after review by the Swedish MMA Federation, was riding a four fight winning streak.  One of Alexander Gustafsson's training partners at Allstars will look to succeed where another training partner Jonatan Westin couldn't, when he was KO'd by Radomski in 7 seconds at Vision FC FN 1 last May.  Many saw the move by the Polish fighters to fake touch of gloves at the beginning of the bout and land a huge punch as questionable move.  Musoke will now get his chance in the cage against the 11 win and 2 loss fighter, who most recently won this last November at Kazimierza Wielka Fight Night in a headliner against Arkadiusz Zaba.
In addition to the three MMA abouts, the card is headlined by the WBC Title Fight between Swede Frida Wallberg and Australian Diana Prazak.