MMAViking.com is reporting live from Malmö, Sweden for tonight's Superior Challenge 8. The card includes a title fight between Sweden's Ilir Latifi versus Brazilian Black House fighter Jorge Oliveira, plus David Bielkheden versus Marcus Davis, plus many up-and-coming Swedish talent. The fights start at 19:00 local time in Sweden. See results from the fights here.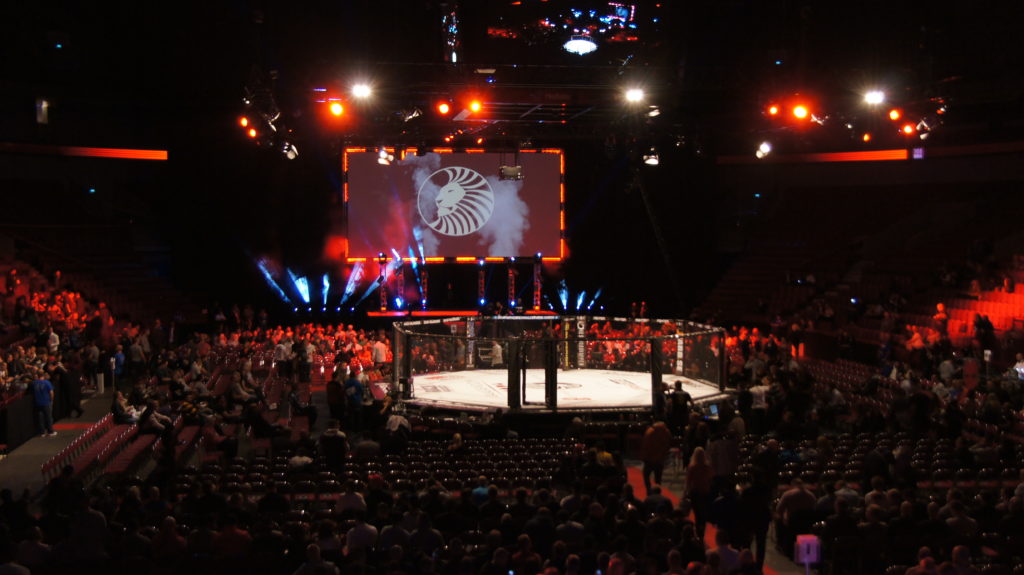 Fight Results
Lighta out and fights are about to start! The venue looks amazing and the place is close to packed.
Mattias Rosenlind, MALMö MUAY THAI, SWEDEN, 0-1-0 Versus
Martin Halvorsen, FORCA FIGHTING, SWEDEN 0-0-0 (-70,3 KG)
Bout has been cancelled due to injury.
Simon Sköld, NACKA DOJO, SWEDEN, 1-3-0 Versus
Michel "Bane" Ersoy, FORCA FIGHTING, SWEDEN, 0-1-0 (-65,8 KG) – Watch pre-fight interview
Foca Fighting fighter Michel Ersoy has made his way to the cage and is ready to scrap. This will be an interesting match up and it will be interesting to see what tactic Michel will employ to neutralize Simon Skölds Lyotoesque karate style.
Round 1
First round is on the way and Simon takes the centre of the cage and controls the center. Simon is throwing out some kicks to begin with, Michel hasn't countered one so far but is looking to get into his rythm. Ersoy catches a kick and lands a good hook to SInons temple. Ersoy charges and Simon clinches. Simon lands a knee to Ersoys groin and Ersoy lies down to re-couperate.
The fight is on again and Simon lands a double leg and puts Bane on his back. Simon lands a lot of light punches and passes to side. Sköld advances to quarter mount but Ersoy puts Simon back in half guard. Ersoy goes from a Kimura from half guard and almost gets it, Sköld is saved by the bell!
MMAViking scores the round 10-9 to Simon Sköld
Round 2
BAne throws heavy leather, Simon better watch out. Simon ducks under a jab and gets the double leg once more. Sköld works with punches from Ersoys guard. Ersoy is looking for openings though with his high guard. The referee stands them up.
Bane knows he hs to work to win this round but gets over anxious and gets taken down. Simon looks for a north south choke but Ersoy defends good.  Bane puts Sköld in a triangle from side under position. A very hard choke to pull off and the round comes to an end.
MMAViking scores it 10-9 to Sköld.
Round 3
This is a round Ersoy must win by stoppage to get the W. The round starts and Simon gets another takedown ending up in Banes half guard. Simon advance to mount Ersoy works his way back to his feet and yells "COME ON!". Simon gets the takedown once more and works from half guard. Bane is looking for a kimura again but Sköld defends and mounts. 1 minute left. Sköld works some strikes but no big ones. 10 seconds left and Simon will take the win back to Nacka Dojo.
10-9 to Sköld and it's time for the official decision.
The judges score it 30-27 Simon Sköld.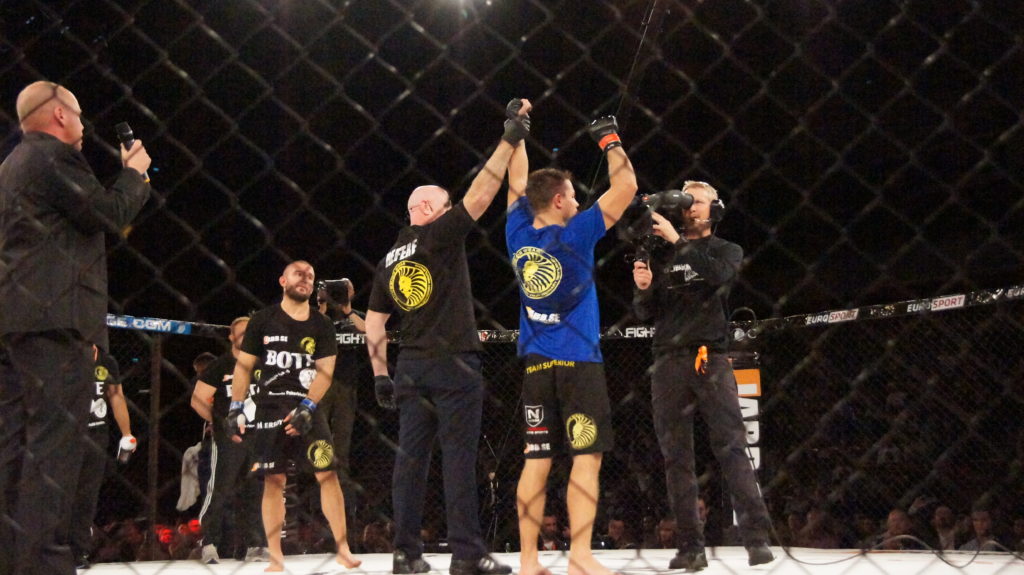 Sadri Kelmendi, FORCA FIGHTING, SWEDEN, 0-0-0 Versus
Julius Zurauskis, THE KNIGHT OF PLUNGE, IRELAND, 0-1-0 (-93 KG)
Round 1
Sadri will look to take this fight to the ground as Zurauskis has a boxing background. Sadri looks pumped and the fight is on! Sadri gets a huge double leg! and ends up in side control and then mount. Sadri postures and lands heavy shots. It is clear that Julius is unable to hold his own on the ground. Sadri goes to north south position and is looking for the choke or an arm. He sinks in a north south choke but Julius manages to get out. one minute left. Round ends and Sadri looks tired, so does his opponent.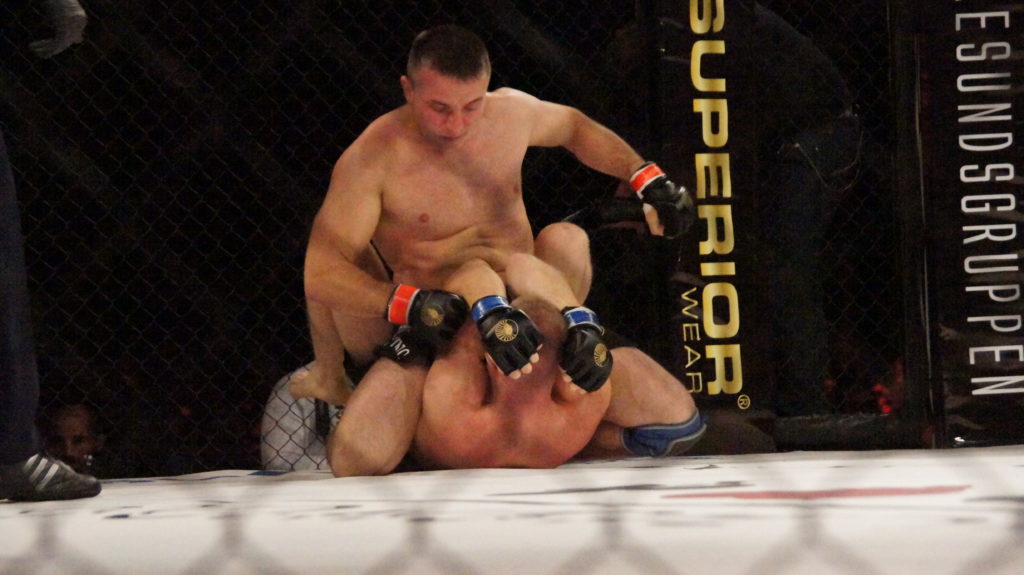 MMAViking scores it 10-9 Sadri.
Round 2
Sadri gets a takedown after eating some pumches and works his way to side control. Sadri mounts and is not able to accomplish anything and referee Grant Waterman stands them up. Sadri looks exhausted and can't even keep his hands up. Julius should try to capitalize on this, but really isn't. The crowd shows it's disappointment and the round ends.
MMAViking scores it 10-9 Sadri.
Round 3
Julius is on his feet during the brake as he gets instructions from his coach from Knight of Plunge. Julius opens up with strikes and is more active this round. Juius is picking Sadri a part on the feet so Sadri takes the fight to the ground. Julius stands up and the combatants clinch against the cage. Julius separates and takes distance. Sadri gets another takedown and advances to mount and gets the arm triangle choke. Strong finish from Sadri Kelmendi.
Sadri wins the bout with an arm triangle in the third round.
Bilal Musa, STHLM SHOOT, SWEDEN, 0-1-0 Versus
Edris Rafigh, HILTI, SWEDEN, 0-0-0 (-58 KG)
Malmös Bilal Musa get's a huge cheer from the crowd
First round. 
Bilal gets the double of off a leg kick thrown by Edris. Bilal let's Edris up and stuffs a takedown attempt by Edris. Bilal jumps for a guillotine but Edris gets out and is on top. Bilal stands up and is looking for the guillotine once more but gets taken down. Bilal looks for a kimura from the bottom and sweeps, Edris scramble and gets out and stands up. Edris lands a huge flying knee and then gets a huge slam from the clinch.
MMAViking scores the bout a 10-10 round.
Round 2
Takedown by Musa in to Edris guard. Edris looks for subs of his back and then stands up. Bilal gets another takedown in to Edris guard. Edris looks for an armbar but Musa defends. Bilal stands up and lands a spinning back kick. Bilal lands a huge overhand right and then gets the slam. Strong round for Musa.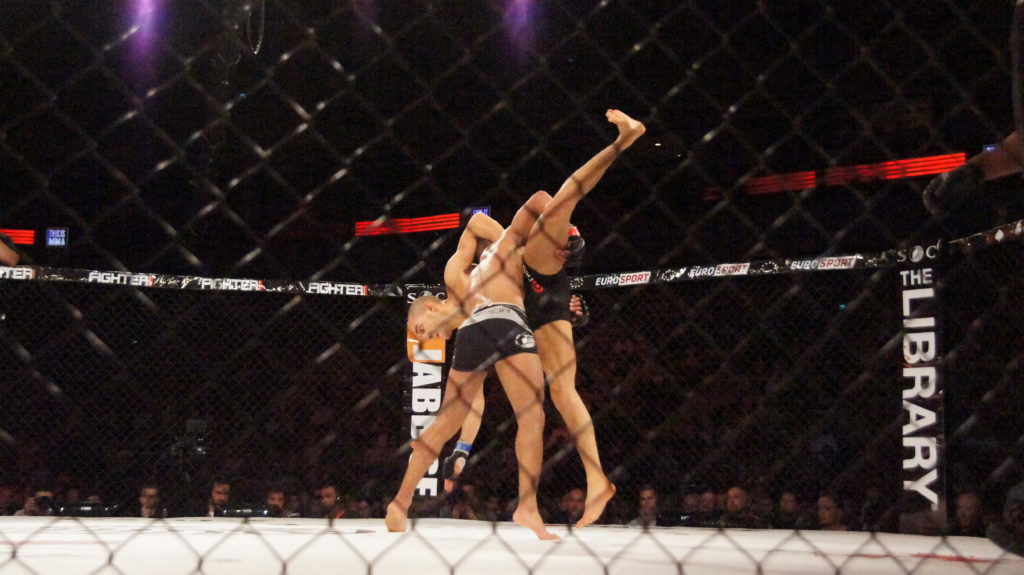 MMAViking scores the round 10-9 Bilal Musa
Round 3
Seconds out and the third round starts. Two flying front kicks thrown by Rafigh one of which landed. Bilal ducks under a combination and gets another takedown, not much action from the top by Bilal and ref Bobby Sundell might stand them up. Edris stands up and lunges Bilal through the air on to his head! Huuuuge throw! Bilal stands up and looks for revenge. Solid punch and knee landed by Musa. Edris is throwing a lot of combinations and landing a few as well. Bilal looks tentative, might be looking for another takedown. The round ends.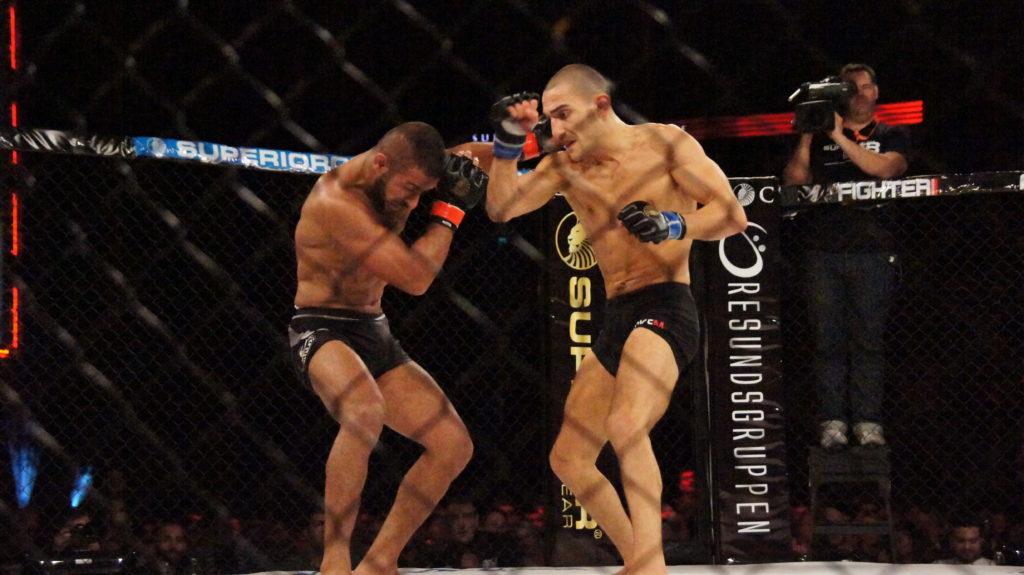 MMAViking scored the round a close 10-9 to Edris Rafigh.
Official decision is a split decision win for Malmös Bilal Musa
Farshad Farsiani, HILTI UPPSALA, SWEDEN, 1-3-0
Versus Åke Bergvall, VBC, SWEDEN, 3-5-0 (-77 KG)
Round 1 
Judo throw by Bergvall after Farshad clinches. Åke looking to pass and does so for a brief moment until Farshad puts him back to his guard. Omoplata attpemt shrugged of by Bergvall but Farsiani stands up and gets a throw of his own. Big punches landed by Farshad from the guard. Farshad looks to lock up a guillotine, standing against the cage. He does so and Åke tries to throw but Farshad jumps guard and sinks the choke in and Åke taps.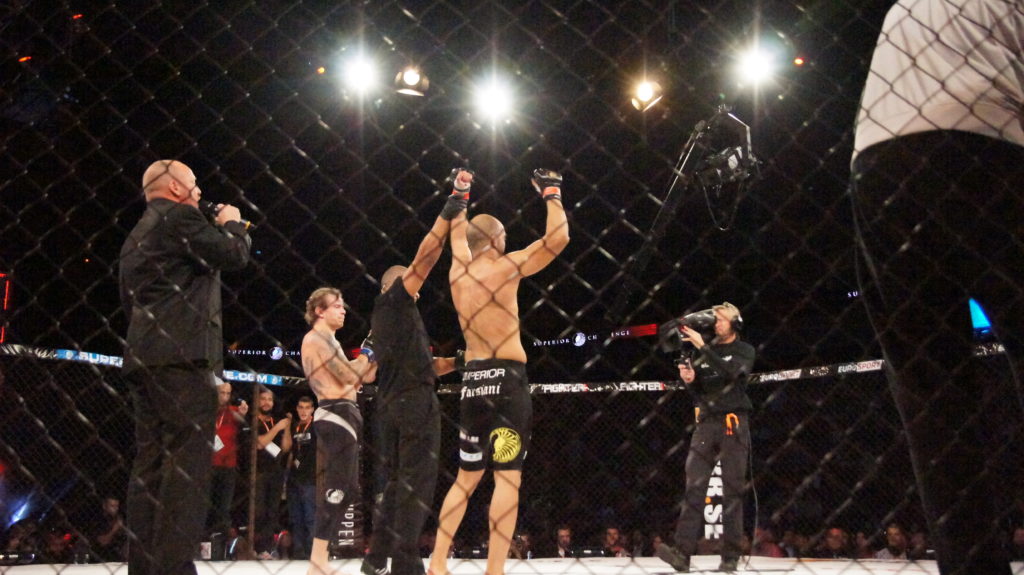 Winner by Submission, Farshad Farsiani.
David Glasnovic, AVAM, SWEDEN, 0-0-0 Versus
Sharyar Sazesh, HILTI, SWEDEN, 1-1-0 (-83,9 KG)
David Glasnovic is the big crowd favourite here and the fans go crazy as he enters the octagon to the tunes of Swedish House Mafia.
Round 1 
Sharyar lunges like a bull and David slips away from danger like a matador. Sazesh clinches. But David drops for a kneebar and gets it! Fast finish by the home town hero!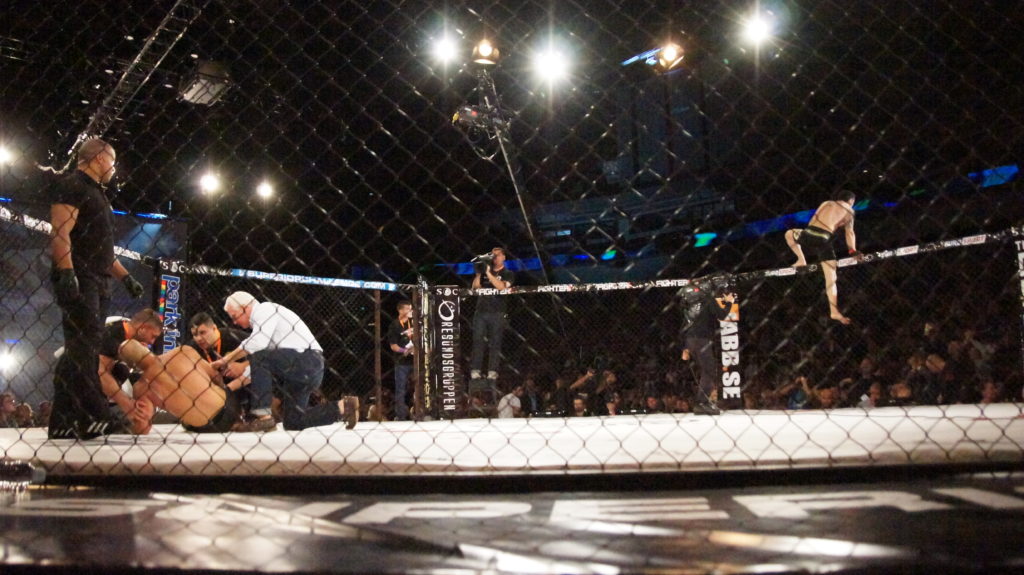 Winner by Knee bar David Glasnovic
Martin "Poker Face" Wojcik, PANCRASE GYM SWEDEN, SWEDEN, 6-7-1 Versus
Patrick "Dexter" Vallée, HAUTE TENSION, FRANCE, 8-4-1-2 (-83,9 KG)
Round 1
Big leg kick by Dexter to open up the round! And again! Huge red mark on Wojciks thigh. Dexter gets a takedown and Wojcik is looking to stand up against the cage. scramble for position here. Dexter mounts and goes for an armbar, he get's it and Wojcik taps!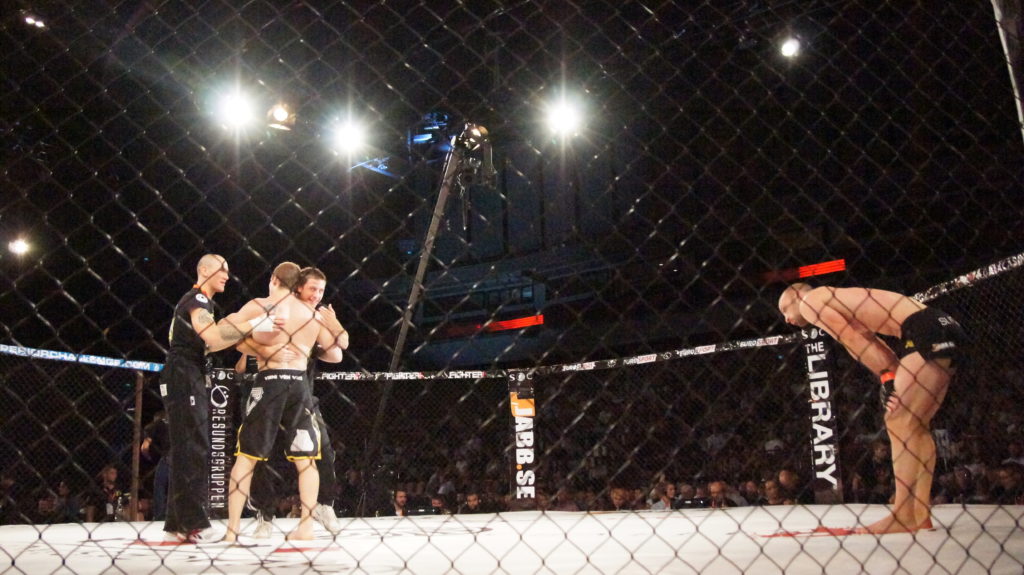 Winner by Armbar Patrick "Dexter" Valleé!
Visar Kelmendi, FORCA FIGHTING, SWEDEN, 0-0-0
Versus Oleg Tinins, SANJ-DA, LATVIA, 1-3-0 (-120,2 KG)
Fight cancelled due to Oleg Tinins failing to get approved during medical exams.
Yosef Ali Mohammad, TEAM AVAM, SWEDEN, 0-0-0 Versus – Watch pre-fight interview
Denis Sokol, THE KNIGHT OF PLUNGE, LITHUANIA, 1-0-0 (-120,2 KG)
Round 1
Big punches landed and Yosef charges and lands big punches and knees. Sokol falls to the ground and Yosef pounces with some vicious ground and pound. Grant Waterman pulls Yosef of and we have our winner with a strong finish. very impressive performance!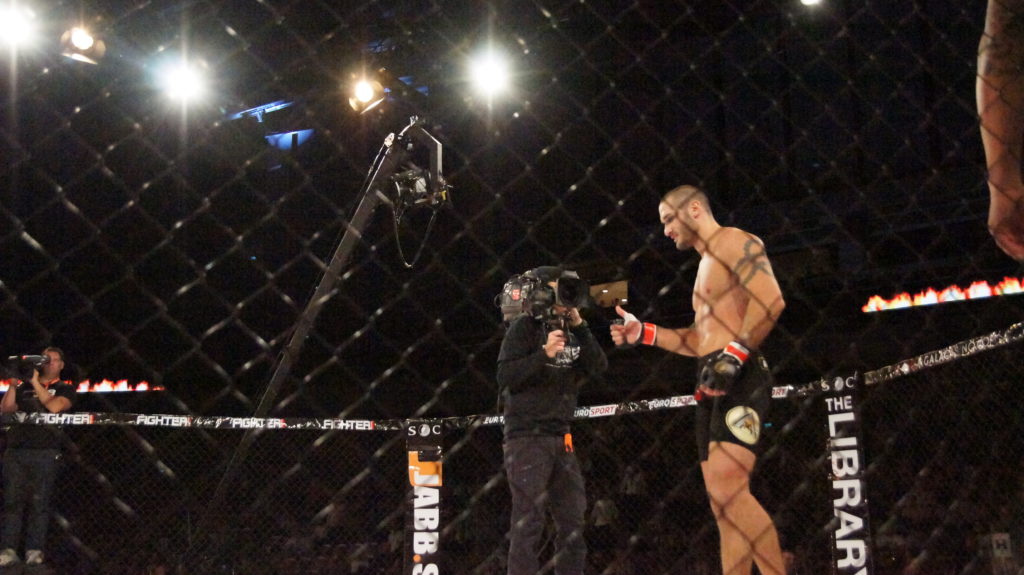 Winner by TKO Yosef Ali Mohammad.
****************** Break for Craziness *****************
A man without a shirt has jumped in to the cage and is being taken out by security, the cage door breaks during all of the commotion and that is what caused the break before the bout.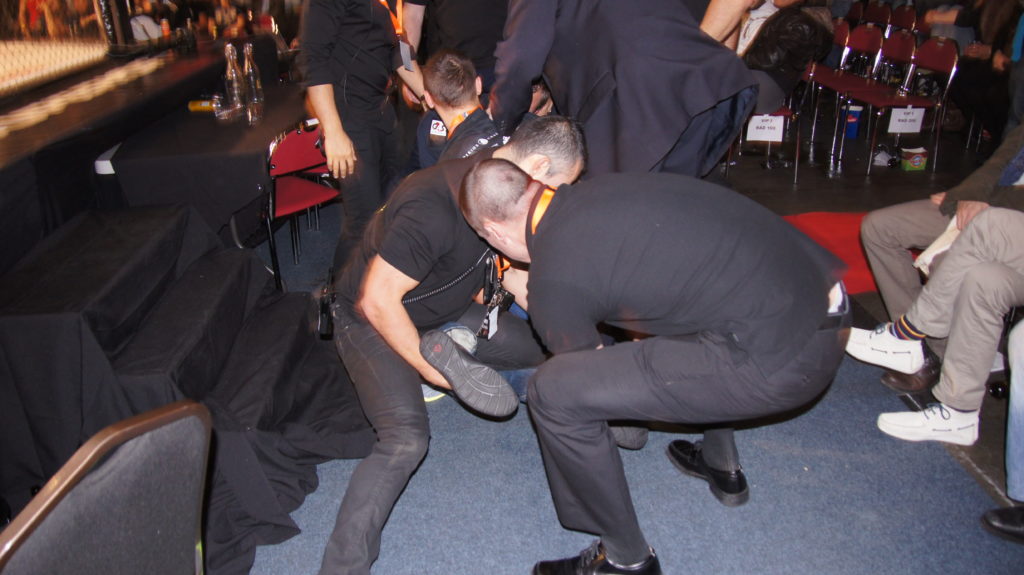 ****************** Break Over *****************
Martin Akhtar, MALMö MUAY THAI, SWEDEN, 1-0-0 Versus – Watch pre-fight interview

Leandro Gontijo, MMA BARCELONA TEAM, SPAIN, 3-4-0 (- 61,2 KG)
Round 1
After some minor disturbances the fight is on it's way. Takedown by Leandro and he gets the back! Sinks in a RNC but Martin won't tap. Martin Defends and tucks his chin inn. Huge roar from the crowd as he gets out from danger, although momentarily. Leandro lands an armbar but Akhtar pulls his arm out Jon Jones style. Martin lands a few on the feet before getting taken down again. Leandro in Martins guard. I'm still amazed he didn't tap in either the RNC or armbar. Huge heart showed by the Malmö native. Round ends.
MMAViking scores the round 10-9 for Leandro Gontijo
Round 2
Superman punch missed by Akhtar and Leandro clinches. Martin knees in the clinch and separates. Heavy leg kicks landed by Akhtar and Leandro goes for a takedown. Akhtar sprawls and ends up on top in half guard. Leandro regains guard and looks for a foot lock. Akhtar stands up. Leandro gets another takedown and mount. Akhtar bridges and gets guard. High guard from Leandro and he goes for another armbar. Martin looks in deep trouble but gets out again! I don't believe this! Martin stands up. Big body punch by Akhtar and leandro goes for another takedown and gets it but Martub stands up and lands heavy leather. Akhtar mounts and lands big punches. Leandro turns his back and Martin lands from back. Both are on their back but Leandro isn't defending so ref Bobby Sundell stops the bout and Martin Akhtar wins via TKO.
Winner, Martin Akhtar by TKO. INSANE comeback!
Malik "The Natural Born Killer" Arash Mawlayi, MALMö MUAY THAI, SWEDEN, 3-3-1 Versus
David "One More" Round, G4 MMA / ONE FIGHT SYSTEM, ENGLAND, 6-7-0 (-70,3 KG)
Round 1
Kicks from both fighters early in the round. Spinning back kick landed on the head by Malik. Takedown by The Natural Born Killer but One More Round reverses. Malik goes for a triangle but gets slamme dtwice before letting go. Intense fight! David lands a nice punch that drops Malik. Malik gets up and drops David in a Condit, Hardy exchange and then pounces to get the RNC. Imagine Renan Barao vs. Brad Picket and you'll get the picture.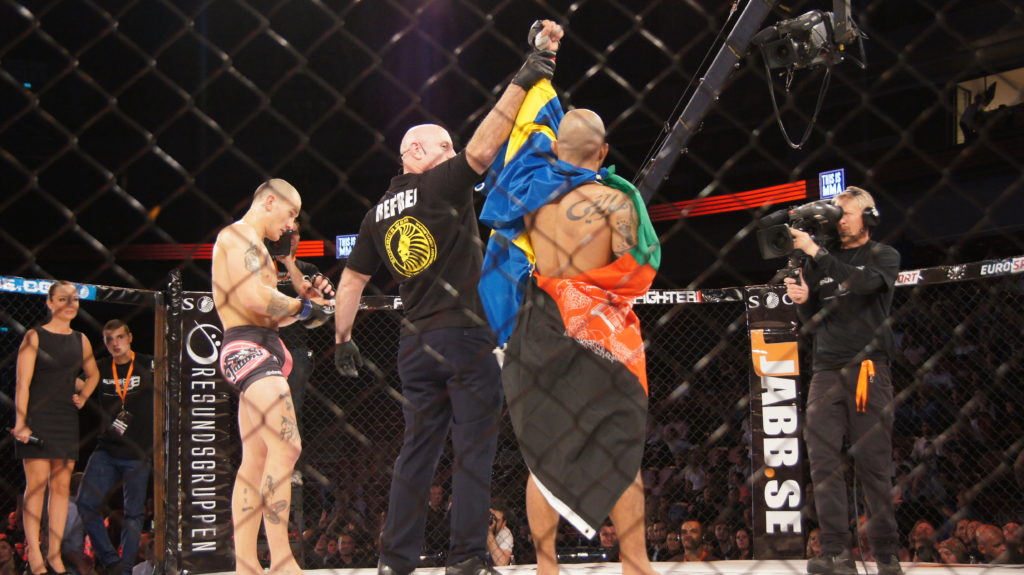 Matti Mäkelä, PANCRASE GYM SWEDEN, SWEDEN, 10-11-0 Versus – Watch pre-fight interview
James McSweeney, SLEDGEHAMMER MMA, ENGLAND, 10-9-0 (-93 KG) – Watch pre-fight interview
Round 1
Matti comes out swinging and lands a big punch that has McSweeney stumbling. Matti gets a takedown and advances to side control. James stands up. Matti is aggressive though. James lands some solid combos and has Matti against the cage. McSweeney gets a takedown. MAtti reverses and gets up on top. Matti takes James back! Sweeney reverses and gets out. Matti lands a strong jab. Sweeney is tired. So is Matti but he's keeping the pressure on. Matti takes Sweeney down and mounts. Matti is throwing huge elbows from mount and McSweeney gets saved by the bell.
MMAViking scores the round 10-9 Matti Mäkelä.
Round 2
Matti is doing what he does best, turning this into a slug fest. Matti is getting the better of Sweeney. Sweeney takes the back but Mattid defends the choke and reverses. He ends up in top half guard, and mounts!! Landing big punches and elbows. Matti gets the win! Grant Waterman steps in stops the bout!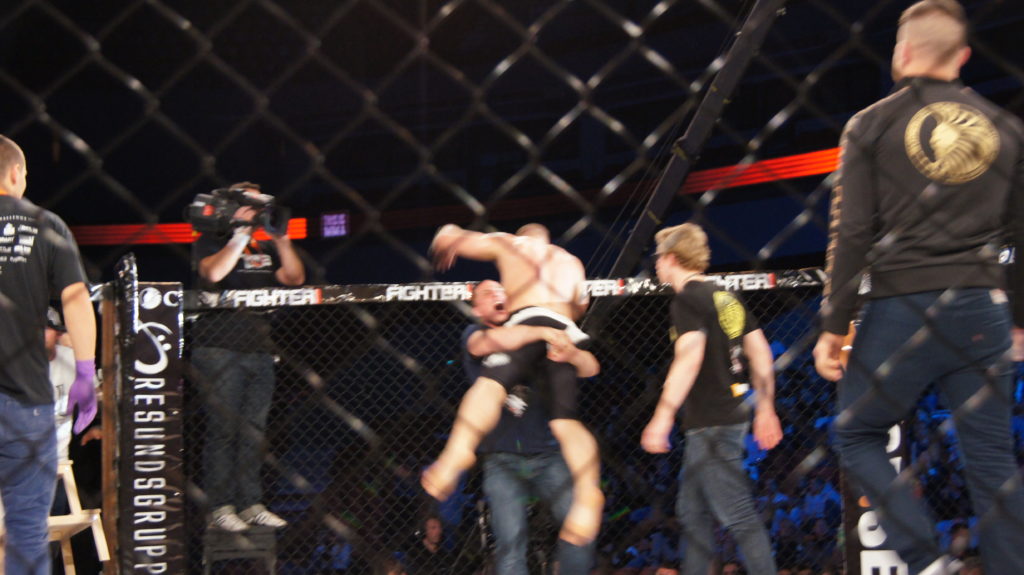 Winner by TKO Matti Mäkelä
David Bielkheden, HILTI / TEAM BIELKHEDEN, SWEDEN, 17-11-0 Versus – Watch pre-fight interview
Marcus Davis, TEAM SITYODTONG / TEAM IRISH, USA, 20-9-0 (-77,1 KG) – Read pre-fight interview

Davis makes his way to the cage to the tunes of House of Pain. This will be a great fight to start of the main events. David enters with his gi and a ski mask. Former UFC Middleweight champion Murilo Bustamante from Brazilian Top Team will be in Davids corner.
Round 1
Davis will look to keep this fight standing. Nice kicks landed by Bielkheden. Davis lands one of his own to Davids heads. Bielkheden goes to a takedown but Davis sprawls instinctively, he's been in that situation many times. David clinches and pushes Davis to the cage and gets a trip takedown. Davis stands up fast. Bielkheden gets put on his back after a missed shoot. Davis postures and looks to land big. Davis backs up and stands up. Davis spwrawls again and lands big from top. David is in trouble on his back as Davis passes to side. The round ends.
Davis stole that round. 10-9 to The Irish Hand Grenade
Round 2
David gets dropped but clinches and pulls guard. David is rocked. Davis stands up again and David gets dropped again. Davis looks to land big in Davids guard. Davis stands up and David follows him but Pulls guard again. This time he goes for a sweep and then a kimura but Davis defends. David is doubting himself in the stand up and does some forced shoots from out far and not setting them up with anything. He needs to believe in himself in order to get some offense going.  Davis´s sprawls are way to good for Davids shoots as it is now.
MMAViking scores the round 10-9 Davis
Round 3
David clinches. Double underhooks for David he looks for the Ouchi Mata. David looks for the guillotine but misses it. They're clinching again. David drops for a takedown and gets it. 3 minutes left as Bielkheden looks to advance but Davis stands and David stays on his knees and lies on his back. David is tired, very tired. Working from his guard now but isn't controlling Davis´s posture. Bielkheden is brething heavy with his mouth open with one minute left on the clock. Davis advances to half guard but David retains guard and stands. The fight ends and Davids corner is noticeably disappointed with they're fighters performance.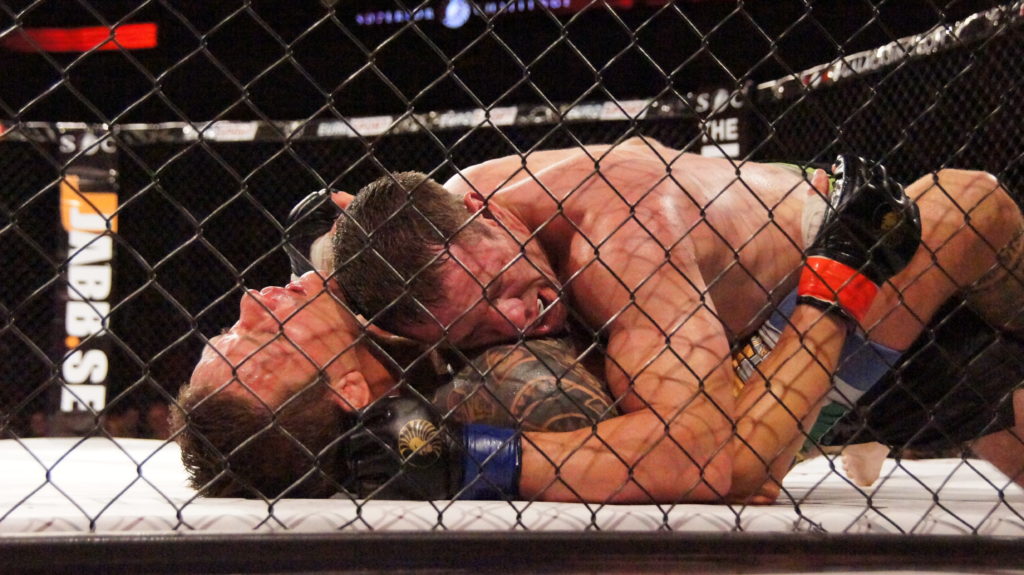 MMAViking scores the round 10-9 to Marcus Davis.
Winner by unanimous decision, Marcus "The Irish Hand Grenade" Davis.
Ilir Latifi, PANCRASE GYM SWEDEN, SWEDEN 6-2-0-1 Versus – Watch pre-fight interview
Jorge Oliveira, BLACK HOUSE, BRAZIL, 5-2-1-1 (-93 KG) – Watch pre-fight interview
Huge cheers for the home town hero Ilir "The Sledgehammer" Latifi.
Round 1
Both fighters tentative in the beginning. Oliviera opens up with a headkick that is blocked. Jorge is working his kicks, 6 of them so far. First kick thrown by Latifi lands on Jorges leg. Ilir staying outside looking to get in and clinch. Big kick by Ilir caught and countered by Oliviera. Ilir closes in and gets a single leg takedown with thity seconds left of the round. Not much action this round but Ilir might just stole this round with the takedown, might have.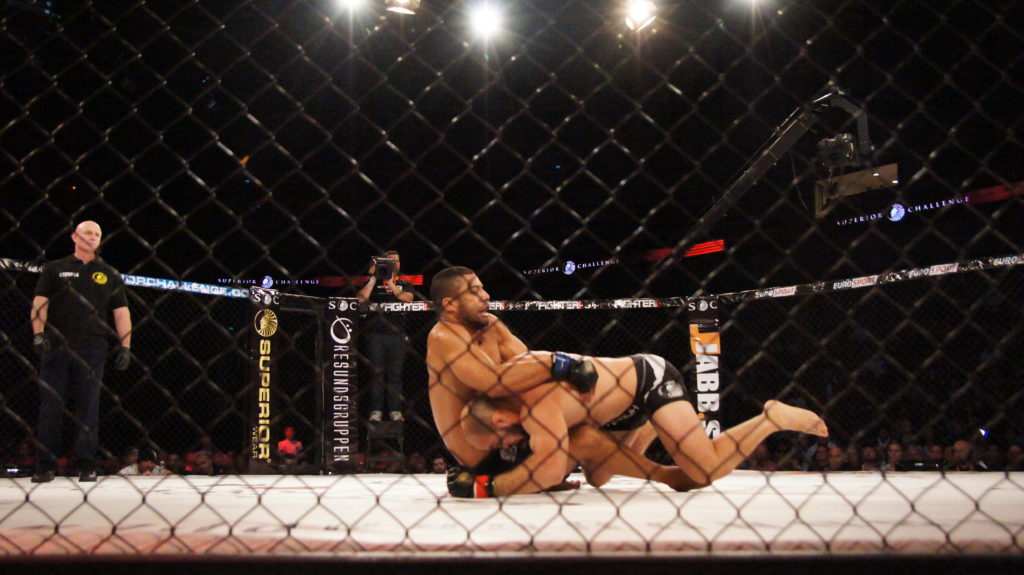 MMAViking scores the round 10-9 to Oliveira
Round 2
Jorge yells come on trying to lure Ilir in to striking distance. Headkick thrown by Latifi, blocked. Ilir ducks under a straight right and gets the takedown. He needs to be very careful to not get caught in any subs from Oliveira. Short punches from the guard. Grant Waterman stands them up. Both fighters looking for their distance. 'Ilir being the more passive out of the two. Ilir catches a kick and gets the takedown in to side control.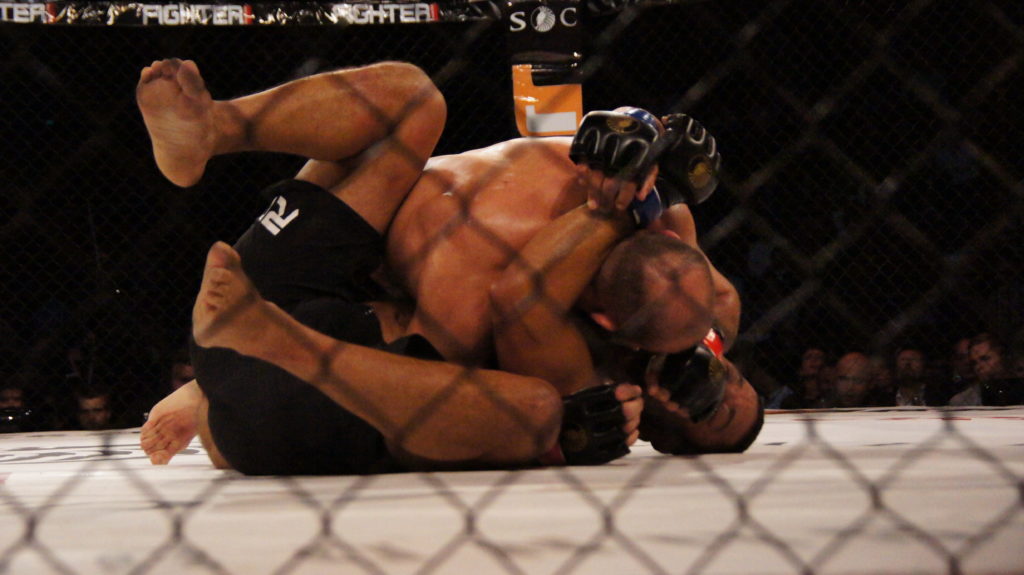 MMAViking scores the round 10-9 Latifi
Round 3
Big punch landed by Ilir and Ilir gets the takedown. Jorge isn't very active from the bottom, only landing a few light punches from the bottom. Now Ilir is turning it up landing heavy hammer fists from the top, both to the head and to the body. Oliviera looks tired and is taking heavy breaths. Ilir is trying to push Jorges head against the cage and is successful. Ilir keeps landing punches-. Heavier and heavier. Jorge is in trouble. 30 seconds left and Ilir is still working from top half guard. 10 seconds and the crowd is on it's feet.
MMAViking scores the round 10-9 Latifi.
The official decision is a unanimous decision victory for Ilir Latifi.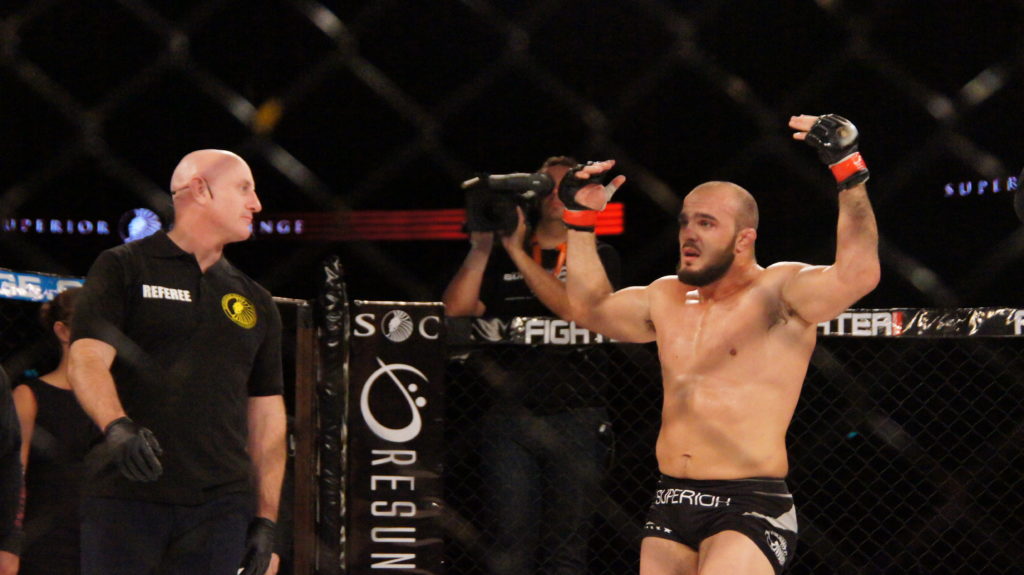 Please support the website by "liking" us on Facebook below or going to www.facebook.com/mmaViking and becoming a fan!