American Marcus Davis is in good spirits during his short stay in Malmö. "If I didn't bring my trainer with me, I'd be the ugliest guy in Sweden" jokes the 39-year-old that is amazed at the overall fitness of the Nordic nation.  The UFC vet tells MMAViking.com, "I've only seen a couple of fat people here, and when I went to talk to them… they were American".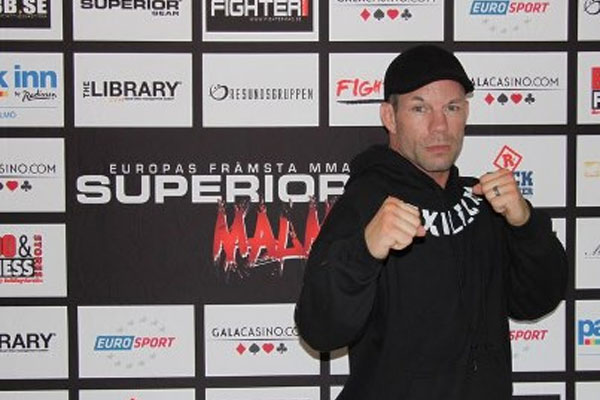 The UFC veteran steps into the cage to face the David "Brazilian Swede" Bielkheden for a potential shot at the Superior Challenge welterweight title Saturday night in Malmö. "I started training at age 8, and I have over 100 fights in boxing, kickboxing, K1, and MMA bouts. Experience is on my side." he says about facing one of Sweden's MMA vets that has the rare credentials of fighting in both Pride and the UFC.
"It's a good opportunity to get another stamp on my passport, go into hostile territory, and beat someone up in their country." says Davis who is confident about the match-up.
"I have weird, freaky old man strength" says the Irish Hand Grenade.  Davis thinks Bielkheden will want to take the fight to the ground after getting hit. "For an old guy, you hit hard" Davis remembers that his last opponent Chuck O'Neil told him after his bout.  The Southpaw admits to not spending time in the weight room, but still maintains the impressive strength and power.

Get more pictures like this from SHERDOG.COM
"No this is not my last fight" says the Team Irish MMA fighter, that had recently discussed having just one final fight in his backyard of Bangor, Maine, at the end of this year.  But it seems these plans have changed, as he heads into the Sweden bout.  "It's all relative to my health" says Davis, that now looks to his Italian wife that that is in the medical field for advice on when enough may be enough.  But today, Davis says he is much healthier than he has been in a long time.  "I usually walk around at 220 lbs, but for the last 9 weeks I've maintained 190 lbs for the last 9 weeks."
The Irish-American fighter says to "watch the Paul Kelly fight" for some idea on how this fight will go.  "He never hit me, and was so desperate to take me down."  Davis finished this bout with a submission at the end of the second round.  "Yes, I think I will submit him" says the confident Davis, even though his is facing a top BJJ player in Bielkheden.  Davis has spent time in this camp training with Jorge Gurgel, so his BJJ preparation should be in top form.
The welterweight plans on delivering for the crowd. "I'm not coming into this fight with a different attititude. I'm a fighter and an entertainer."
"David is very tough. It's a fight, anything can happen." maintains the southpaw that doesn't underestimate his opponent.
Davis owns Team Irish MMA Fitness Academy locations in Brewer and Portland, Maine, and will soon open up a Team Irish MMA in Waterford, Ireland.  The first satellite school is being built, and may have a Gracie Jiu-Jitsu affiliate.  He plans to return to Wales for some seminars early next year, before spending time at the new facility.
Davis has 20 wins and 9 losses, and has won 3 of 4 fights since being cut from the UFC.  The UFC veteran had a 6 fight win streak in the UFC, including KO of the Night in Ireland at UFC 72.
It's hard to tell who will end up victorious Saturday night, but the chances of this being an exciting and entertaining fight when Davis enters the cage is certain.
There are still a few tickets left for Superior Challenge 8, buy them at Ticnet.se here.