Guram Kutateladze (12-2) beat Mateusz Gamrot (17-1-1) in his UFC debut. The Swede got the win by split decision at the Flash Forum in Yas Island, Abu Dhabi, but was surprised to get the nod. "I'm an honest man. Me and this guy worked hard, but the result, it wasn't my fight. The guy did how many takedowns?" says Guram in the post-fight interview. "Thank you so much, of course. I'm not happy because this is not what I was waiting for. Gamrot, brother, you are a warrior."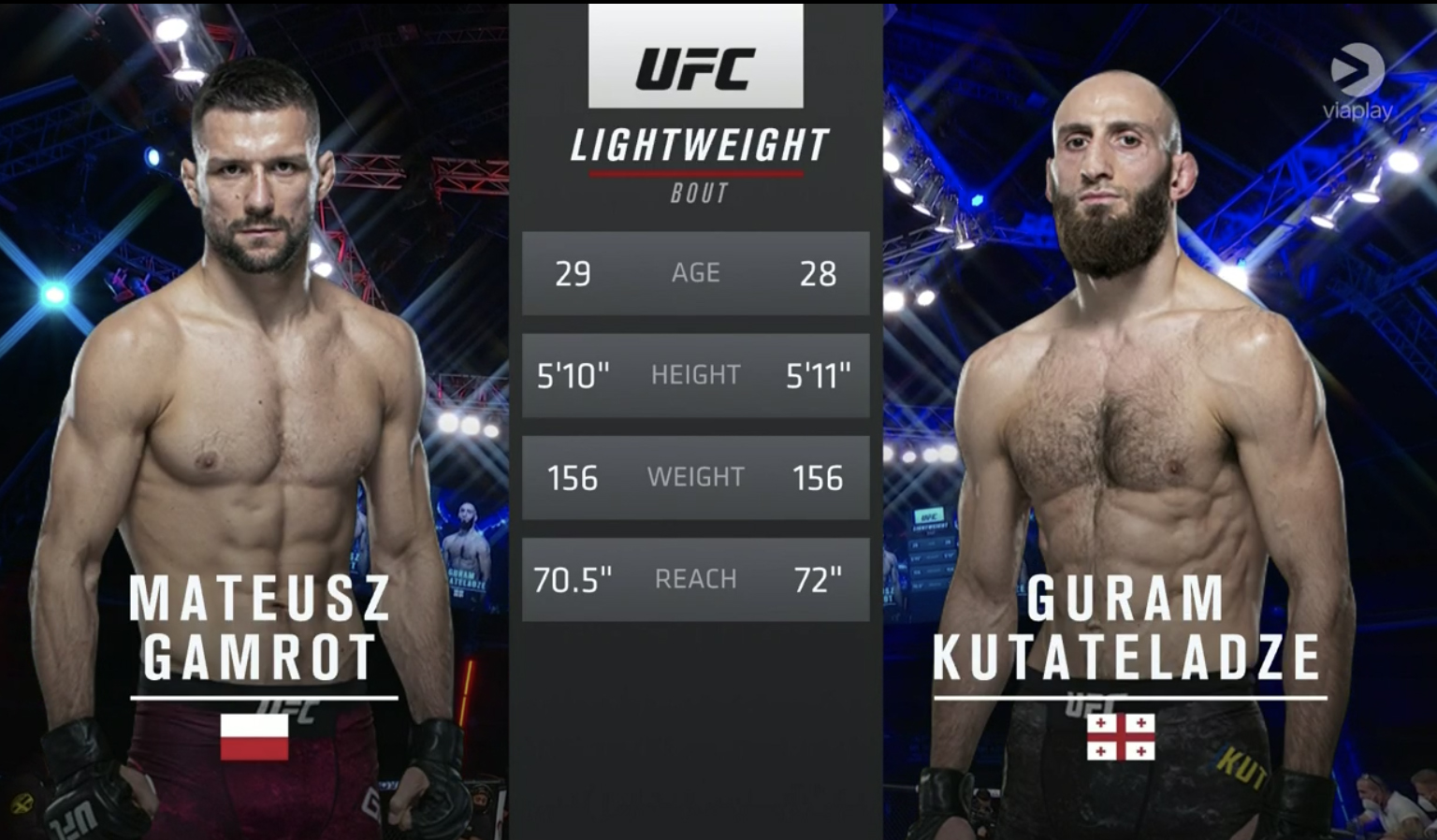 It was a big right kick to start the fight by Guram, but Gamrot shoots low and converted on a take-down. The Sweden based fighter however threatens with a heel hook of his own against the grappler. The both roll on leg locks, and Kutateladze is able to get out. On the feet another big right kick to the body of the southpaw fighter. Take-down defended stopped, and another right kick. Take-down defended and Guram throws a kick on the downed opponent, but looks to land more on the shoulder of the closely contested first round.
Big left land lands seconds into the second frame, then misses a spinning kick. Gamrot doesn't want any action on the feet and attempts a take-down, but Guram defends it again and begins to throw kicks with bad intention. Gamrot in on another take-down, but Guram rolls to his back kicking off the Polish fighter. Kutateladze presses the action, but this time Gamrot catches a kick and gets the fight to the ground, but Gurm is looking for submissions of his own. Now back to the feet. Last second take-down attempt doesn't work for Gamrot, but lands a good right at the bell.
Guram wants to land a kick, but Gamrot wants it on the ground and nearly gets it there but the Swede defends and starts to press the action. A nice right hand lands for Guram. Gamrot in deep on a double-leg take-down two minutes in. Half way through the round and Guram struggling to get to his feet, and he does but takes a kick to the head on the way up. Flying knee and punch from Guram. No significant strikes as the fight is nearing the end, but both are throwing. And a slick take-down by Gamrot with 20 seconds to go to finish on top in what was Gamrot's best frame.
The bout goes to Guram by split decision 29-28, 28-29, and 29-28.