Today Kaoru Tsukamoto officially joins MMA Viking's growing staff as a writer and reporter.  Her understanding of MMA is mind blowing, as a practitioner and an immersed fan, her obsession for fighting has taken her around the world from Japan to Russia to Finland and beyond.  Kauro (initially known online as Tyrone) was the founder of asgardmma.com, which was the original MMA website focused on promoting Scandinavian MMA to the world.  Let's learn more Tsukamoto as she gives us insight into a time when the bare knuckles and head-butts were the standard and what excites her about MMA today.
MMA Viking : How did you first learn about MMA?
When I was in Japan I was not interested in fighting sports at all. I rather looked down those things. One day in Stockholm, a friend of mine showed me a video tape of Takada vs Kitao a Japanese MMA match. The result was a 140kg man was blown off in a high kick down to the mat. Wow! Something had waken up inside me! Then I started to buy Japanese MMA Puroresu on television and MMA papers from Japan. I read from the top to the end seriously and remember almost all the names. Buying lots of videos from Japan, friends sent me Pancrase and Rings videos too, and I watched the same tapes again and again every night.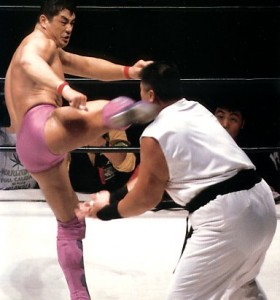 I don't know how many tapes and videos I bought which had occupied my bookshelves from the floor to the sealing. Besides that I started to chat hard in Japanese MMA using a man's name. That was Tyrone. I made many friends in the chat. Many years people believed that I was a man using Tyrone name.
In the Japanese MMA papers I found UFC article and become interested. Soon I find primary UFC DVDs in Stockholm video shop. I tried to buy them. I think my voice was shaking. But they said no. The night I saw the raw UFC, I was blown away, my head got heated up to the boiling point melt-down and it was my paradigm shift. I couldn't sleep at all the night.  I had never seen such an exciting sports in my life. Do you guys remember the Orland Witt elbow?
MMA Viking : You have been covering MMA for over 10 years and started AsgardMMA.com. Can you explain the reason for this website?
Watching talented Scandinavian fighters I simply wanted to distribute how good they are. So I mailed the first MMA report of Finnfight5 to Yoshiyuki Okawa Japan who was also very active in MMA chat running a site. He suggested me to run ASGARD together to introduce Scandinavian fighters to the world. Okawa introduced me Origon-san he was also one of the chat kings and an encycropedia of World NHB. I have never met them though. That was 2001 how we started ASGARD and in Japanese language. Okawa loved Yka Leino. Then Johan and Patrick joined ASGARD. That was 2006 maybe.
MMA Viking : Can you elaborate on your personal training in martial arts?
I simply wanted to understand more of the sport. So I entered Rasmsen´s Muay Thai Gym Stockholm. I loved it. I did it for 2 years may be. Then moved to Pancrase Gym started BJJ. BJJ has become popular at that time. I did BJJ for 4 to 5 years may be. I was not good on the ground. Then did MMA training for 3 to 4 years. I was not so good at this too. He he =)
At that time we didn't have any MMA show in Sweden. Instead guys were working really hard for submission wrestling everyday in Scandinavia. We had so many submission competitions at that time. And Scandinavians were the top class in Europe at that time. Hytten was the prince of submission wrestling at the time.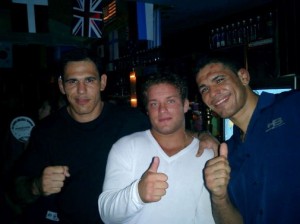 We all went to Finland for no holds barred (NHB). Marko Leisten promoted FinnFight. I believe FF started in 1998 may be. Finland had many NHB events at that time the kind of Mecka of Scandinavian NHB. Finfight 4 in 2000 is the first live NHB in my life. In the ring side I felt fighters hard breathing, the heat, smell of blood, the strong will and the sound of meat and bones clashing. Fantastic!
Yka Leino,Erkka, Einemo, Hansen, Jani Lax, Olof Inger, Bohlenius, Nico Naseri, Mika Ilmen,Peltonen are the starts. Also I liked Tommi Heinonen, Tomi Haapanen, Sami Liedes, Sami Hyyppa these guys were wonderful and it made me crazy. Real men. At this time the fighting technology wasn't too developed, you see. The integration was started but still in mess. And those guys went into the ring with bear knuckles (OFG comes later) and short tights to show the own fighting soul in the naked human power.
Finnfight 4 Hansen vs Jani Lax was the main card. Finfight was NHB with bear knuckles and head-butts. Hansen and the corner Einemo came into the ring with black kimono looked really cool. Giving 100's of headbutts Jani started bleeding hard. The doctor wrapped his head and restarted the match. I thought oj, oj, oj, , , The sound of headbutts is difficult to explain.
I think human has the instinct of fighting deep inside. Some has strong some has weak. Think of ancient time we had to protect family and the village from many different enemies like animals and others. This sport has the power to remind us the ancient instinct sleeping deep inside us which gives us the energy to fight out to survibe since 5 million years back. That is my reason to love this sport.
Omar Bouiche Highlight Video
In 2000 I went to Pancrase Japan (1993 founded) with Omar Bouiche he faced to Yamamiya. He was the first integrated fighter in Scandinavia and Japan Pancrase was one of the most advanced NHB as well as RINGS Japan. In 1998 Omar has defeated Pancrase star Minoru Suzuki in RNC shaken Japanese fans. Nathan Marquardt was only 20 years old working 7 fights a year. I saw young Dennis Kang as well as Chris Lytle too. When Omar was training in Pancrase Gym kicking sandbag, Japs and all went dead silence. Because the sound was enormous to dominate the entire gym. I was also scared to death. Omar was really strong.
Later Omar got Japan Pancrase official license to open Pancrase Gym in Stockholm.
M1 St.Petersburg was exciting too. It was 2002 Febuary and European Championship. Fighters from Scandinavia, Holland and UK faced to Russians. Jani Lax, Yka Leino, Hari Niva, Robert Sundel, Per Eklund, Sauli Heilime and Arben Latifi went to St.Petersburg. Omar and Leisten were the corners. We didnt have much information about Russian fighters at that time. So we went nurvous. 5 Scandinavians won 2 lost. Yka has lost to Veselovzorov in TKO he got furious and after 8 months he made the return match and defeated Veselovzorov 1RD 3`57 in RNC. Outside arena the parking was filled with black smoked windows luxuary cars which are Russian Mafia´s. And the Cage was surrounded by fat Mafs too. The fight was scary and the audience was scary too. Russia was still poor. I saw many many half dead homeless on the street. That was scary too.

Then Japan Shooto came into Scandinavia. They wanted to make network system between Japan and Europe.  Yakut almost finished Hansen in Arm Triangle. I thought Hansen would tapp. Escaped Hansen went furious. He started to GnP 100 to Yakut. But Yakut doesnt tap. Hansen went more furious.  I think it is 3 best crazy fights of Hansen.

MMA Viking : You follow MMA today with a keen eye. Who fight are you most looking forward to in the Nordic region, and also globally?
Of course Alex Gustavson and Martin Kampmann. I want to see them wearing the UFC belts.  I love this sport and wish MMA will be bigger business to make fighters to get good pay.  So they can train good to keep making exciting performance.
"Like" MMA Viking on Facebook and follow Kaoru on Twitter for the latest on Nordic MMA. Kaoru will be doing live coverage of Rumble of the Kings in Stockholm and Scottish Fighting Championship 5 card in Glasgow.