Organizers at MMA Academy have announced that Omar Bouiche will be back at MMA Academy. Bouiche is not only one of the first Westerners (together with Bas Rutten) to fight on the Japanese pro MMA scene, but also one of the first (together with Shooters head coach August Wallén) to introduce MMA in Sweden.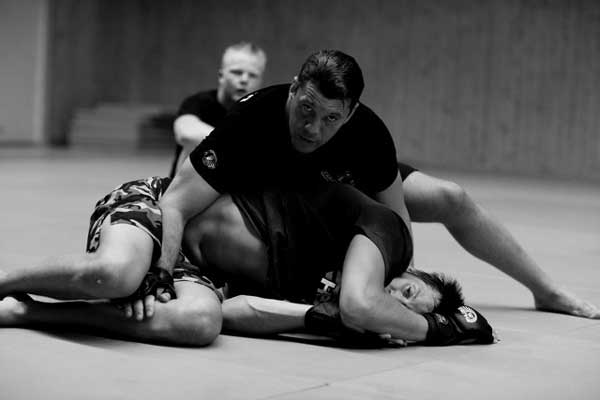 Also added is UFC fighter Magnus "Jycken" Cedenblad and MMA professional Bobby "Danger" Rehman who will run MMA beginer classes in MMA at Summer Camp 2012. "Work on your basics and have lots of fun doing it! Guiding you on the trip are two of the nicest fighters we know, both with lots of teaching experience." says MMA Academy about the latest additions.
About Omar Bouiche
Omar is one of the true legends of Swedish MMA. Long before the dawn of the UFC, Omar trained with legends such as Rickson Gracie, Bas Rutten and Ken Shamrock. For two consecutive years (in 1999 and 2000) Omar was ranked 2nd in the light heavy weight-division in the Japanase promotion Pancrase, the predecessor to UFC, Pride and Strikeforce. He still train a great deal of Sweden's top fighters on a daily basis and many international MMA stars have gotten valuable tips. Some very even call him the most complete MMA fighter they've ever trained with.
"As you probably already know Omar coaches several UFC fighters on a daily basis, and lots of other MMA pro's come by his Pancrase gym now and then to get Omar to develop their fighting even further. What Omar doesn't know about fighting is hardly not worth knowing, so of course we're very happy to have him aboard." says MMA Academy about Omar coming back.
About Bobby "Danger" Rehman
In the cage, Bobby was one of the hardest and brutal strikers we've seen. However, as is often the case with pro fighters, outside of the cage he has a heart of gold and is very warm and friendly. After an impressive pro career, Bobby today puts all his focus on becoming the most appreciated MMA instructor that walk in a pair of shoes. Bobby will teach the "I'm a total beginner"-class in MMA.
Hear it directly from Brandon Vera, Andreas Michael, and Bobby Rehman
About Magnus "Jycken" Cedenblad
Magnus live and breath MMA. During the last couple of years Magnus has been very successful in his pro fights in the MMA cage, and has defeated tons of opponents. He is one of the fastest rising stars on the Swedish MMA scene, and has recently even signed a UFC contract. Besides, Magnus is hard to miss, even if you are like a mile from him. He's always boosting a big smile, and his laughs are often highly present. And loud. In short, where Magnus is, the energy level is sky high. A class with Magnus, in other words, is never dull nor boring. Magnus will teach the "I'm a total beginner"-class in MMA.
For more information visit www.facebook.com/MMAacademy.se and for more information and to register visit www.mmaacademy.se