The Zone FC have announced the the first bout, and it's a top notch fight between two of the best swedish and European middle weights right now. Mats Nilsson from Kaisho (8-1-0) takes on Tor Troeng (14-4-0) from Renyi Fightcamp in Umeå. The two will face off on the 6th of May as professional MMA returns to Gothenburg and Lisebergshallen with The Zone FC 10 – 'DEMOLITION'.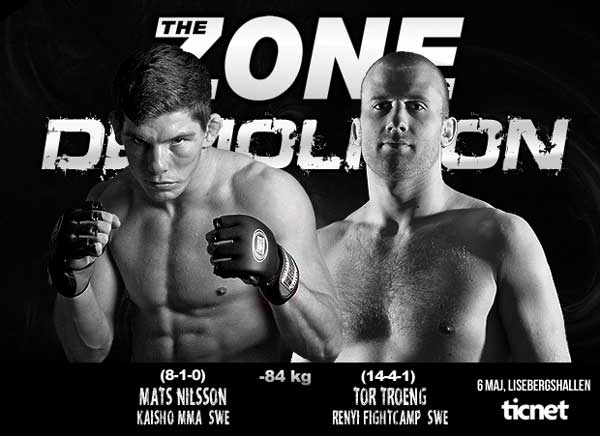 Both fighters comes from impressive wins. Nilsson defeated Tom Speer at Cage Warriors Fight Night 3 a former UFC-fighter and TUF finalist. Troeng on the other hand won against Andre Reinders by KO in his last fight.
Troeng is strong in his wrestling and grappling and so is Nilsson who is a two time world champion in grappling (FILA). Whoever will be victorious this fight night will need to put on his best performance in order to win this fight.
Buy your tickets at Ticnet
http://www.ticnet.se/event/The-Zone-FC-10-Demolition-biljetter/LIH1001
The Zone FC – Demolition fight card
http://www.thezonefc.com/fightcard.asp?CompetitionID=940