Battle of Botnia 2015 card is now finalized. The November 28th card going down at the Exel Arena in Umeå, Sweden and with the addition of Swede Herdem Alacabek against Frenchman Mathieu Grondin today the card is set.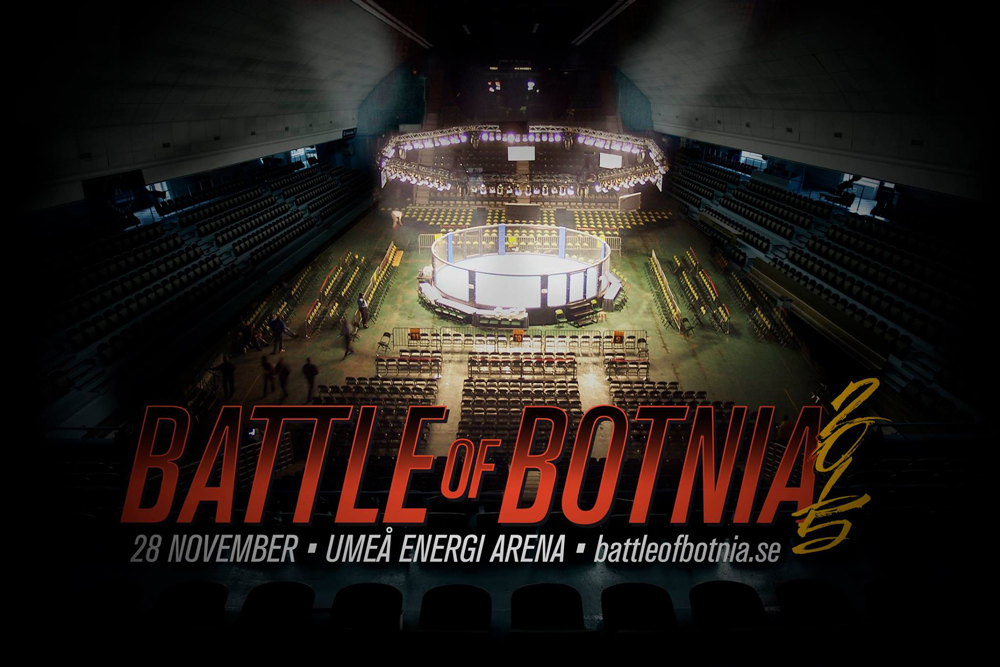 "We have the ambition to have an annual event." says former UFC fighterTor Troéng that is leading the promotion's return in his home town after a 4 year absence.  "The focus will be to create a platform to highlight promising young fighters from the north."
The card will be fought for the first time in a cage, after a history of fighting in a ring with ropes. This year's card will have 9 professional MMA bouts.
The promotion ran from 2009-2011 and included up and coming fighters at the time of locals Troéng, Andreas Ståhl, and David Häggström, in addition to other UFC fighters Nico Musoke and Akira Corassani. Niklas Bäckström will headline the event against Bulgarian Georgi Stoyanov.
In all the other bouts it will be a Nordic fighter taking on a foreigner, except for the Swede versus Swede battle in David Michel Häggström and Emil Hartsner.
"Battle of Botnia has been an important springboard for my own career. Therefore, the driving force for me to give today's MMA talent the chance." – Tor Troéng
See the full fight card here.
Fight Card
Thomas Back vs. Souksavanh Khampasath
Herdem Alacabek vs. Mathieu Grondin
Jonatan Westin vs. Gheorghe Gritko
Emil Weber Meek vs. Christophe Van Djck
Viktor Gustavsson vs. Kams Ekpo
Fernando Flores vs. Martial Seguy
David Michel Häggström vs. Emil Hartsner
Lina Akhtar Länsberg vs. Lucie Pudilova
Niklas Bäckström vs. Georgi Stoyanov – Main Event