Norway's Emil Meek (9-5, 1 NC) lost to Australian Jake Matthews (15-4) at the UFC Fight Night in Auckland, New Zealand.  It was a 15 minute battle, with Meek always on offense.  "Valhalla" used nasty kicks to destroy the front leg of Mathews and landed elbows and knees to damage throughout.  However, it was Jake that got the take-downs to control on top in the first two rounds that got the nod 29-28, 29-28, and 29-28 in a real entertaining bout on the prelim card.  Read the live play-by-play below.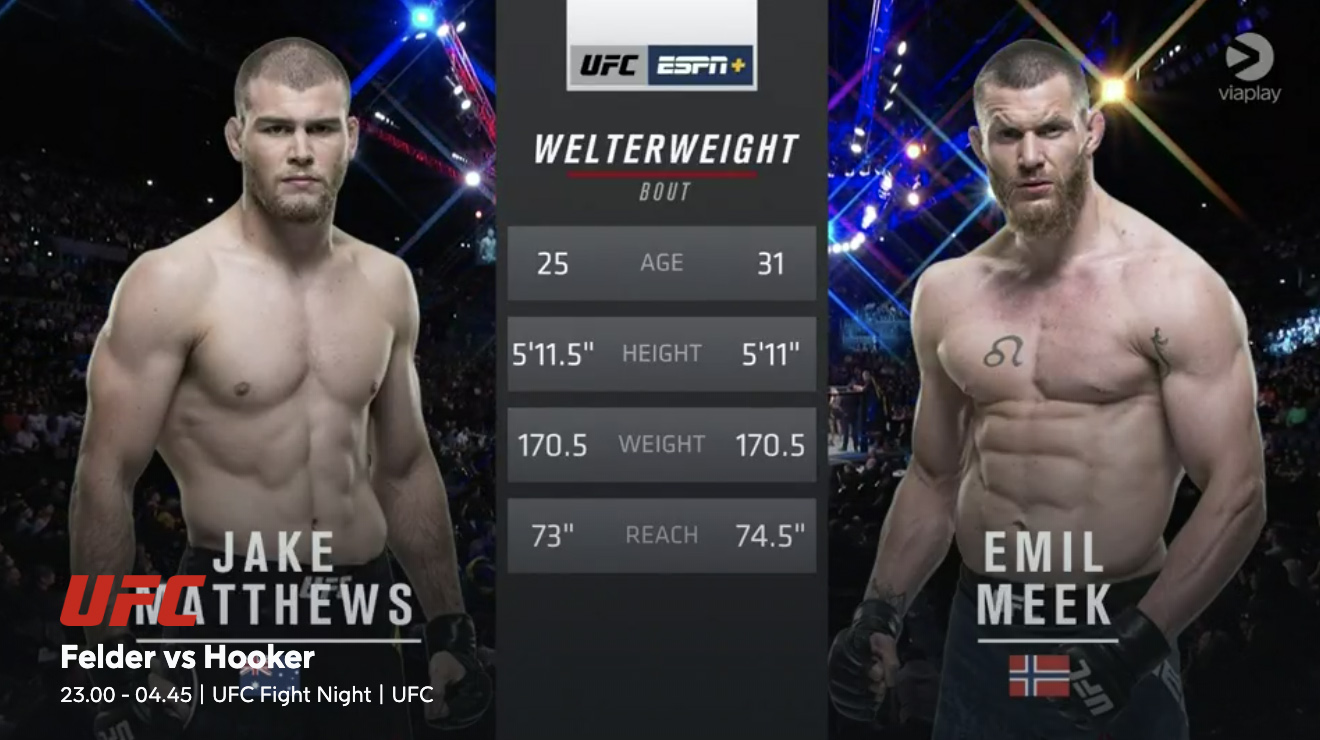 Meek comes out with a nasty right low kick.  Another kick and as the Frontline Academy fighter moves to engage, the "Celtic Kid" is in on a double leg for a nicely timed take-down.  Mathews is on top, but no damage and Meek scoots out and stands up with more than half a round to work.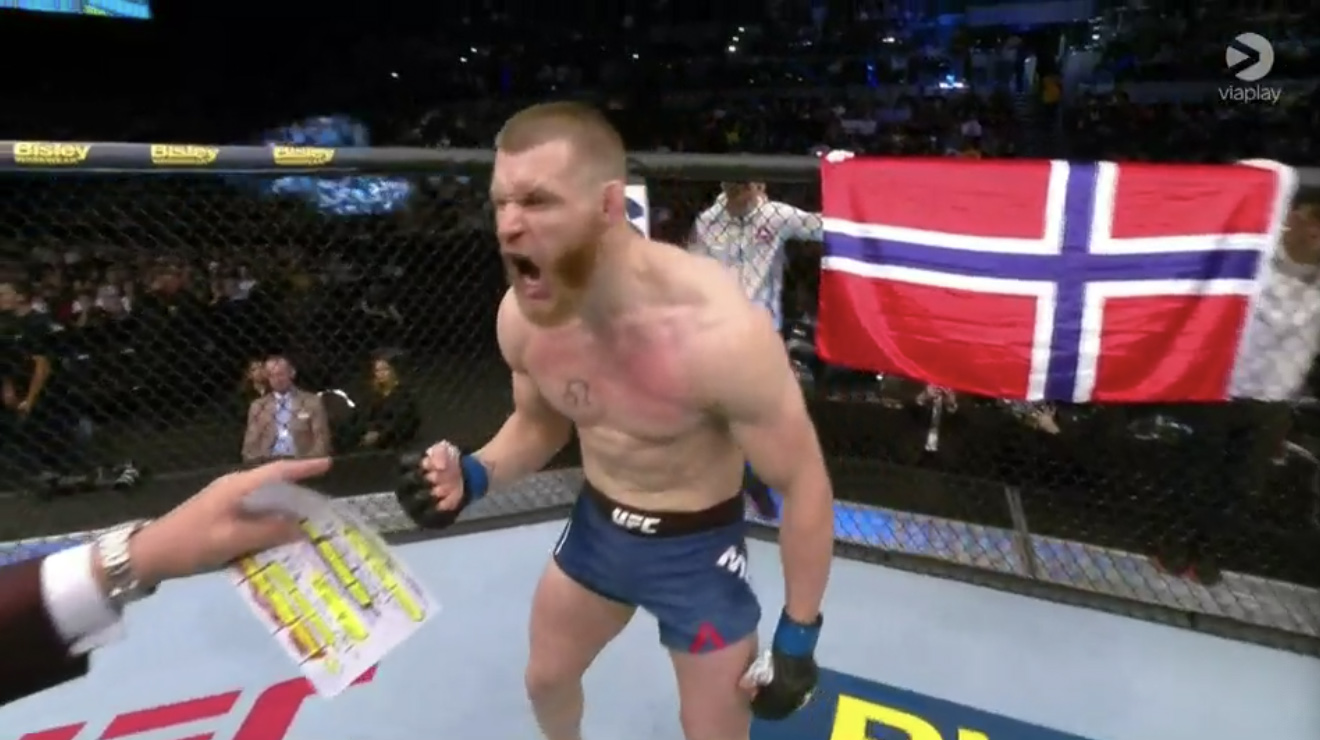 A HUGE lead upper cut from the Australian that drops Meek to his back.  Half guard, but Meek with butterfly hooks and lands some nasty elbows from the bottom to the top of the head.  And more elbows.  Some punches from top as Mathews rides out till the bell.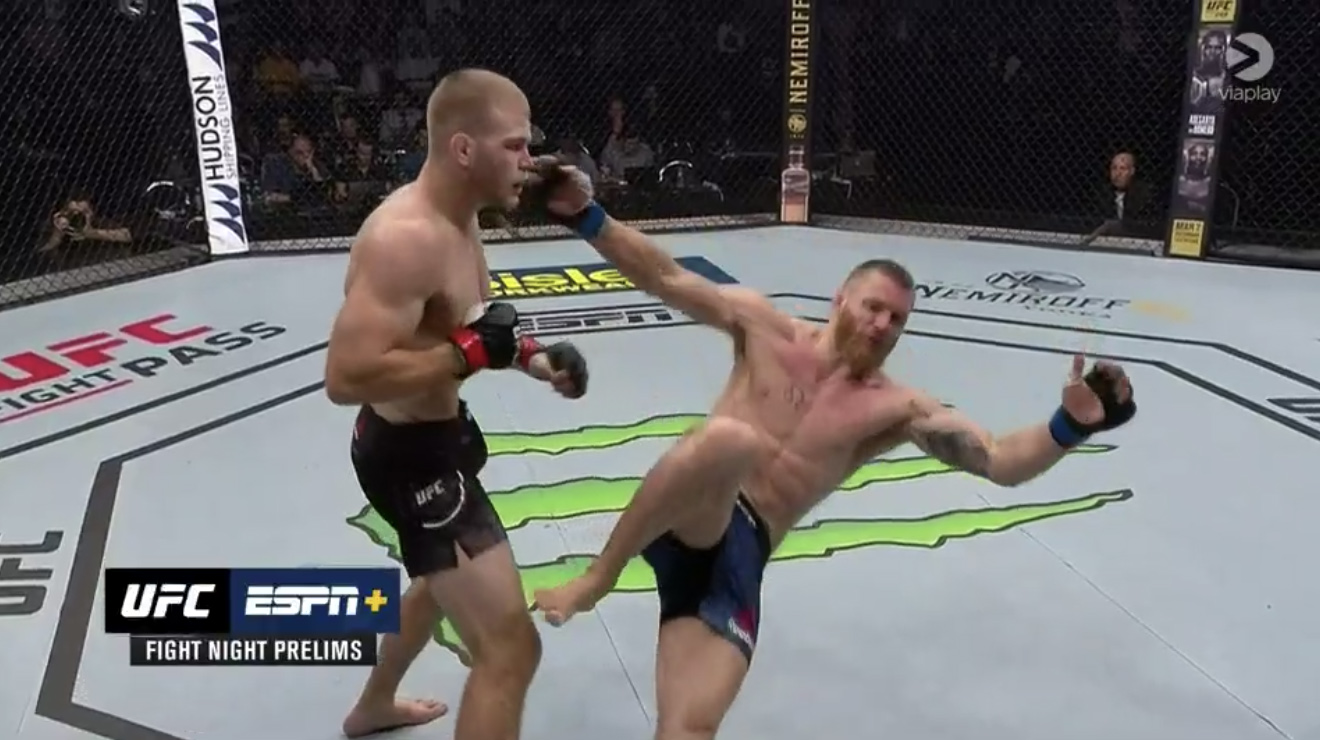 Meek focused entering round 2 and encourages the crowd to cheer.  The Norwegian mixes in punches, then a follow-up kick.  Mathews quick in return with a big right hand.  Big knee to the face of Meek, and Mathews in on another double-leg take-down.  Meek tries to escape and rolls through, but Jack immediately takes back.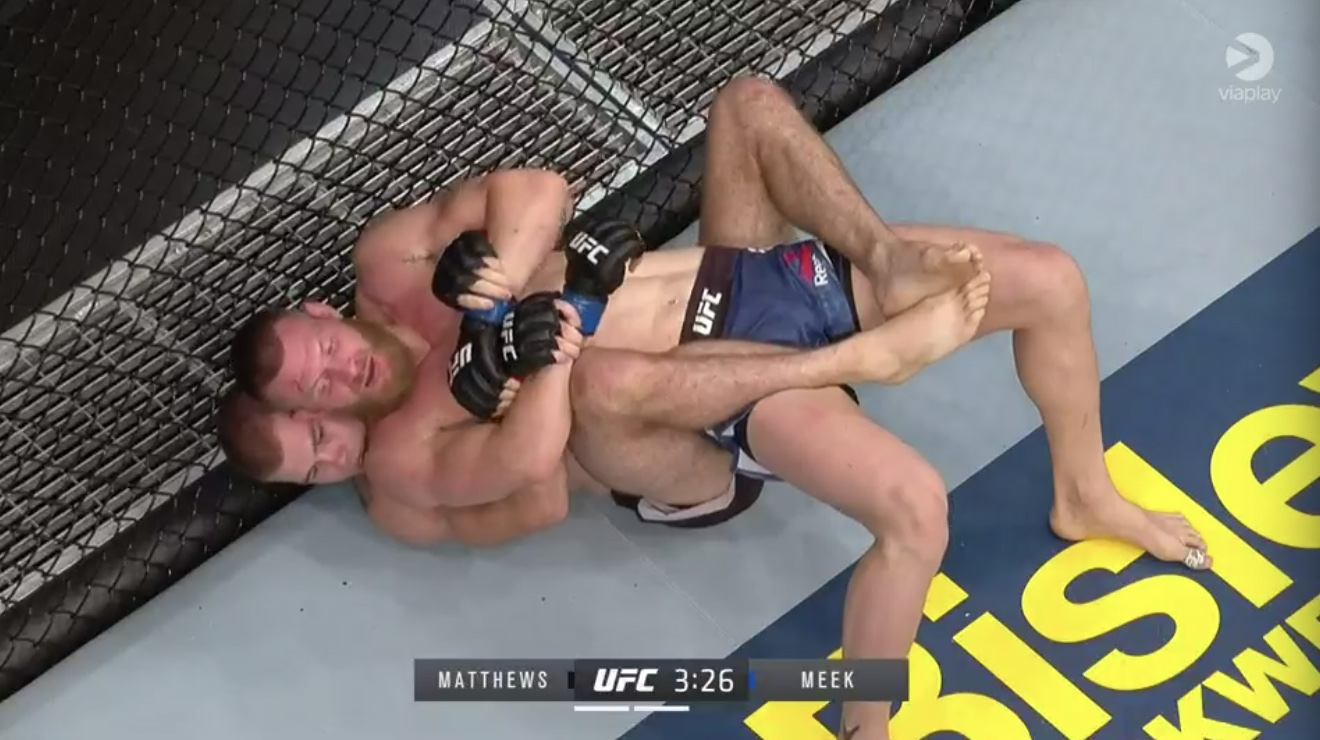 Emil trying to stay out of danger as Mathews has both both hooks in.  But Meek makes his move and escapes and quickly lands two booming knees to the face and immediately lands elbows going for the kill as Mathews is hurt, but he spins and lands a punch and Emil pursues… but it is too fast and Mathews lands a straight punch and in on another take-down after a while exchange.  One minute left, and Meek now looking for a submission of his own.  To his feet, and Meek spins out and tries to lands knees as Mathews throws punches.  What a round!
Back and forth we go!@JakeMatthewsUFC and @EmilValhalla leaving nothing to chance! #UFCAuckland 🇳🇿 pic.twitter.com/KJWus6Simq

— UFC Europe (@UFCEurope) February 22, 2020
"You don't need to brawl" yells Dan Kelly in Mathews corner, as Jake looks to be tiring.  Meek on the other hand is ready to go as he raises his fist in the air.
Right kick for Meek, and looking like the fresher fighter.   Emil really finding a spot on that kick.  Meek goes high with a kick that lands, and the Norwegian is pressing the action.  Mathews shoots for a take-down, but it is slow and Meek defends it with a good sprawl.  A crusher of a low right kick, and this is all Meek in the 3rd with two minutes left.
Mathews in on a single leg, but Meek just crushing the side of his face with elbows, and again, and again.  Good exchange as both land, but Meek wants more.  Meek with a last chance at a flying knee, but Mathews in on a double leg as the round ends.  Meek yells as he wants more, but the 15 minutes is over.  Mathews can barely walk as the Norwegian just destroyed the lead leg of the Australian.
By UD! ✅@JakeMatthewsUFC gets the nod! #UFCAuckland 🇳🇿 pic.twitter.com/VP3fZWKBYK

— UFC Europe (@UFCEurope) February 22, 2020
All three judges score it 29-28 in favor of the Australian.