In the 8th episode of TUF 22 it is time for Sweden based David Teymur to step into the cage for the first time since winning his bout to get into the house. He is matched up against American wrestler Johnny Nunez.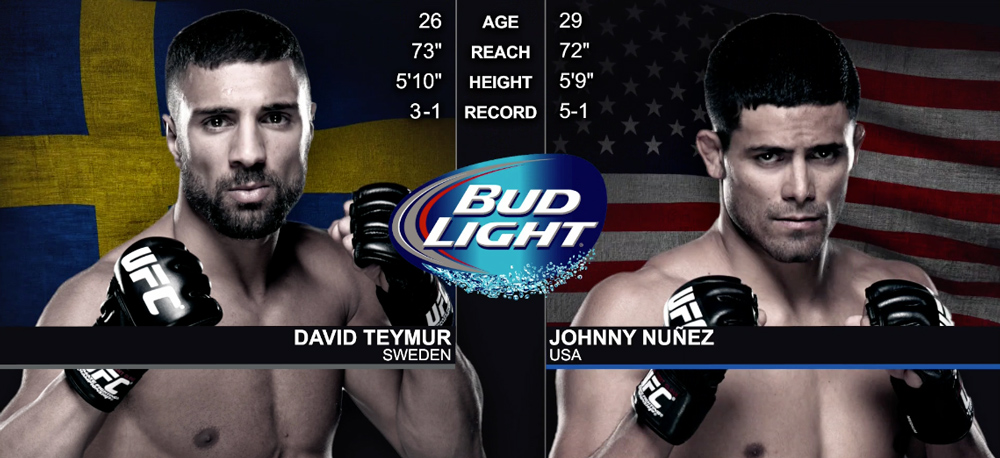 "I know how to wrestle, too" says the Allstars Training Center fighter leading up to the fight against the 5 win and 1 loss fighter.
Fight Play-by-Play
Conor McGregor was not there in time for the bout, so the Team European fighter went in without his coach.
Round 1
Teymur in his southpaw stance sees an aggressive American early that rushes in with a flurry of punches. Good left kick from Teymur, and another. Teymur loading up on his left hand but misses, and Nunez gets a body lock. Teymur defends nicely with a knee and then he is on top and punching and punching and this may be a finish. The Swede looking at referee as he lands more and more blows to the head, but they aren't damaging enough and the ref tells the American to fight back.
Nunez stands up, and they are back to the feet half way through the round. A couple good knees from Teymur before they leave the clinch, and now a solid left hook from Nunez that drops Teymur and he is on his back. What a reversal here in Las Vegas. Teymur takes a deep breath as he builds his base and stands up. Dana White in the background claps his hands, and Teymur is up and landing his knees before being taken down again. Full mount with 1 minute left, but Teymur regains half guard. Now back to full mount as Teymur tries to get off his back.
Good round 1 for Teymur.
Round 2
Teymur backs up to start the second, but rushes in with a solid left kick. Both looking for a big shot, and Teymur is landing his left kick again and the American doesn't like that. He shoots in for a double-leg, but Teymur defends. Combination, then flying knee from Teymur… but he ends up on his back. Three minutes left.
No damage from the Americna and his basically tries to hold top position. Teymur looking to create some distance, but Nunez is suffocating and pops into full mount with 90 seconds left. "You have to stay busy on top" says the ref. TEymur gets to his feet with 45 seconds left and immediately throws left high-kicks. And a nice one to the body. Big knee, then kick from Teymur that has taken back the momentum. Good left hand from Teymur. "Stay ready" says the referee, that may be ready for 3rd round.
Close 2nd round. Johny used his wrestling, but the damage was on Tymur's side.
Round 3
Coach Conor McGregor walks into the facility during the break. It is a sudden victory round.
The two touch gloves and both fighters look a little tired. Nunuz lands big early, but Teymur comes right back and lands a punch of his own and Nunes is down. Teymur on the offense! Landing punches to the face as the referee looks closely. Nunes on all fours as Teymur lands short right hands from the back. Johny is exhausted but he stands up and clinches with Teymur. This is a war. Three minutes left.
Jumping left kick from David that lands, and Nunes collapses to the mat. Teymur with a front headlock. Good front kick from Teymur, and this round is all the Swedes. Two minutes left and they are clinching. Another left headkick from Teymur and the American shoots in for a takedown. Nunes does get it after an armdrag. Now Teymur has his back taken and pops into full mount with 30 seconds left, but Teymurs gets it to half guard. 15 seconds left. 10 seconds left. And that is it.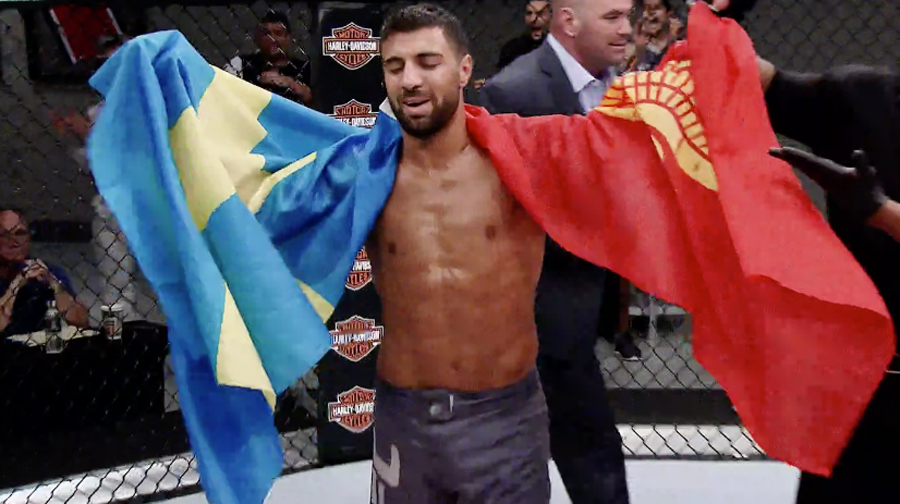 Teymur wins the fight by unanimous decision. "I am so happy" says Teymur about the victory.