Fifteen years after the legendary Finn Fight 1 event, the first No Holds Barred event in the Nordics, the purest form of Mixed Martial Arts is back in Finland! The Finnish promotion behind the Turku Fight events has announced that to honor fifteen years of MMA in Finland the upcoming Turku Fight 5 card will feature also two No Holds Barred fights among regular MMA bouts. Turku Fight 5 event will go down at Kupittaa Sports Hall on the 14th of September in coastal town of Turku.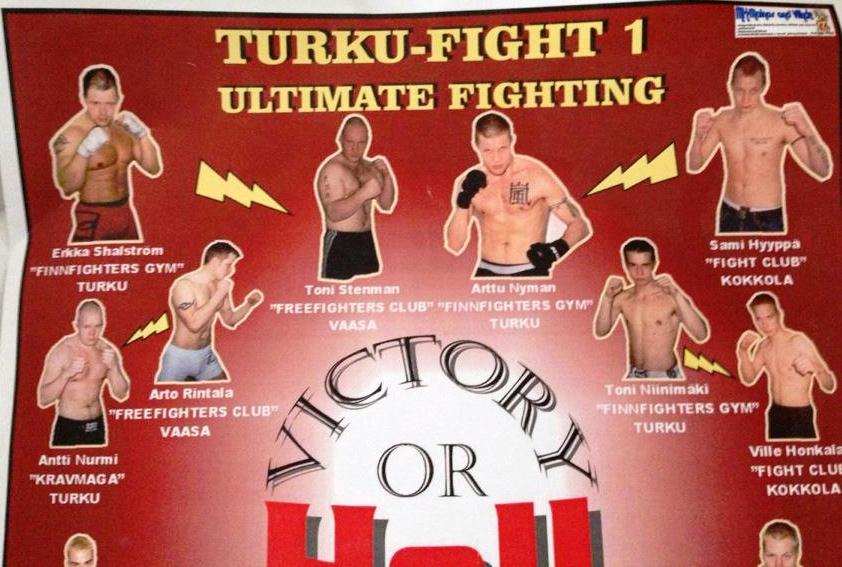 The NHB fights at Turku Fight 5 will be fought under original Finn Fight rules which means that in the ring the bare handed fighters will fight with a wide arsenal of attacks to choose from. Head butts, knees on a grounded opponent and elbows on the ground are all allowed among the usual punches, kicks and submissions. Soccer kicks and stomps are forbidden as is unsportsmanlike conduct like groin strikes, biting and small joint manipulation.
In the featherweight NHB title fight Turku's own Jerry "AD/HD" Kvanström (10-4) will face tough Russian veteran Yunus Evloev (12-6). Our content partner FightSport.fi interviewed excited Kvanström about the upcoming battle against an opponent that is no walkover.
"Trying this kind of stuff is interesting. The quickness of NHB fights is what captivates me. Head butts are the only thing that I find somewhat questionable as an athlete. Evloev is a tough opponent and a heated guy. The list of volunteers for the fight was quite short and there wasn't any easy ones on it." said Kvanström who hails from a extensive background in wrestling.
Kvarnström goes into the fight riding a three fight losing streak against respectable competition while Evloev is 1-1 in his last two fights. Evloev took a high profile win a year ago at M-1 when he won a decision over Frenchman Olivier Pastor. Last month Evloev fought at M-1 Challenge 40 where he lost to Ruslan Abiltarov by split decision. Evloev is no stranger to Finns as he has faced the best of Finland in Anton Kuivanen and Tom Niinimäki before, losing by submission to both.
In the middleweight NHB title fight hometown hero Sauli Heilimö (13-3) will go to battle against Dmitry Samoilov (14-6) of Russia. FinnFighters Gym's Heilimö is a former Shooto European Champion who has for the last few years focused on coaching,  doing seminars and competing in grappling. Heilimö hasn't fought since he submitted tough Dane Mikkel Guldbaek at Finn Fight 10 in 2008. It was "the call of Vale Tudo" that was needed to get the BJJ and Judo black belt to step back to action as the Finn said to FightSport.fi.  Heilimö started his fighting career at Wasa Fight 2 in 2000 and then went to fight all over the world including shows in Japan and USA. Heilimö started his career while MMA was still in early stages in the Nordics but never got the chance to fight bare knuckled. In FightSport.fi's interview Heilimö that this was one of the reasons why he took the fight with Samoilov:
"When I started fighting and fought those first fights in Finn Fight events, the rules were still the old school rules with head butts and all that but little gloves were used already at that time. I never got the chance to fight with bare hands and that was something that has been bothering me a bit. " commented the Finn.
Heilimö's opponent Dmitry Samoilov is also an experienced martial artist who has been fighting pro MMA since 2006. While Samoilov has lost to top talents like Karl Amoussou and Mario Miranda, he also holds notable wins over highly regarded fighters like UFC welterweight Hyun Gyu "the Ace" Lim and Bellator's Joe Vedepo. Samoilov enter the bout with Heilimö on a two fight win streak with both wins coming in 2012. The Russian hasn't had any recorded bouts in 2013.