Both Nicholas Musoke and Viscardi Andrade celebrated inside the Octagon Saturday night. The Brazilian put his hands up in the first round at the sight of Musoke falling to the floor, but it was the Swede that celebrated in the end as the judges unanimously awarded him the second two rounds and the win at UFC Fight Night 36.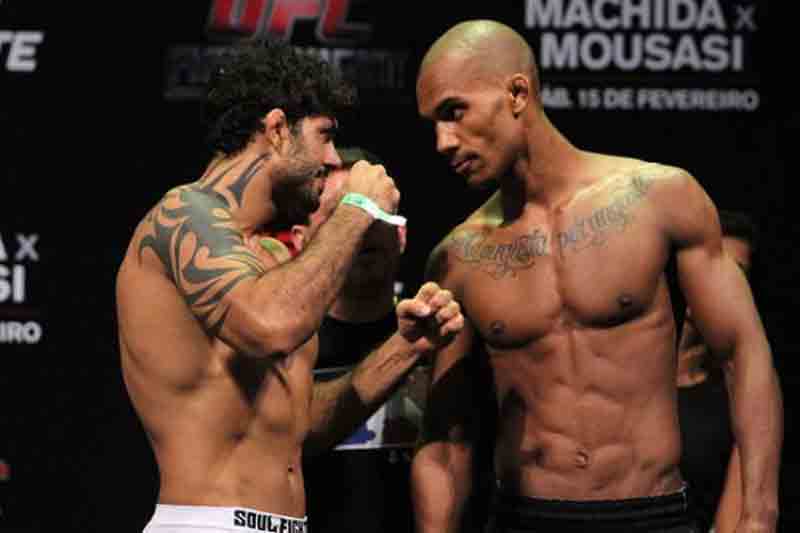 "It was stupid." Andrade tells MMAJunkie.com shortly after the bout, who's premature celebration gave Musoke time to recover from a huge right hand at Arena Jaragua in Jaragua do Sul, Santa Catarina, Brazil. The Brazilian TUF fighter lost his composure in the biggest MMA bout of his life, while the other kept his.
For those that know "Nico", it was a mistake. The hard working Swede isn't one to give up. You don't have to look too far back, as Musoke was hurt early in his Octagon debut against Alessio Sakara and even blinded by his opponent Ronny Alexander Landaeta at Golden Ring in Stockholm before stepping into the Octagon last June. Of course, it was Musoke that stayed composed and won those bouts also.
After the first round a barrage from Andrade that tried to capitalize and end the fight on the one big punch, it was the Allstars Training Center fighter that just continued to fight his way back into the match. Musoke returned to his corner after losing the first round, and courageously began to take the jiu-jitsu world champion to the mat, ultimately controlling and taking back of the decorated Brazilian for the next ten minutes.
The irony of the celebration is that Musoke would never do such an act inside or even outside the cage. Although many observers may be the first to characterize the welterweight as huge and athletic, it's the mentality, no frills attitude, hard work, and dedication that now puts Musoke at two wins and and zero losses into his UFC career.
"It's never the plan to get hit that hard in the beginning" continues Musoke. "All in all, happy with the win, but not at all with my performance, especially with the way the fight started." While the humble Swede criticises himself, it was another impressive performance and comeback that shows Musoke is not one to be counted out until the fight is officially over.