After yesterday's announcement making it official that UFC in Sweden 4 would be in Stockholm at the Tele2 Arena, a second Sweden based fighter has been added in Nico Musoke (13-3-1). The Rinkeby Muay Thai, Prana Jiu Jitsu, and BK Athen fighter will face Russian Albert Tumenov (14-2).
Fight Announcement: @NicoMusoke vs. @alberttumenov added to #UFCStockholm on Jan 24. Tickets on sale Nov 28th pic.twitter.com/35RDvnN2Mj

— UFC United Kingdom (@UFC_UK) November 13, 2014
Musoke has been impressive since entering the UFC, going three wins and only one loss in his four fight run. Most recently he beat Alexander Yakovlev at UFC in Sweden 3 by unanimous decision.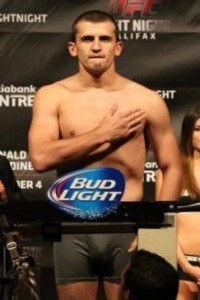 The 22 year old Tumenov is also no stranger to the Octagon, as he has put together a two win and one loss record together since signing with the UFC in February last year. He is on a two fight winning streak, most recently with a KO of Matt Dwyer at UFC Fight Night MacDonald vs. Saffiedine in October.