Nordic fighters were on display in Sweden for the UFC in Sweden card Saturday night.  Below are comments from each Nordic fighter:
THORESEN & YOUSEF
SIMEON THORESEN:
"Fantastic  I am the first Norwegian that has ever one a UFC fight, so this is history for me and all of Norway. It was fantastic to hear the crowd give me more and more motivation to win."
BESAM YOUSEF:
I lost what can I say, I got caught!
MADADI & IZQUIERDO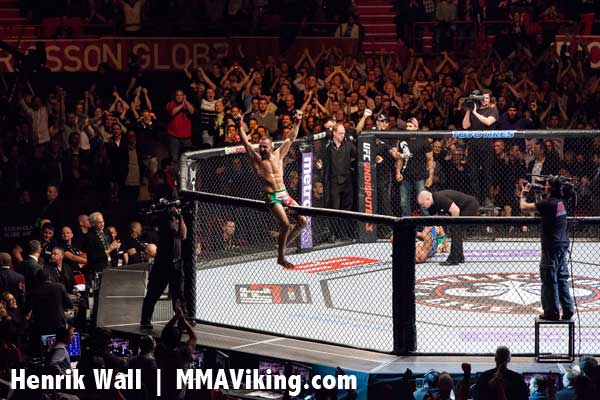 REZA MADADI:
Wow what an amazing night, all the worlds athletes dream about having a night like this and it maybe comes once in your lifetime and tonight was my time.
YOISLANDY IZQUIERDO:
He is very happy as a person right now that he represented the Cuban nation and for his first fight in the UFC it's a hard loss but he will come back stronger and better.
CARMONT & CEDENBLAD
FRANCIS CARMONT:
"I'm happy with the win but disappointed with the first round, I knew my wrestling was strong but I let my self down in the beginning.
"MAGNUS CEDENBLAD:
"I did good in the first round and just lost it in the second, I will get back and get better."
ABEDI & HEAD
PAPY ABEDI:
I'm really disappointed in the fight today, but it's MMA not everyone can win but honestly I'm disappointed.
JAMES HEAD:
It feels unbelievable to win! I waited a long time for this after the injury and losing in Vancouver but this win is everything I hoped for and more.
GUSTAFSSON & SILVA
ALEX GUSTAFFSON:
"It is amazing to win in front of my home country. It's my first decision, which is new for me, but I'm still learning and progressing and this was an important experience. But this is a dream come true"
THIAGO SILVA:
"I didn't have the performance I would have liked but I gave it my best."