MMA Viking is live at Goben arena. And it's wild to hear Bruce Buffer say "We are live" standing in Stockholm.
Intro
OK. First, I've made sure I'm not dreaming…. and apparently the UFC in Sweden is actually happened. Yes, it it here and it's crazy. The place is buzzing. Seems to be a mixed crowd here, and people have been saying more than 1/2 from outside of Sweden. Seems like Norwegians, Finns, and Germans are in bunches.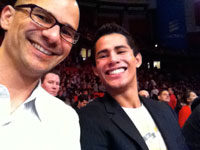 There are still lines out the door. About half full, but everyone trying to get in.
What a day for surprise snow fall. Makes it feel even more like "Xmas", Joakim Borgudd (@borgudd) from FighterMag.se agrees.
Jason Young Versus Eric Wisely
Jason Young wins the first bout, in a close decision. To be honest I was trying to set up my wifi, and say hello to all the familiar faces from Sweden. Plus Norway, Finland, and Denmark buddies so far. I'll throw in plugs later.  But good to see a bunch of old and new faces.
Simeon Thoresen Versus Besam Yousef
Round 1
Sweden is going crazy, as their first fighter walks into the cage. His name is Besam Yousef. Simeon Thoresen also gets a good pop from the crowd with Norwegians in the crowd, and the two are swinging… looking to land big blows. Besam sees an opening with a looping left, which it looks like he's measuring up.
Simeon looks for a takdown, and gets it. Yousef punishes with some elbows. "BESAM, BESAM, BESAM" chants the crowd. Simeon landing straight rights from the top, but Besam has some decent backfists to answer.
"Sverige" chants breakout toward the end of round one. Besam landing good blows in teh clinch, but Thoresen looking to damage with knees. Seems like this round has gone on for 10 minutes. The two battle in what seems to be a good matchup. Besam cracks Simeon to end the round. Wow.
Round 2
As the two start out round two, the crowd chants "Thoresen" but the crowd does not like it.  Yousef fights off a takedown, and lands two good left hands.  Then damages with a hard right kick.  Thoresen looks like he may finish with a darce choke, but Yousef barely survives…… looks like the Gothenburg fighter is in trouble and is laying on the ground.  He rolls to his back, and The Grinn finished the bout with a rnc to win the bout.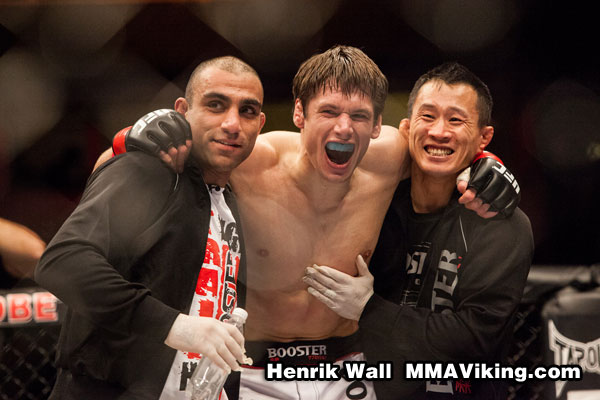 What a barnburner!  Wow, what a fight.  Florian now steps up "Fantastic"  "I finally made it"  Thomas Moon Lee standing in the background looks like he's going to shed a tear.  First UFC win for Norway.
Yoislandy Izquierdo Versus Reza Madadi
The home town Madadi is entering to some Middle Eastern groove.  The crowd is clapping like an Abba concert.  OK, last reference to Abba.
Round 1
Madadi chant hurts my ears.  Madadi looks loose, but Izquiero looks strong with his strikes and length.  Madadi does catch a leg, switches to a double and gets on top.  He takes control of the bout early. Madadi looks hurt as it scrambles to the feet, turning his back… .but it looks like both fighters are up and composed. Madadi shakes out his hands.  Izquierdo lands a good left headkick, which is blocked… Madadi urges Cuba to come forward.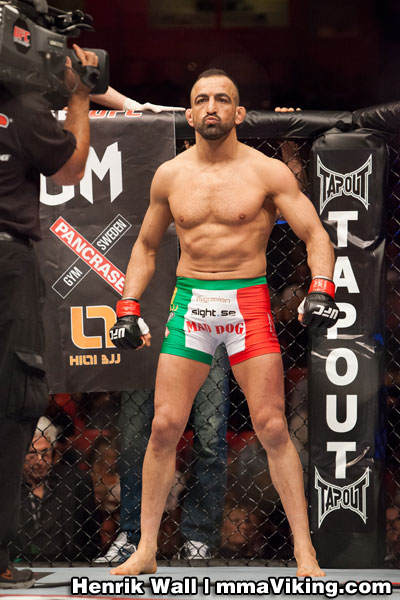 It's halfway through "Com igen Reza",  Madadi looks to have a little cut under is right eye.  Madadi dives for a single leg, and Cuba seems to be the more confident man on the feet, using his kicks and jab as needed.  Madadi gets a takedown.  To end the round, Madadi scores a takedown.  Close round.
Round 2
Slow start to round 2, but Madadi brings it to the ground finishing a takedown.  Madadi locks on a submission to end the bout.  Guillotine.  The place goes nuts!  "Reza, Reza, Reza" the crowd chants.  Madadi jumps on the cage to celebrate.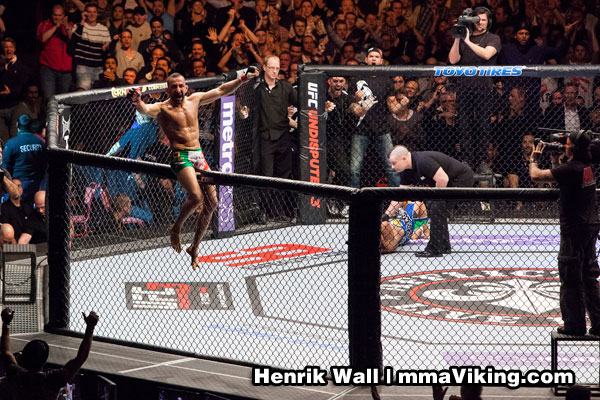 "Hey man, this kid was very good"  "I took it to the ground, and you can see the result".  "I want to thank you guys" yells Madadi to finish his debut performance.
Francis Carmont Versus Magnus Cedenblad
Cedenblad is the first fighter to enter.  He's doing high-fives all the way down the line, and looks to have his game-face on.
"Jycken" the crowd chants.  Carmont looks cool as ice, stalking the Swede.  Cedenblad is taken down in an exchange, and briefly looks for a guillotine.  Jycken is active off his back. Cedenblad with a big takedown after the fight briefly goes to the feet.  "Jycken" is pouch in English for those outside of the area.  Cedenblad looks for a pounding away and has Carmont's back.  Looking for a finish.  Softening up the Canadian trained fighter.  Back on top, looking for more damage.
Cedenblad almost has a RNC locked in.  The Swede loses position, and is now on his back.  Carmont looking to damage with punches, and takes full mount, but Cedenblad reverses to end up on top. 1:42 into round 2 finish for Carmont.
Cedenblad Wins Round 1
Round 2
Carmont is taking it out on Cedenblad in round two, and damaging the local.  Cedenblad is fighting to stay in the bout, and taps to a RNC in Round 2.  Disappointed Cedenblad took some shots in round two that seemed to stop the Swede from fighting through.  Cedenblad is visibly disappointed in his debut.
The crowd yells "GSP" to recognize the recovering champ.  GSP pays respect to Cednblad, and looks like to have become good buddies with him quickly as they do fist bumps.
Cyrille Diabate Versus Tom DeBlass
Wow, pretty good chicken in the media room.  Also for important housekeeping, there is only one ring girl.
Round 1
OK, back to the fight.  DeBlass outgrappled the Frenchman, and even got his back at the end of the round.
Round 2
Deblass is charge early of round two, but Diabate finds his way out.  Instead of standing up, Diabate looks to pound a bit on the ground, which could backfire…. and it does.  The American is back on top, and the crowd is not happy.  Both fighters seem to be a bit tired, and this bout is going into slow motion.  Diabate lands some good hammer punches, and with the legnth of his arms, those must hurt.  DeBlass was called-up on late notice, and we may be seeing the result of that.  BIG left from top by Diabate, and the French media (GlobeMMA.com) claps in joy, but in a professional manner.
Round 3
Round 3 is very slow, as both fighters roll to the ground.  Diabate tries some ground and pound.  Boos come out for the first time.  DeBlass's face does not look good.  Congo in the Frenchman's corner.  Round 3 to Diabate.
Majority decision to Diabate, 29-28, 29-28, and 28-28… as a 10-10 round is thrown out.
Papy Abedi Versus James Head
Abedi enters second, and the feet is trying to come alive after being put to sleep in the previous bout.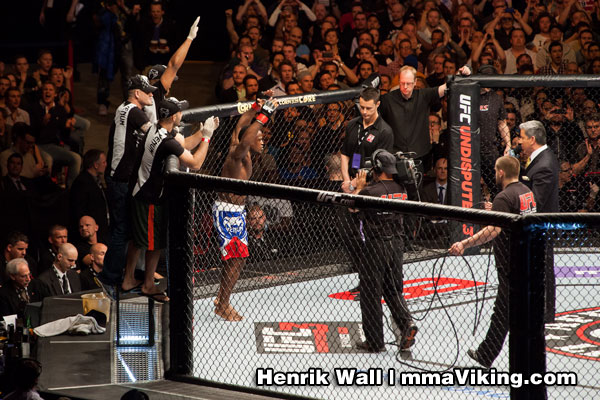 Round 1
Papy looks a bit more relaxed in his second outing, landing some good kicks early on.  The Swede, born in France that grew up the Congo,  you don't see that too often.  Makambo is able to take the fight to the ground with a takedown.  The fight makes it to the feet, and the two are slugging it out.  The overhand left for Makambo seems to be the strike of choice for the Swede, who is looping punches.  The American a bit tighter in delivery.  The Swede is hurt, and taking knees.   He takes an elbow, and is dazed.  The American mounts Abedi, and hammering down.  Looks like it could be over for the Swede who taps to bring the fight to a close.  The American's rear-naked-choke is the submission.  "Mess with the bull and you get the horns", who probably didn't earn too many fans by beating a local and pushing him away as the Stockholm-based athlete taps out.
Damacio Page versus Brad Pickett
Round 1
Good spirited round 1.  Pickett takes the bout to the ground, and Page looks for an armbar.  Looks like Pickett is thinking takedowns in round 1, and with his top game.  Good first round, and now it's starting to feel like a real UFC.
Round 1 for One Punch
Round 2
Good spirited round 1.  Big punches for Pickett and he drops Page. It goes back to the feet, and again Pickett is dominant with strikes and seeks to finish with a RNC in round 2, and he does. Pickett wins.
DaMarques Johnson versus John Maguire
Round 1
What a first two minutes of the bout. Maguire with a nice takedown to bring the fight to the ground, and Johnson almost got an armbar… but the UK fighter was able to get out. Who says guys from the UK can't wrasle.
Round 2
Big left from Maguire that damages the American, but Johnson immediately reverses and now looks for offense on top. Johnson takes side control. The bout goes back to the feet, where the American kicks Maguire near the groin, and follows up with another shot near the groin. The UK fighter looks a bit disturbed with it all, but he brings the fight to the ground. The pink belt countered the kimura with an armbar submission. Win for John Maguire.
Diego Nunes versus Dennis Siver
Round 1
Siver seems like a local fighter with all is cheers in round one. Both fighters look for success with hard punches and kicks. Close round, ending with Nunes kneeing in tie-up. Internet outage here, so lack of update on this bout. Overall rounds two and three were close, and in round 3 Siver was bloodied up in the eye.
All judges however agreed that it was Siver's night, winning unanimously on all cards. The weight cut didn't look to hurt the German.
Siyar Bahadurzada versus Paulo Thiago
Round 1
What? KO win for Bahadurzada before any real action. Thiago goes down with a counter punch by Siyar, quick, and lays face down on the mat. Brazilian was out cold at 42 seconds.
Alessio Sakara versus Brian Stann
Round 1
Stann is moving his head, fainting. Sakara looks to be in great shape, a different boy than I've ever seen. Wild exchange, and both fighters land punches. Sakara gets the worst of it with a big knee by Stann. The All American looks for some ground and pound, and is able to KO the Italian. His lights are out, and Stann eases up. The ref jumps in. Just stoppage. Stann gets a warm round of applaus on his way out.
Before the Main Event
Dana White strolls in and the plays goes nuts. He was coming in just before the fights… flying in an hour or so before the first fight. The man has not missed a UFC event since Zuffa has taken over. He now heads over the the crowd, and cameras are out.
Lights out…. main event time!
Alexander Gustafsson versus Thiago Silva
It's nice to see in the promo that they let Gustafsson talk in Swedish. The crowd actually giving light applause to the Brazilian who enters into the ring second. Alex's claps coming in get the crowd to its feet. The crowd chants "Alex, Alex, Alex". This looks like a fight with the mean dog staredown.
Round 1
Silva looks for a surprise attack early, but Alex keeps his distance. Alex hurts the Brazilian, but Silva invites him in for more. Gustafsson looks to Maul, but backs up and regains his composure. The crowd is going nuts, like a soccer match… it's loud!
Silva looking to throw punches, but Alex is quick, and even throws in a kick. Hi lands a good right hand. The two exchange, and Silva seems to be looking for a counter hook, but Alex tries to keep his distance.
The crowd chants "hit him in the face" in Swedish. The two look content to keep it standing, and the Brazilian's nose is bloodied. Gustafsson mixing in kicks well, but Silva looks to be stocking Gustafsson, but the Swede is not in danger. Minute left in the bout, and Alex is taking deep breaths.
Round 1 for The Swede!
Round 2
Gustafsson puts Silva on the matt, but wisely takes a step back. The left jab seems to be working well. The Swede goes in with a right, but still cautious of a big counter-punch. The crowd starts again with "Alex" and Gustafsson moves in to land some big punches, uppercuts, then looks to kick Silva in teh face, but misses. Half way through the bout, nad Silva lands a big right and sends the Swede back, but he recovers and moves in to land some big punches himself.
Alex still pawing at his opponent, and tries a reverse kick… then Silva tries one of his own. Silva now presses the action, but Gustafsson shows his great footwork. Round 2 in the bag.
Round 2 for The Swede!
Round 3
Silva's right eye is bloodied, but he moves forward. Good exchanges, and both are landing early. Gustafsson stays on his bike, and Silva leans over and tries the big left, but Gustafsson keeps his distance. Gustafsson lands a nice knee after an exchange, and repeats it again about 15 seconds later.
Silva did not come for a paycheck, he came to fight and looks for an array of attacks to try and get through. But the Swede continues his game plan of sticking and moving. "Alex, Alex, Alex" the crowd chants with 1 minute to go in the bout. One-two punch for Alex, then a knee. Later he lands a nice right upper cut. Silva still going for a big punch, but Alex stays away and back-pedals his way to a clear victory. Alex hugs his opponent, but Silva is disappointed.
30-27, 30-27, 29-28 victory for "The Mauler". "I'm honored" says the Swede. "I want to do what I like to do, fight".