Cage 36 goes down tonight at the Helsinki House of Culture. Janne Elonen-Kulmala will headline the event against late replacement David Skrisovsky. A much anticipated matchup will be Joni Salovaara versus Rafael Domingos. Also on the card is Jussi Halonen, Tuukka Repo, Suvi Salmimies, and Saku Heikkola.  MMAViking.com is cageside. Check out live results here!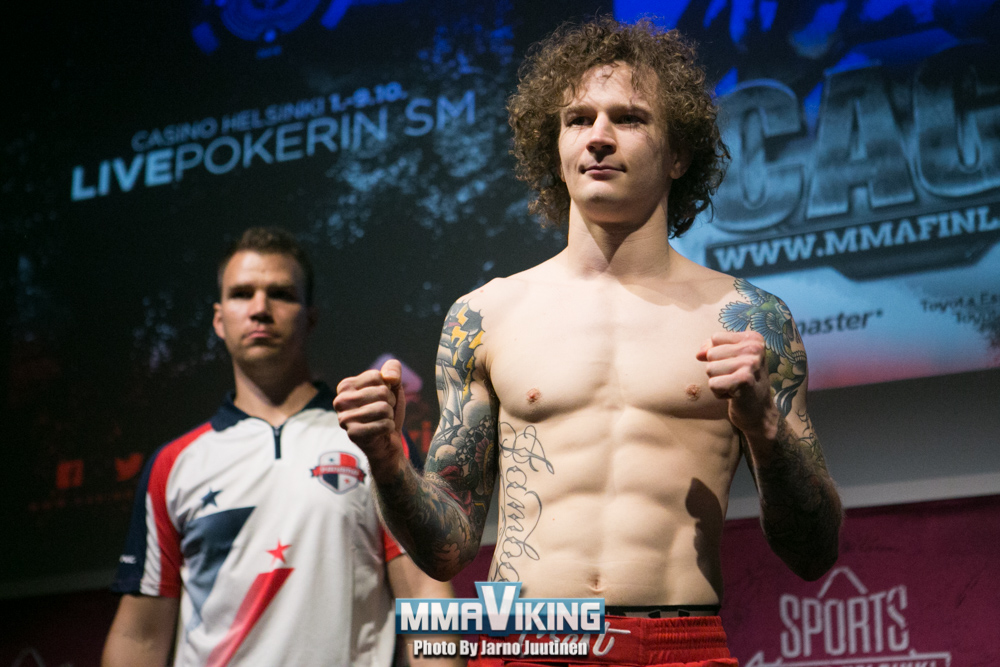 SAKU HEIKKOLA vs. ALEKSANDR PYSANKO
Round 1
Let´s get it on! Heikkola opens with a couple of powerful body kicks from the southpaw stance. Pysanko comes forward with a combination, but Heikkola avoids any damage.
Heikkola keeps chopping the lead leg of Pysanko with his lead leg, and going to the body with his rear leg. Let´s see if Pysanko can time one of these kicks with a right hand.
Pysanko catches a kick late in the round, but the bell sounds before he can land anything significant.
Round 2
Heikkola keeps battering the lead leg of Pysanko, this time switching it up with an inside low kick. Pysanko´s leg is beginning to look like hamburger meat. He´s going to need to start checking these kicks if he wants to have any chance of winning this fight.
Heikkola steps off to an angle and lands a straight left that gets Pysanko´s attention. He follows-up with a couple nice combinations that rock Pysanko.
The bell sounds and Pysanko hunches over breathing deeply.
Round 3
Heikkola has made good use of his jab all night long, and he lands another one that snaps Pysanko´s head back.
Pysanko lands a nice body punch and follows-up with a spinning backfist that just misses its target.
Heikkola then ducks under a telegraphed punch and takes Pysanko down. He immediately passes to mount and begins reigning down heavy blows. Pysanko recovers to side control, and Heikkola uses knee-on-belly to land  a few good shots to close out the match.
Heikkola wins by unanimous decision.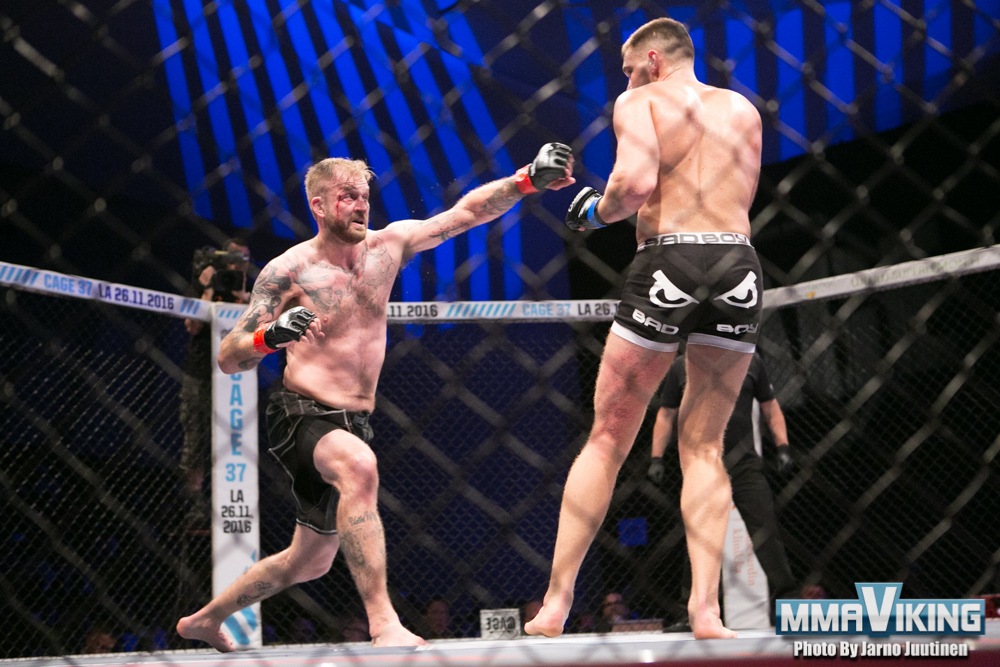 HENRI LINTULA vs. RAIMONDAS SINICA
Round 1
Lintula has a noticeable height and reach advantage against Sinica. The fighters touch gloves and we´re ready to go.
Sinica comes forward swinging bombs, but Lintula ducks under and scores a takedown via bodylock. Lintula immediately passes to mount and begins landing heavy punches. Sinica turns going face down and Lintula keeps smashing him until the ref stops the fight.
Sinica protests getting up quickly, but no dice.
Lintula wins by TKO in the first round.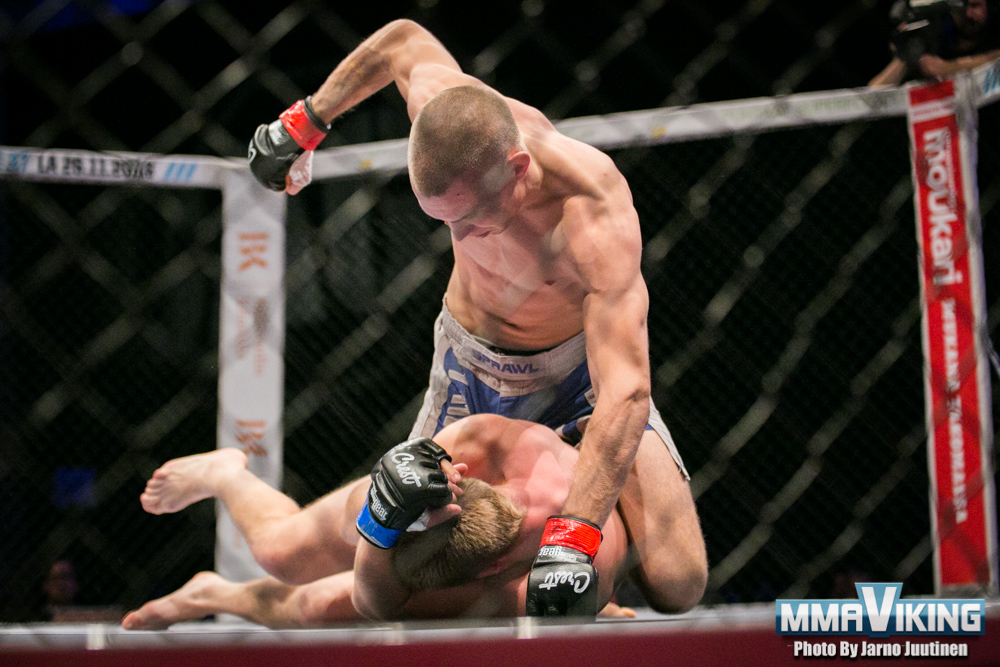 SUVI SALMIMIES vs. IREN RACZ
Round 1
Salmimies looks calm and collected in the opening minute as she plods forward picking her spots. She presses Racz to the fence and begins dirty boxing with knees and elbows. Racz looks for a ninja choke, but Salmimies uses this to score a takedown.
Salmimies traps Racz right arm with her knee and begins her attack with a steady diet of elbows. Racz gets to her knees and works to reverse positions, but the bell sounds before she can make anything happen.
Round 2
Racz opens the second round landing a big shot, and Salmimies quickly pushes her to the fence. The Finn keeps busy with knees and elbows, and again Racz tries the ninja choke. She switches to a guillotine and Salmimies takes her down and pops her head out.
Salmimies is on top in Racz´s full guard. As Salmimies looks to pass Racz´s guard, Racz catches her in a reverse triangle. Salmimies doesn´t seem to be in too much trouble, but she´s having a hard time getting her head free from Racz´s legs.
As Salmimies frees her head, she scrambles and gets Racz´s back. Salmimies finishes the round with heavy ground and pound, and Racz is saved by the bell.
Round 3
Both fighters are looking noticeably slower. One of Racz´s kicks goes low, but the ref doesn´t see it and action continues.
Racz is putting together some nice four and five hit combinations, looking to finish with the high kick, but so far Salmimies has showed good defense.
Now Racz pushes Salmimies to the fence, but the bell sounds before any strikes are delivered.
Suvi Salmimies wins by unanimous decision.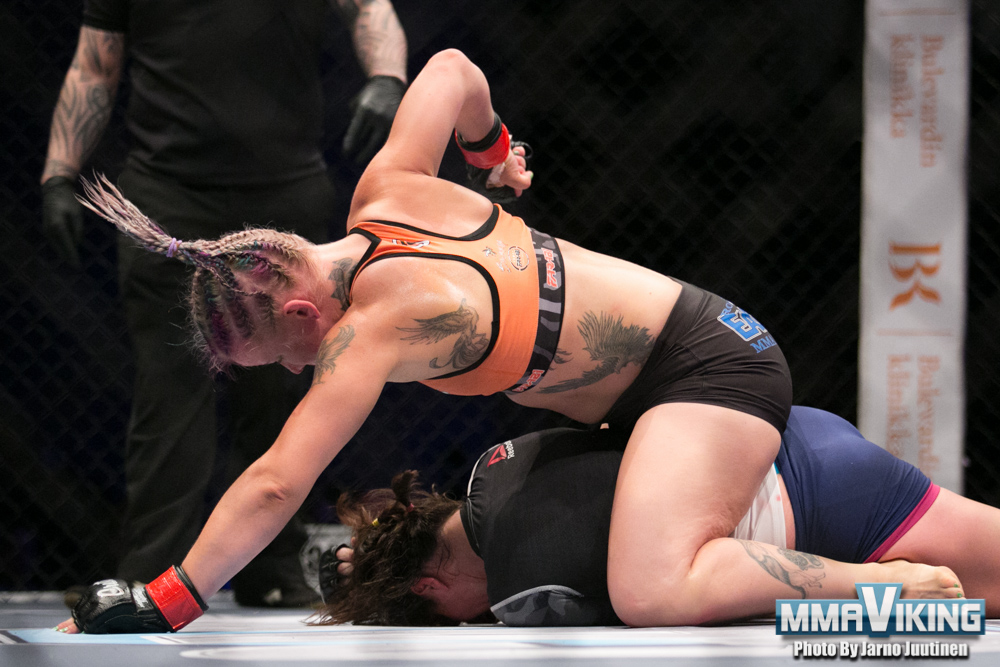 TUUKKA REPO vs. CSABA KOLONYI
Round 1
Repo snaps out a nice jab, and we´re under way. Repo throws a one-two, and Kolonyi counters. These two are throwing down!
Repo lands a good body jab, and then goes high. Repo has landed his jab several times now, and some swelling is beginning to form under Kolonyi´s eye.
Repo lands a crushing kick to Kolonyi´s family jewels, and the ref stops action to let Kolonyi collect his thoughts.
Kolonyi still looks to be in pain as the fight resumes. Repo comes out guns blazing and drops Kolonyi with a left hook that lands right on the Kolonyi´s chin.
Repo wins by KO in the first round.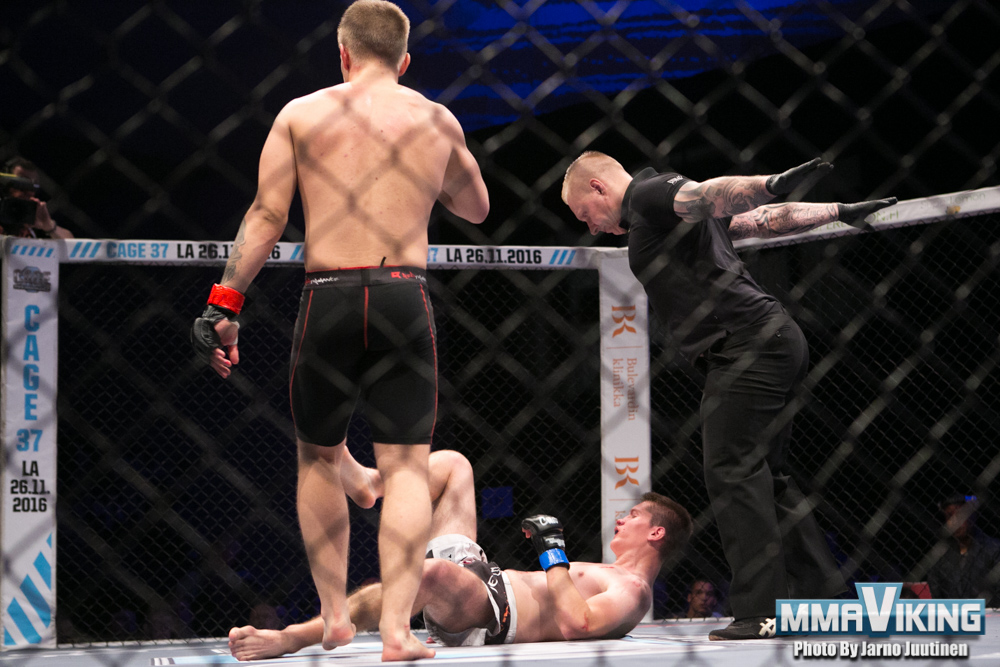 JUSSI HALONEN vs. JAVIER FUENTES
Round 1
Don´t blink! These guys are throwing leather with bad intentions. Fuentes drops Halonen with a big shot and begins reigning down blows.
Halonen recovers briefly getting to his knees, but Fuentes quickly takes his back and secures the rear-naked-choke (RNC).
Fuentes wins by RNC.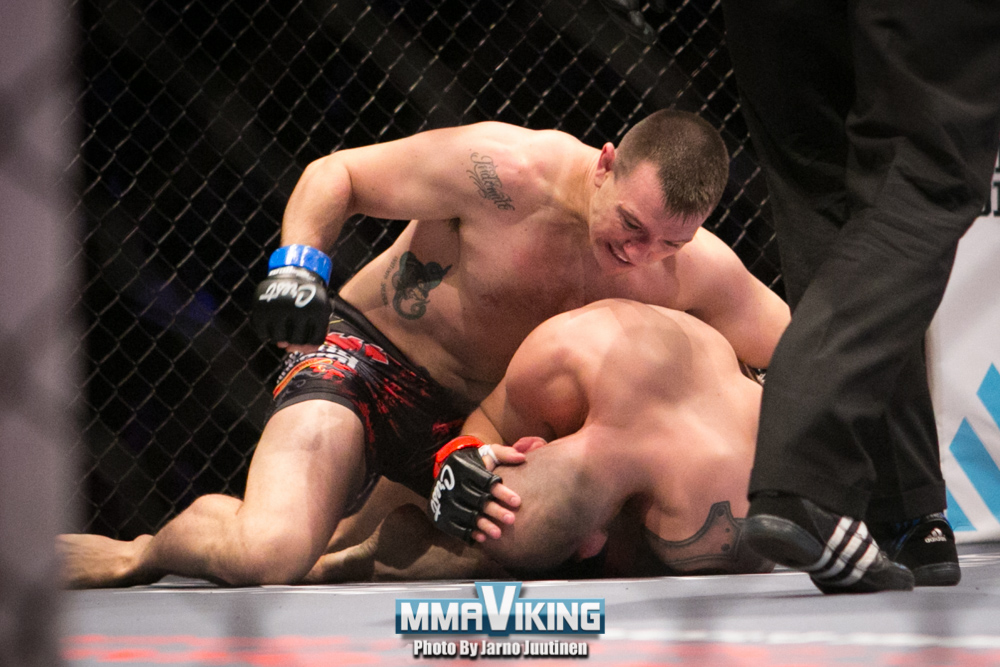 RAFAEL DOMINGOS vs. JONI SALOVAARA – Co-Main Event
Round 1
The chants of "Joni, Joni" are defending at Kulttuuritalo in Helsinki for the opening minute of the fight. Domingos scores an early takedown with 3:30 left in the round, but Salovaara sweeps him, and winds up on top.
Both these men posses high level jiu jitsu skills, but Domingos is certainly more accomplished in terms of pure BJJ. Domingos looks for another takedown, but Salovaara reverses in the scramble and takes the Brazilian down. Domingos scrambles to his feet, and the chants of "Joni" ring out loud ending round one.
Round 2
Salovaara comes out strong and lands a right hand. He stalks Domingos along the fence now, cutting the cage with powerful round kicks.
Domingos goes for another takedown, but Salovaara stuffs it. Salovaara nails Domingos with several powerful hooks, but it´s the jab that drops him. Salovaara improves to mount and begins reigning down punches, forcing Domingos to give up his back.
The ref stops the fight to save Domingos from taking any unnecessary damage.
Salovaara wins by TKO in the second round.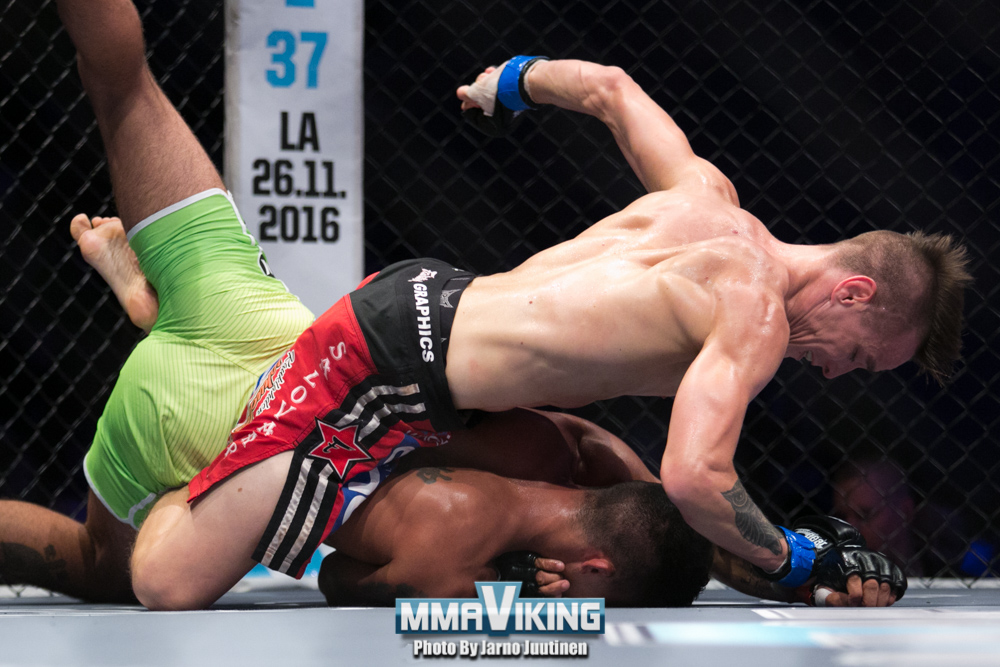 JANNE ELONEN-KULMALA vs. DAVID SKRISOVSKY – Main Event
Round 1
Elonen-Kulmala comes out to chants of "Jamba, Jamba" to start round one. It´s a southpaw vs southpaw affair. Both men are circling, measuring each other at a dizzying speed.
Skrisovsky comes forward with a combo, but Jamba slips and rips. Jamba counters again and drops Skrisovsky and quickly jumps on top throwing 30-50 punches, most of which are blocked. Jamba thinks better of tiring himself out, and the veteran fighter lets his man up.
Round 2
Skrisovsky cracks Jamba with a left-hand, and Jamba briefly looks stunned. Jamba fires back with a combination of his own. Skrisovsky shows off an excellent jab that has found its mark a few times early in this fight.
Jamba keeps cracking Skrisovsky with a left straight while moving backwards, and a cut has now been opened under Skrisovsky´s eye. Skrisovsky can take a punch!
Skrisovsky flurries, and Jamba ducks under and gets a takedown. Not much happens on the ground, however and the ref stands them up after about a minute.
Jamba scores another takedown to close out the second round.
Round 3
Skrisovsky´s right eye is very swollen to the start of the third round. Jamba is fighting only on the counter now. Skrisovsky continues to find a home for his jab, and they are starting to take their toll on Jamba.
Jamba is now just running in circles, and Skrisovsky looks frustrated. As the crowd starts to boo, Jamba changes levels and hits a takedown in the dying seconds of the final round.
Jamba wins by split decision.