CAGE 39 goes down tonight with Janne Elonen-Kulmala (15-4-0) headlining the card and going for his 12 straight win at the House of Culture in Helsinki.  In all there are six bouts with Finns battling international competition.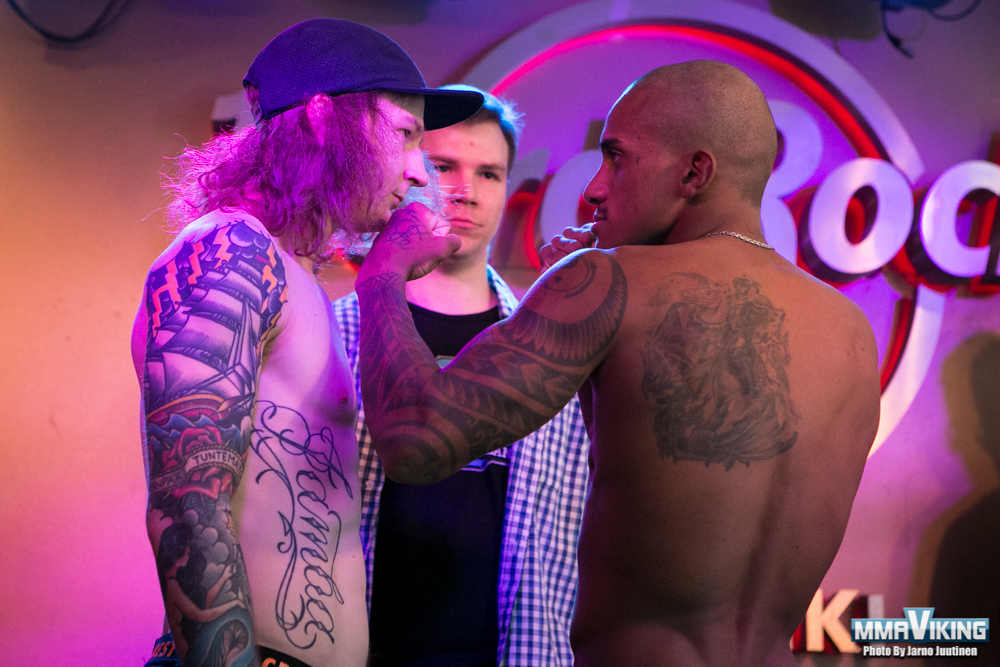 Jarno and Jyrki Nurminen are cageside for live reporting with Riku Hasari cageside with pics.
Live Play-by-Play
Tuukka Repo versus Dmitry Berezin – 73 KG
Tuukka Repo (2-1-0 Hardknocks Helsinki) is looking to bounce back on a winning ways after his KO loss in Cage37. The 21-year-old fighter is known for his punching power and confidence.
In his 4th professional fight Repo is facing Dmitry Berezin from Russia. Berezin's record is 3-4-0. Berezin has fought previously in Finland (2015) against Jani Ridasmaa, and lost due to TKO in 2nd round.  Repo has bought a lot of his fans in the crowd.
Round 1
Repo starts by taking control of the cage. Lands with a solid kick to the body, Berezin is constantly looking for a killer left hook. Early in the round Repo's fingers land in the eyes of Berezin. Repo goes for a knee kick, but Berezin lands a take down. Berezin in Repo's half guard, but Repo gets up fast. Berezin lands a massive left hook immediately! Repo falls down, but is still very much in the game. Soon again both fighters are standing. Repo and Berezin are engaged in a very dangerous looking stand up war! Looks like Berezin is very much placing his bets in the 1st round!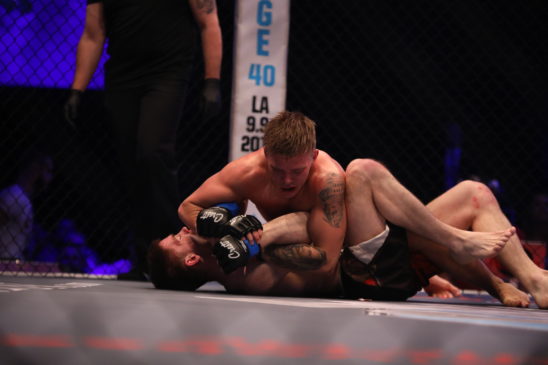 Round 2
Repo's corner shouting "Don't get in a brawl again!". Fighters looking fresh, Berezin again with the over hands from both sides. Repo pushes Berezin against the cage, gets the underhooks and takes him down. Half guard, takes the back, back to mount immediately. Berezin turns it around, and ends up in Repo's guard. Repo defending well this time, and landing some elbows from under the Russian.
After attempting an armbar Repo manages to get up. Berezin's back against the cage again, Berezin attempts a take down, but Repo takes the top position. Half guard, dropping elbows and the round ends with Repo in the mount attempting an americana.
Round 3
Third round starts like the second. Berezin attempting to behead Repo with angry overhands, Repo slipping well. Repo pushes Berezin against the cage and lands a take down. Repo again in half guard, punching his way through, but Berezin defending well. Berezin sweeps into Repo's guard.  Both fighters up again, Repo pushing Berezin agains the cage and yet again gets a take down. Half guard now. Repo's corner calling out for elbows and solid base to avoid sweeps. Repo doing damage with short elbows to Berezin's forehead, Berezin trying to do his best and avoid them by tying up Repo's hands.
Winner: Repo via unanimous decision
Aleksi Toivonen versus Oleg Lichkovaka – 56.7 KG
Aleksi Toivonen (4-0-0 Lahden Gentai/Primus Fight Team), the Finnish submission machine is also facing a Russian fighter in Oleg Lichkovaka. Lichkovaka holds a record of 3-1-0. His only professional loss was in his last fight and it came via unanimous decision. All of Toivonen's four pro wins have come via different submissions.
Round 1
The round start with both fighters showing respect to each other. Lichkovaka lands a spinning back fist, but Toivonen is not rocked. An epic scramble follows high quality grappling as predicted! Toivonen ends up his back against the cage with Lichkovaka on top of him. Lichkovaka lands a massive punch from top position. Fighters get up and very soon Lichkovaka knocks Toivonen off his feet with a cannonball-like left overhand. Toivonen hits the canvas, Lichkovaka follows up with another punch and referee stops the fight.
Toivonen looks very, very disappointed. Toivonen's friend, UFC fighter Makwan Amirkhani enters the cage to soothe the young fighter.
Winner: Lichkovaka by TKO in round 1.
Mikael Nyyssönen versus Majdeddine Ayadi – 70.3 KG
Mikael Nyyssönen (9-2-0 WFC Warriors) steps into the cage against French fighter Majdeddine Ayadi (9-2-0). Nyyssönen last fought in February 2016 in Cage34 event and got his 9th win via triangle. Both fighters are very talented in their submission game, out of Ayadi's nine wins eight have come via submission.
Round 1
Nyyssönen takes the middle of the cage. Lands a low inside leg kick. Ayadi drives him against the cage, takes back and gets a take down. Nyyssönen stands up, taken down again. Up – down, like a roller coaster. Nyyssönen pushes Ayadi against the cage this time and lands a knee to the body. Ayadi takes the back again, gets another take down. Both hooks in, but Nyyssönen defends well. Both fighters up again.
Nyyssönen lands a short elbow from the clinch, gets both underhooks, shoots for a single leg take down, but the French stuffs it. Nyyssönen taken down via double leg by the French. Nyyssönen gets a couple of punches from the guard. First round most likely to Ayadi.
Round 2
Ayadi gets Nyyssönen's back again and forces Nyyssönen to carry him. Ayadi visibly a lot bigger guy. Nyyssönen pushes Ayadi against the wall, but soon Ayadi gets a single leg take down. Ayadi striking strongly from top, attempts to choke, but Nyyssönen defends well.
Ayadi continues to rain down strong punches and eventually the referee steps in to protect the fighter. Nyyssönen remains on his back for a while after the fight ends, but seems to be ok soon thankfully.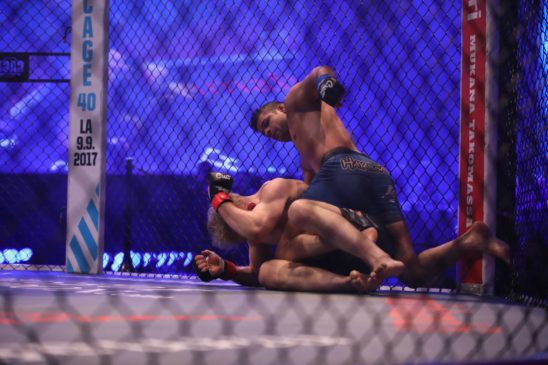 Very impressive performance from Ayadi.
Winner: Ayadi via TKO in round two.
Joni Salovaara versus Kostadin Enev – 65.8 KG
In the fourth match of the evening gentleman fighter Joni Salovaara (16-9-0 Espoon Kehähait) looks to get a win over Bulgarian fighter Kostadin Enev (10-5-0). Salovaara's two previous fights have been, to say the least, very high quality. In Cage36 Salovaara won Rafael Domingos, but was forced to a loss via unanimous decision against UFC veteran Niklas Bäckström in his previous fight at Cage37. Salovaara is clearly the fan favourite. Helsinki House of Culture gives him a warm welcome!
Round 1
Right from the start Salovaara explodes a take down and the Bulgarian finds himself on his back. Salovaara takes side control, but Enev turns it around quickly. Fighters stand up, Enev pushes Salovaara against the cage. Salovaara turns Enev against the cage, gets underhooks but Enev clears the clinch.
Salovaara dominating the stand up now with kicks. Shoots, and gets the take down. Both up immediately. Enev pushed against the cage again by Salovaara. Exhausting wrestling in the first round, neither of the fighters showing any signs of slowing down though at the end of the round. Salovaara gets another take down in the very end of the round and the crowd loves it.
Round 2
Salovaara dominating early in the round with kicks. Salovaara shoots for a take down, but it is defended by Enev with guillotine threat. No success on the submission though. Salovaara's precise ground game proves worthy and he manages to pass Enev's guard into a half guard. From the top Salovaara manages to get a couple of good elbows much to the delight of the fans.
Eventually Salovaara manages to take Enev's back and the rain of punches is too much. Referee stops the fight and Salovaara is victorious!
Winner: Salovaara via TKO in round two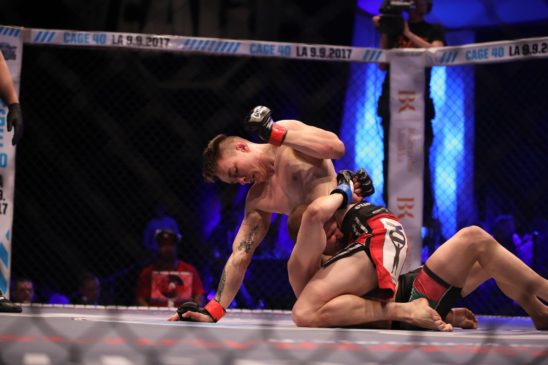 Mikael Silander versus Eduardo Felipe – 61.0 KG
Round 1
Silander's corner emphasizing to stay focused just before the match starts. Silander starts off with a high kick attempt, Felipe shoots for legs. After a short scramble Felipe takes the back of the Finn. Felipe has a body triangle on Silander, looking for a RNC from the back. Silander defending the neck and showing thumbs up for the referee.
Silander manages to peel off Felipe's hand that threatens to choke him, but Felipe attacks the neck again. Round definitely to the Brazilian, but impressive defending from Silander.
Round 2
Early in the round Silander ends up on top position, but he is in Felipe's guard. Silander throwing a couple of punches, advances to side control but decides to stand up soon.
Silander's uppercut rocks the Brazilian who then refuses to stand up. There's only so much damage a human face can absorb, it seems. Eventually the referee stops the fight and the crowd goes frantic!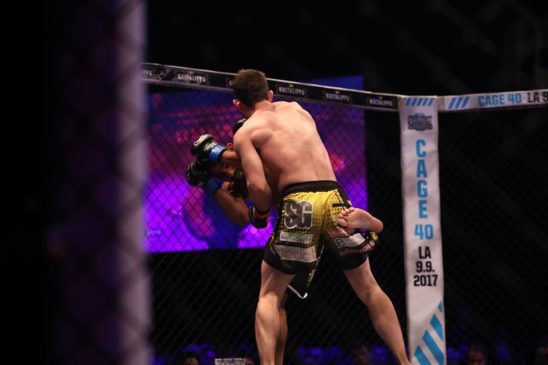 Winner: Silander via referee stoppage
Janne Elonen-Kulmala versus Diego Silva – 61.6 KG
Janne "Jamba" Elonen-Kulmala enters the cage perhaps for the last time in Finland before international duties.  The Finn is on a 11 fights win streak, and looking to get that impressive number even better tonight. This is the main event, let's GO!
Round 1
Both fighters looking very sharp in the start. Jabs are flying in the air, and Silva gets a single leg take down on Jamba. Half guard, butterfly guard, Elonen-Kulmala defending actively. Back to half guard. Good top control from Silva, but no damage caused on Elonen-Kulmala. Jamba gets full guard up, and lashes out an elbow. Elonen-Kulmala threatens with an armbar, no success.
Elonen-Kulmala's corner (Joni Salovaara) encourages Jamba to stay active but relaxed. In the very end of the round Silva gets a couple of strikes from top position.
Round 2
Silva shoots very early for a double leg take down and lands it. Elonen-Kulmala punishes with elbows from under the Brazilian. Referee stands the fighters up. Jamba now takes control by pushing Silva against the cage and landing heavy knees.
Back to the centre, Jamba slips under Silva's straight and gets a massive take down! Butterfly guard, Elonen-Kulmala trying to pass it with punches. Crowd chanting "Jamba! JAMBA!". Jamba stands up and gets two huge strikes in. Silva sweeps and Elonen-Kulmala on his back now in the cage. Silva attacks with a d'arce choke, but Elonen-Kulmala defends it. In the very end of the round, Silva gets two punchs in, of which the latter is late.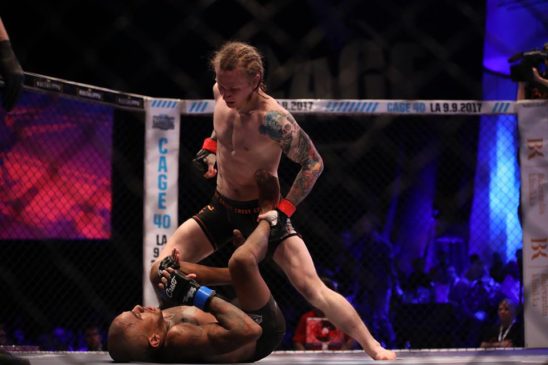 Round 3
Very even in the beginning of the round. Silva jumps in with a knee and at the same time Elonen-Kulmala shoots. Silva's knee hits Jamba in the head. After that Silva takes the back and attacks with an RNC. Jamba soon turns to the top successfully and ends up in Silva's guard. Elonen-Kulmala dropping elbows from top.
Referee calling out for more action from the fighters. Elonen-Kulmala trying to pass, but referee makes the fighters stand up. Silva takes Elonen-Kulmala down, but does not advance from half guard. HUGE sweep from Jamba. Guard position. Jamba punishing Silva's ribs with fists. Slams Silva down. Impressive corner work from Elonen-Kulmala's corner.
This one goes the distance…
Winner: Silva by split decision
Picture galleries and more articles coming up!