MMA Finland Inc, the company behind Cage promotion, has announced new fights for the upcoming Cage 26 event. Cage 26 will take place on 5th of April in Turku, Finland. The event is headlined by lightweight rematch title fight between champ Eric Reynolds and Finnish challenger Anton Kuivanen, who lost the belt to the American in September 2013.
Longtime Euro circuit veteran Juha-Pekka Vainikainen (21-8) will face another Euro vet in Germany's Nordin Asrih (18-8). Both lightweights have fought in various promotions ranging from Cage Warriors to M-1 and fought against diverse competition. Vainikainen is coming off an impressive knock out win at Cage 25 while Asrih tries to get back on track after two consecutive losses. Fight fans might remember Asrih also from the Ultimate Fighter season 13.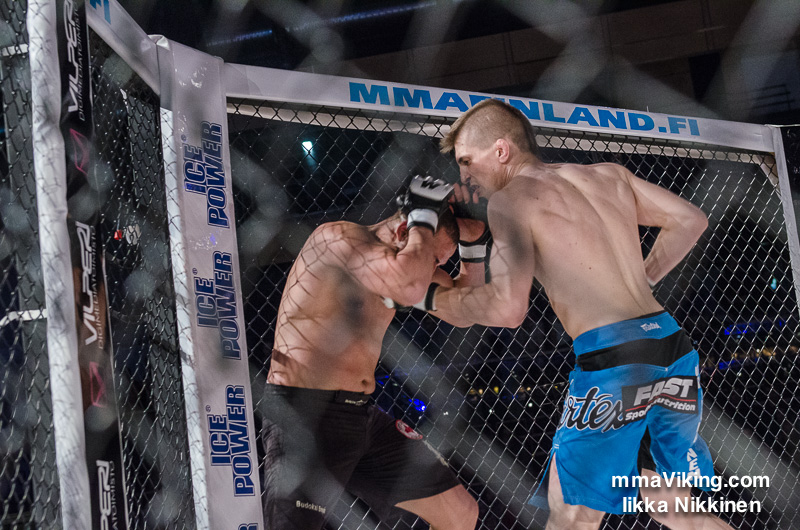 FinnFighters Gym's talented prospect Teemu Packalen (4-0) will look to keep his perfect record intact against dangerous Frenchman Maximo Maucotel (4-2). Grappling ace Packalen will drop to lightweight from the first time, having fought at welterweight before.
Promotion's new matchmaker and co-owner Timo Lampen, the man behind StandUpWar promotion too, is excited about the match up:
"Like Packalen, also Maucotel is a very fight-to-finish oriented fighter. Neither has gone to distance yet. I believe it's going to be a really fast paced fight that will end with some kind of finish"