Finn Patrik Pietilä will face Kamel Yahiaoui on October 10th at Fight Night Finland 10 (FNF 10). The Primus fighter will come into the fight on a two fight winning streak, after losing his first two pro bouts. He will face Yahiaoui, who comes in with a record of 2 wins and 3 losses and along absence from pro mma.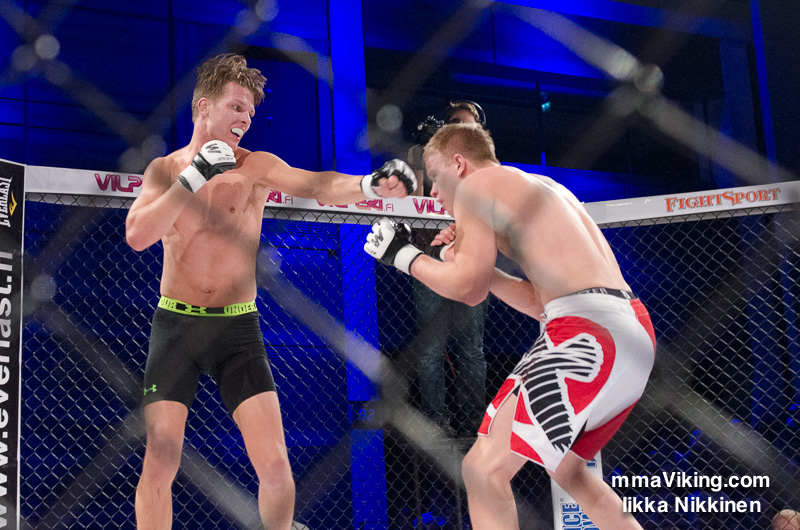 "Pietila started his pro career after few months training and he jumped straight into deeper part of pool. After two loses Patrik has put all effort for MMA training and nowadays he trains almost as full pro. Pietila is planning for fight really active this year and this will be his first bout after hand injury. If we see statistics are a clue, this will likely go to the distance. They have fought 9 times and 8 times judges have called the decision." says matchmaker Olli Hartikainen to mmaViking.com.
Juho Valamaa will headline FNF 10 against veteran Jack Mason in a solid matchup of high-level European welterweights. The bout will take place in Turku at the Kupittaan Urheiluhalli.
Updated Fight Card
PRO MMA
Juho Valamaa Primus Fight Team/FFG (Finland) vs Jack Mason BKK Fighters (England) – 77.1 kg
Jani Salmi Primus Fight Team/GB Gym (Finland) vs Sean Carter BKK Fighters (England) – 70.3 kg
Jerry Kvarnström Tuto MMA (Finland) vs Rasul Khataev Hardknocks (Finland) – 65.8 kg
Markus Halkosaari FFG (Finland) vs Arunas Vilius TKOP (Lithuania) – 93 kg
Patrik Pietilä Primus Fight Team/Lahden Gentai (Finland) vs Kamel Yahiaoui (France) – 70.3 kg
Patrik Kapanen Primus Fight Team/Gb Gym (Finland) vs TBA – 70.3 kg
Aleksi Toivonen Primus Fight Team/Lahden Gentai (Finland) vs Edris Rafigh Hilti NHB (Sweden) – 60 kg
Minna Grusander FFG (Finland) vs Iman Darabi Pancrase Gym (Sweden) – 50 kg
Olli Santalahti FFG (Finland) vs TBA – 77.1 kg
IMMAF
Zanko Eliassi FFG (Finland) vs Eetu Parviainen Gladiator Factory (Finland) – 65.8 kg
Lassi Isometsä GB Gym (Finland) vs Henri Lintula Sisu Gym (Finland) – 83.9 kg
Tuure Kulju FFG (Finland) vs Jukka Koivisto Fight Club Jyväskylä /Team Hyökyaalto (Finland) – 70.3 kg
Tomi Sormunen FFG (Finland) vs Mikko Koskinen MMA Hämpton (Finland) – 77.3 kg