The upcoming Fight Night 12 card has had a bit of a shakeup with Teemu Matilainen and Ville Vanhanen injuries. With Matilainen out, the slot against Finn Patrik Pietilä (2-2) will now be taken by Swede Botan Tokay (4-1). "He has fought his first pro match before I even started training MMA. This one is going to be big win for me!" says Pietilä to mmaViking.com about his Team East Front / GBG MMA opponent.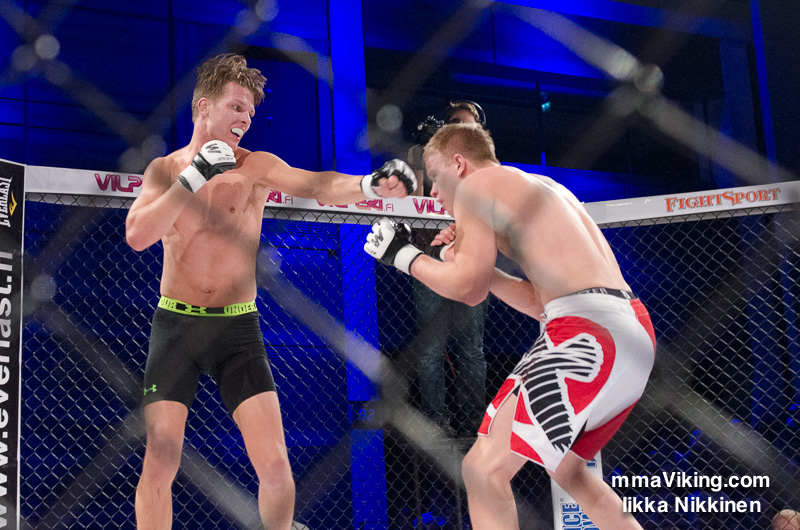 The Lappeenranta, Finland event will take place on April 25th at the Kisapuiston Jäähalli. Aleksi Mäntykivi will also now face Russian Vladimir Fedin with the Vanhanen injury.
"I think Botan Tokay is really skilled and tough guy. He is 4-1 and only loss he has is by DQ." says the Primus fighter Pietilä who is now has a two fight winning streak.
"I see that my hand is raised end of the fight of course! Last time my cardio didnt end and i felt that i could done more. So now im gonna put in big pressure from start and try to finnish him fast. If he manages to get past first round, he will gas out before me! So its going to be war in there!"
Tokay hasn't been in the cage since June of 2013. He has won four of his five pro bout, with his only blemish a DQ back in 2012 when he upkicked a grounded opponent at Vision FC 5.
Pietilä won by a majority decision a few weeks back over Arman Popal at FNF's Karkkila Fight Night.
Check out the latest fight card here.
Updated Fight Card
Tuomo Turkia, Team East Front/MMA Lappeenranta vs. Ville Yrjölä, Grappling Pori -75 kg
Janne Häkkinen, Team East Front/MMA Utti vs. Aleksi Savolainen, MMA Imatra -68 kg
Miikka Kauppinen, Team East Front/NHB Iisalmi vs. Juuso Halme, MMA Imatra -68 kg
Janne Sinersaari, Team East Front/MMA Lappeenranta vs. Hannu Nylund, Barreto Lahti -73 kg
Botan Tokay Team East Front/GBG vs. Patrik Pietilä, Primus Fight Team/GB Gym -70,3 kg
Aleksi Mäntykivi, Team East Front/MMA Lappeenranta vs. Vladimir Fedin, Stone Fight Bjj / 4MMA, RUS -77,1 kg
Fredrik Gynnestam, Team East Front/GBG MMA vs. Kaj Karar, MMA Team 300 -77,1 kg
Eero Kosamo, Team East Front/Gladiator Factory vs. TBA -83,9 kg
Eeva Siiskonen, Team East Front/MMA Imatra vs Kate Jackson, UK -58 kg
Jani Ridasmaa, Team East Front/MMA Lappeenranta vs. TBA -73 kg
Antti Virtanen, MMA Imatra vs. Per Franklin, GBG MMA/TEAM East Front, SWE -73 kg