Finnish MMA promotion Cage 53 is back at the House of Culture in Helsinki.  Check out results from the 10 fights below!  Finn Tuomas Gronvall will take on Brazilian Lucas Pereira in the main event.
Live Results
Omar Tugarev (4-3) vs. Sergey Cheles (5-1) – Amateur
The Estonian fighter Cheles with a good slam in the first, but Tugarev was able to get a couple take-downs in the second and one in the third to get the victory. Tugarev wins by decision.
Niko Aikoinen (13-3) vs. Roubi Kohzadi (5-0-0) – Amateur
Alkoinen with a good start landing a solid left hand, getting a take-down, and ground and pound on top until Kohzadi forces a tap with with Roubi with a footlock that cranks the knee to an injury.
Karri Itkonen (0-3) vs. Karvann Ahmadi (1-0)
Ahmadi coming out aggressive with fast punches and a flying knee that lands.  Karvann moves to a takedown and gets back for a strong first.  Itkonen looking for a darce choke and squezes, but can't get it.  Ahmadi back to a take-down in the second, but a good scramble.  Karri with some solid power punches in the third, then a take-down from Karvann and the two are showing their grappling skills going back and forth. Control in the end goes to Ahmadi, and the decision goes to Karvann Ahmadi by UD.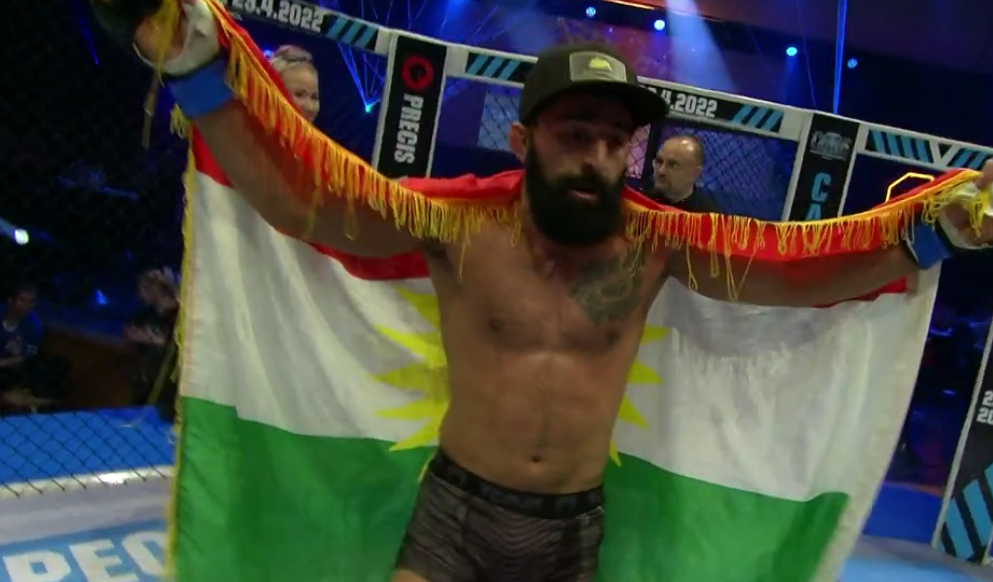 Eemil Kurhela (1-0) vs. Migen Pepa (1-3)
Kurhela with a HUGE right hand that drops Pepa.  Eemil rushes in for more punches and a finish at 33 seconds!  Kurhela with the quick KO victory.
Ville Mankinen (2-2) vs. Saba Machaidze (1-4)
Mankinen gets in on a double leg and lifts Machaidze in the air! A take-down with such control and power. A scramble and Ville on top and landing solid ground and pound in full mount. Oh, this is going to be over and it is. Mankinen by TKO!
Rasul Khataev (6-5) vs Alexander Lööf (3-0)
The Swede Lööf hunting dwon Khataev with that big right hand, but can't land. You can feel the power in both of these fighters. Alexander mixing in kicks, and looking to counter attack Rasul that moves forward. Rasul with a series of kicks to keep his distance, and lands a good uppercut and the Swede comes rushing in. But Lööf in ono the legs and gets a brief take-down. A superman punch into a double-leg takedown for Rasul! Didn't see that coming, but Alexander is able to reverse at the bell. What a solid round for both!
Lööf is starting to press the action and take-control of the cage. Both fighters winging punches, but the pace has really slowed here. Rasul looks tired. The Swede lands a good combination, and then eats a shot. Lööf lands a good shat and then pounces and lands more and more at the bell! Khataev is hurt, hurt bad. And he will not be coming out for the 3rd round.
TKO win for Alexander Lööf
Alar Hutrov (2-5) vs. Sam Slater (2-2)
Hutrov in on a takedown, but it is Slater that reverses the position and gets on top as it hits the mat. More grappling up against the cage and the two reverse position with each pushing up the other against the cage with Slater getting on top before the bell rings.
Take-down for Slater that is able to take back. Now landing some good ground and pound, and now nasty nasty elbows to the head. More punches from the top. and a solid right hand once Hutrov gets up to his feet. Alar is so tired, and desperate for a take-down, and this should be over. And it is as Slater lands a final blow on the tiring and damaged Alar. The two hug it out.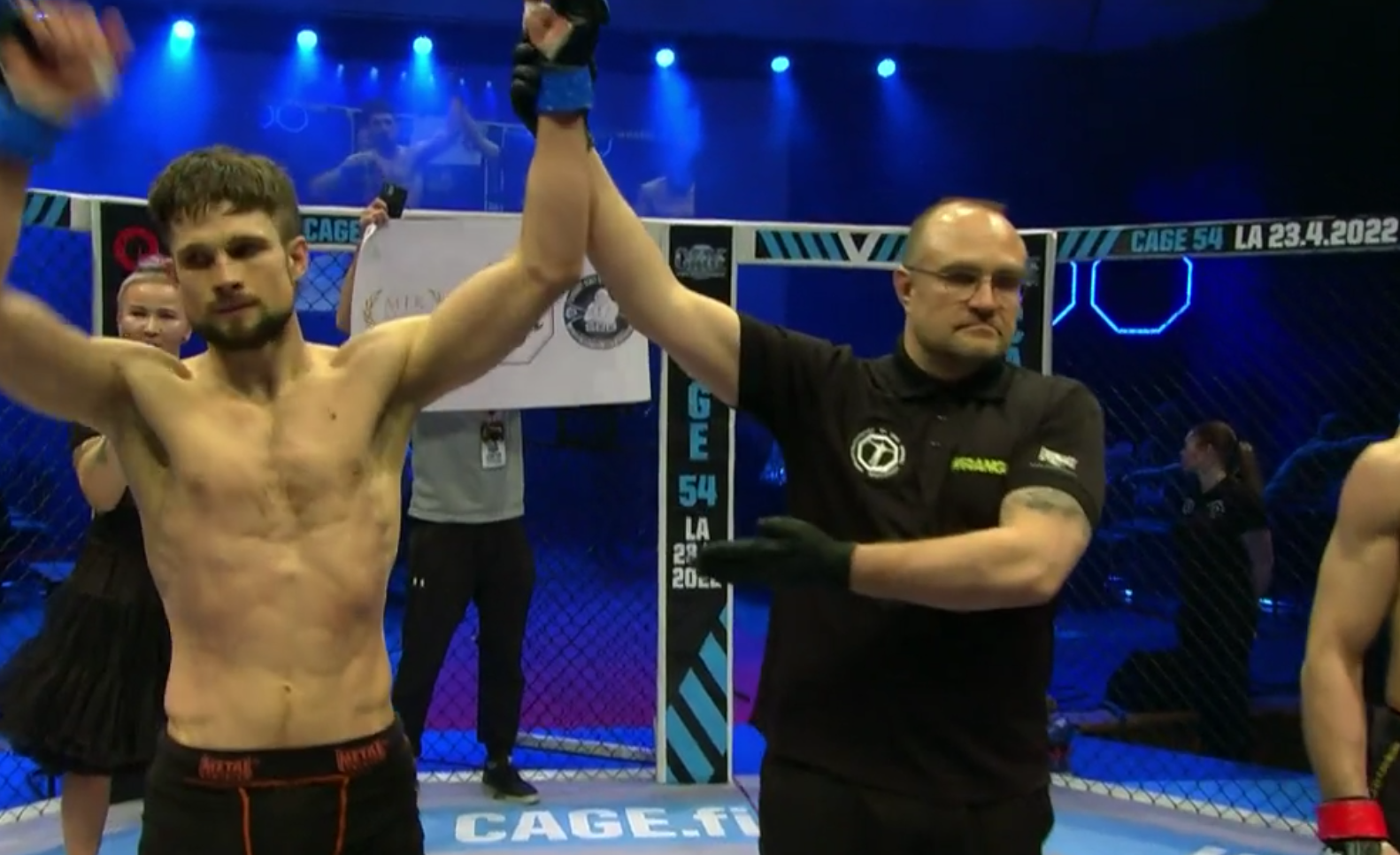 Kenneth Bergh (9-0) vs. Felix Polianidis (6-7)
Bergh defends a take-down to start the fight, and then just unleashes punches on the downed Polianidis. And more and more punches, and it is all over! 14 second TKO for Kenneth!
Sten Saaremae (5-3) vs. Walter Cogliandro (11-2)
Sten landing some good straight punches to start. Digging shots to the body. The Estonian just so sharp to start. Walter looking to counter with power, but nothing landing so far. Nice low-kicks at the end of the round for Sten that is dominant on the feet in the first 5 minutes.
Good power kick from the SBG fighter, and now a HUGE right hand lands on Sten's chin and he is rocked! Quick recovery and Saaremae comes back throwing in the center of the cage. The volume is all Sten, and he is throwing punches in bunches. Walter is the brawler and Sten is the technician in this one, that have now both taken time to recover from eye pokes. Cogliandro comes back strong after the pause, and even tries a take-down.
Cogliandro lands some punches and now he is moving forward and controlling the cage. Hands down and lands more punches. Sten on his bicycle going backwards, but is poked in the eye. Walter has so much energy all of a sudden and is just going for it. Sten lands a few shots. But the power is Walter that lands a punch. Sten gets a take-down with 30 seconds left, and takes back. Down to the mat briefly. That was a good one… and close!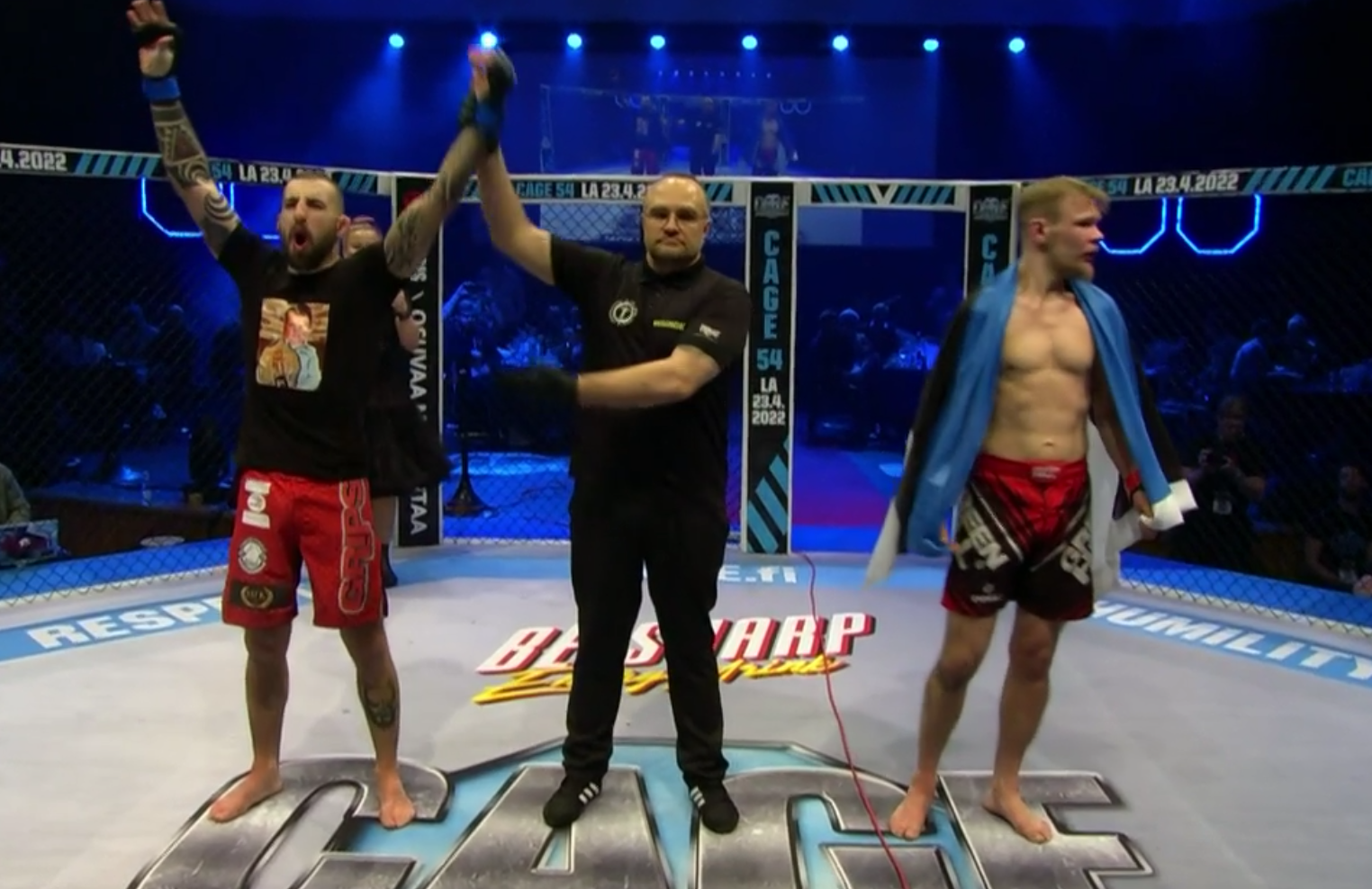 Walter Cogliandro wins by split decision
Tuomas Grönvall (8-4-1) vs. Lucas Pereira (4-5-0)
Gronvall with a perfect double-leg take-down to kick off the main event! Some ground and pound, but is remaining careful with the Brazilian. The fighters move against the cage.Tuomas in control, but now Pereira landing some good elbows to the head. Tuomas in half guard and landing some good shots, but somehow this referee asks for more action? The Finn gets full mount now and lands a good elbow, and another. What control here! Impressive first 5 minutes from Tuomas.
Just like the first round, it is Gronvall with a double-leg take-down. And now into full mount. The Finn moves into a headlock, which allows Lucas to re-adjust and take back! Oh, no Tuomas is now in trouble! But Tuomas stays calm and gets out through the back door and is on top, avoiding the danger. On top and landing big elbows to the bell for the Finn!
An uppercut from Pereira to try and stop the take-down from coming, and now an elbow to Tuomas face, but he just moves in for the take-down… and mount again. Some nice grappling here. Full mount and landing powerful elbows. Tuomas up briefly on his feet and takes a foot to the face, but then moves back on top to finish strong. Good win for the Finn.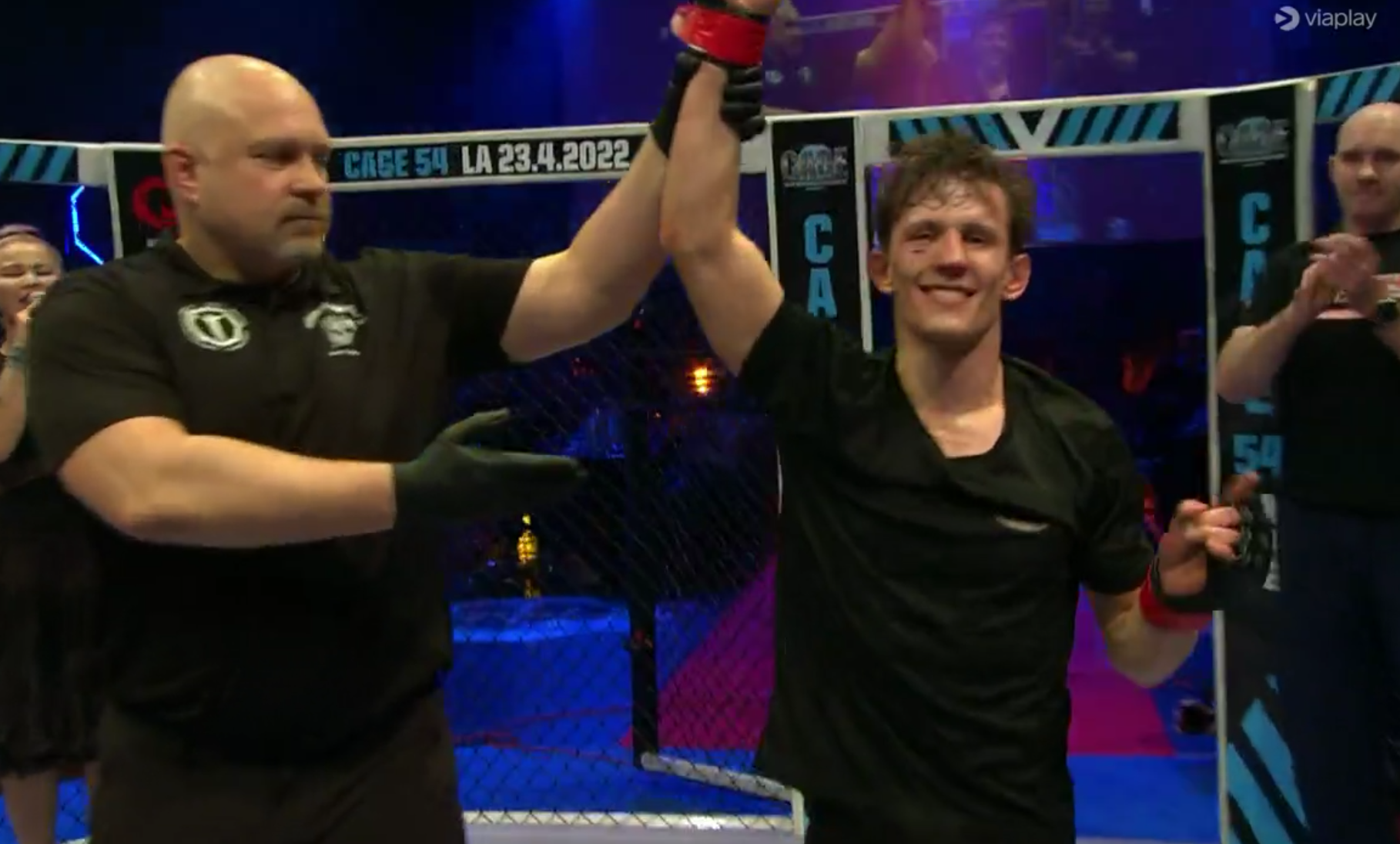 Grönvall with the unanimous decision victory.