Dane Mads Burnell (16-3) battled for 25 minutes with Adam Borics (17-1)from Hungary in a Bellator featherweight main event.  The scorecards were 49-46, 50-45, 49-46 stopping the Dane's 7-fight winning streak.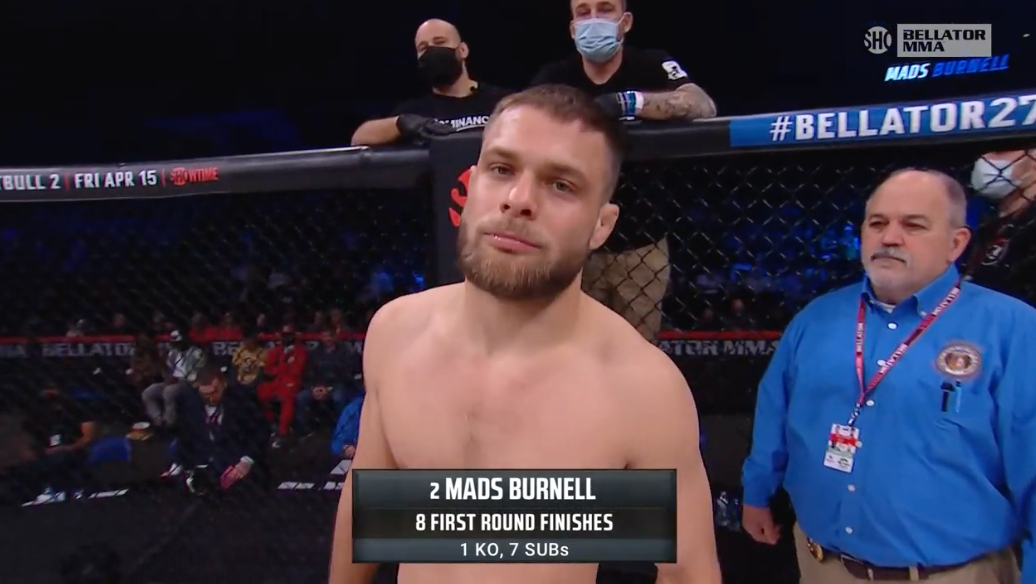 Burnell closes the distance early, but Borics with his patented flying knee throws one that lands.  Mads with hands high, but taking some kicks to the legs.  Good left hand from Mads that shoots in for a takedown that is defended.  Adam really active and mixes in punches with another flying knee.  Mads with a sweet left to the body, left to the head.  What a pace!  Burnell with the sweet science moving his head and mixing in shots.  Body shots from the Dane, and now a three shot combo to the head.  Oh no!  Borics lands a huge right hand and Mads is rocked!  But, the Husman fighter just bites down on the mouth piece and comes punching back.  What a 5-minutes!
Both fighters are active to start the second as they go back and forth.  Mads ruthless to the body, and Borics wants no part of it and takes down Burnell with a single leg.  The Arte Suave fighter looking for a sweep, and gets it back to the feet.  The kicks less frequent from Adam, but he lands a solid right elbow to the face.  Mads just moving forward with a body attack, which will pay off as we go deeper into the rounds.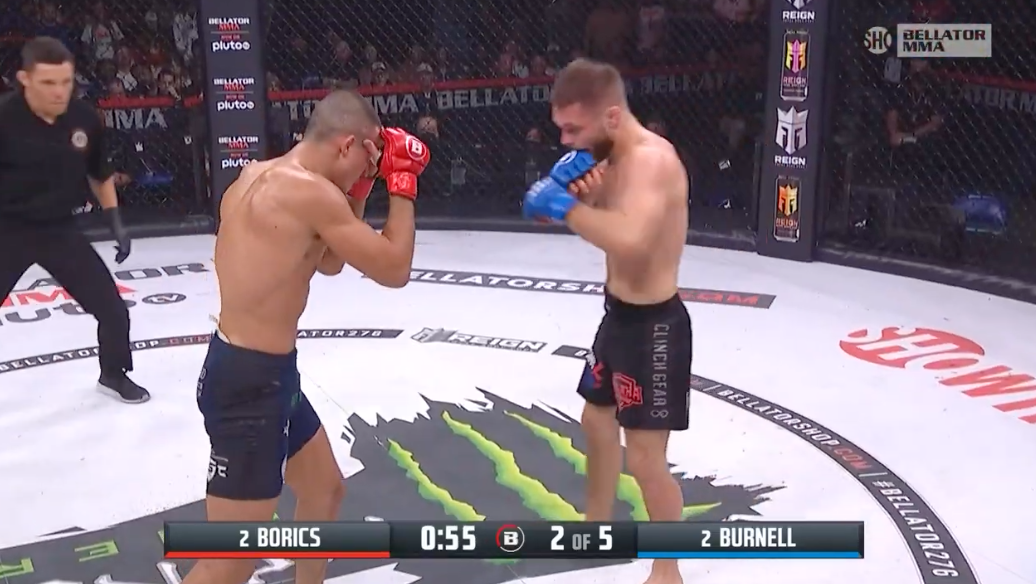 Mads gets hit by a spinning fist, but Mads goes to the body.  The Dane falls down from a short right at the end of the round, and could be a decider in a close round.
The #2 contenders looking for a title shot are in a barn burner here.  There is no distance between these two fighters that are in excellent condition.  Mads with a HUGE right hand!  Now hunting for another big shot.  The body shots are paying off.  Now low leg kicks from Burnell that couldn't be mixing up his attack any better.  Adam trying to push forward, but Mads doesn't let him.  That's a Mads round.
Adam comes out with volume here, a reaction to a tough 3rd.  Mads less active here , and even takes a knee to the face.  "Who wants it more" comes out of Borics's corner.  Strong round for the Hungarian fighter.  But, only half way through.  Mads lands a good right.  The pace picks up and both fighter having a little fun as it looks like Mads salutes the crowd to the left, then right.  A take-down finish at the bell for Borics.
Burnell moving in this round, likely needing it to get the win.  Using his hands moving forward and dodging punches.  A nice upper cut half way through the round.  The speed is still there for Mads that is hunting.  A right hand at range.  Both fighters going after it.  Just impressive cardio from both.  Left, right hand from Burnell, that fights off a take-down now against the cage.  Mads goes for his take-down, but can't get it.  Both fighters embrace in a fun 25-minute battle.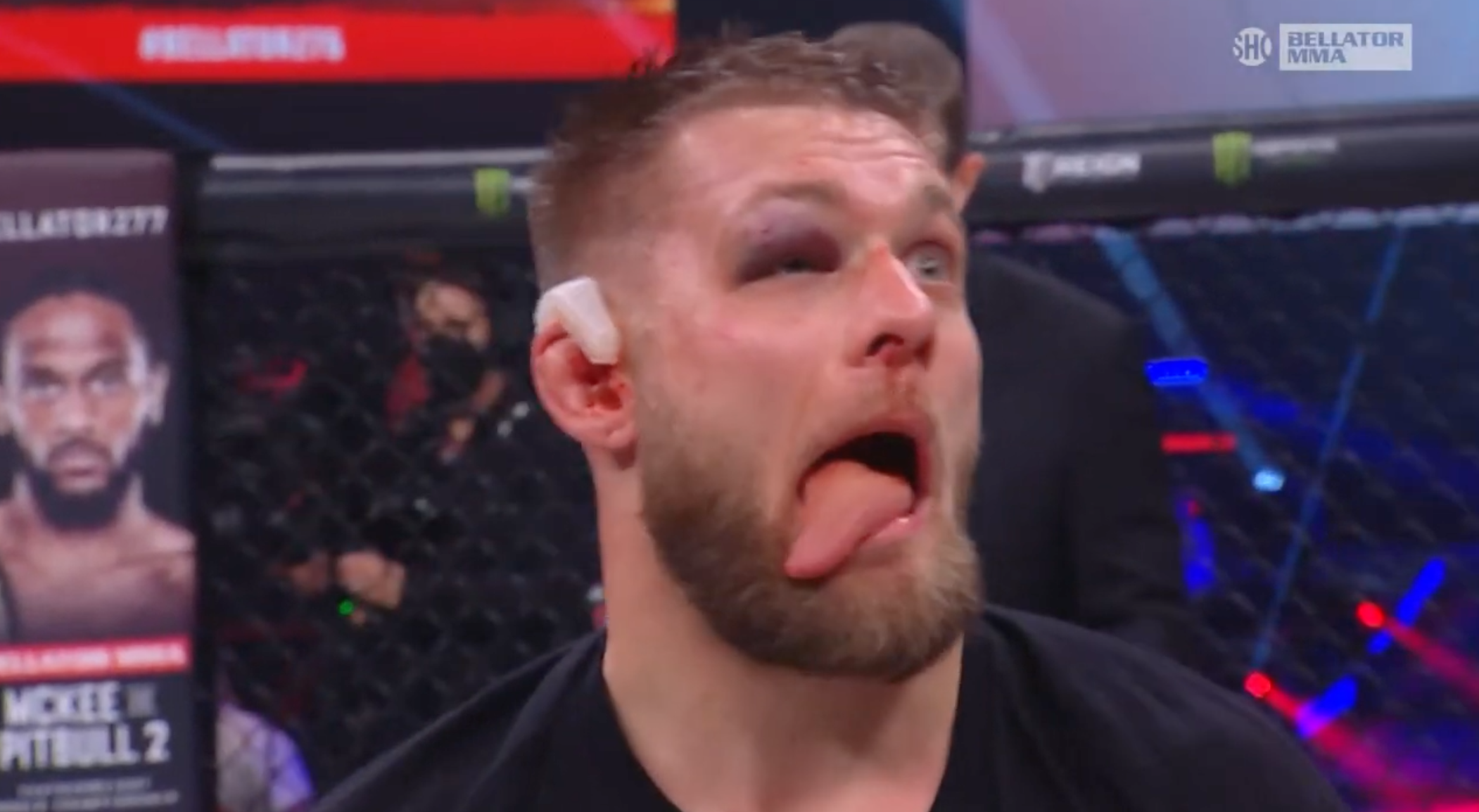 Adam Borics defeats Mads Burnell via unanimous decision 49-46, 50-45, 49-46