MMAViking.com is reporting live from Tampere, Finland for tonight's StandUpWar's "Rising Stars". Featherweight talent Makwan "Mr Finland" Amirkhani (6-1) headlines StandUpWar promotion's third show against Belarus's Semen Tyrlya (5-2). Finnish Amateur MMA Champion 2012 Teemu Packalen also makes his pro debut against Polish Grzegorz Szulanowski.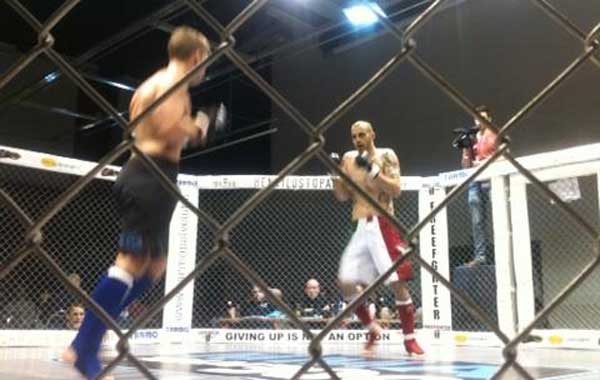 Results
MMA Viking will be posting results from the main card's MMA bouts here :
LW: Kai Karar vs. Olli Tuomi
Winner by unanimous decision Kai Karar.
WW: Teemu Packalen vs. Grzegorz Szulanowski, Poland
Packalen opened a cut on the head of Szulakowski. After the first round Szulakowski called it quits.
Winner Teemu Packalen by TKO.
Great first round! twitter.com/SirWoogleOfBoo…

— Iikka Nikkinen (@SirWoogleOfBoo) October 27, 2012
LW: Mikael Nyyssönen vs. Lasse Äijö
Hometown star Nyyssönen forced Äijö to tap after Nyyssönen secured an deep RNC. Great fight!
Winner Nyyssönen by RNC in Round 2.
Kickboxing: Mikko Blom vs. Jani Ikävalko
Great fight between Blom and Ikävalko. Blom took the decision.
Winner Blom by Decision.
LW: Kennet Mattsson vs. Aleksejs Povulansin, Latvia
Kennet Mattsson had a huge reach advantage over Povulans. Mattsson locked an inverted triangle in the 1st round and Povulans had to tap.
Winner Mattson by Submission in Round 1.
FW: Janne Rantanen vs. Sergei Drob, Lithuania
I want to see a 3rd round! Rantanen and Drob delivered and eventually Rantanen won by unanimous decision
Winner Rantanen by Decision.
FW: Makwan Amirkhani vs. Semen Tyrlya, Belarus
Amirkhani slammed Povulans a couple times and to no ones surprise won by submission, RNC.
Winner Amirkhani by RNC in Round 1.
Kickboxing: Miika Kinnunen vs. Arnoldas Joknys, Lithuania
Winner Kinnunen by TKO.
Stay tuned for a picture gallery and report from Iikka Nikkinen, who is covering the local event. Also, follow him on Twitter at @SirWoogleOfBoo.