For those of you not in the know, this Saturday March 10 at 8:30 PM Danish time, the hugely anticipated event; Royal Arena, will kick off at Brøndby Hallen, Denmark.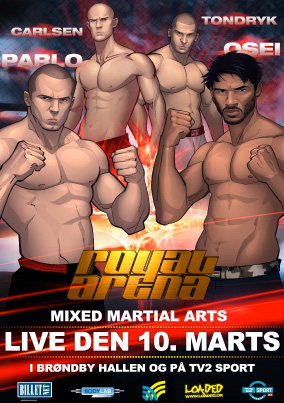 Besides showcasing some of the biggest talents in Danish MMA, the event itself reaches groundbreaking territory, as the main card will be televised live on a major Danish television network, TV2 Sport. In addition to this, the undercard will be streamed on the tabloid; Ekstrabladet's web page. Ekstrabladet being one of the most well known and (in)famous tabloids in Denmark.
The advertising and exposure has been plenty, as the promo video (see below), has been playing continuously on the Danish busses these last few days. Add to that an increasing interest and coverage from Danish news outlets. It really is a major breakthrough and, depending on its success, might propel Danish MMA into the mainstream scene.
Now, looking at the fights, the event promises to deliver an action packed night, with a long list of exciting matchups. Most notable the three Danish stars out of Fightcraft.dk; Mikkel Parlo (6-0), Kenneth Rosfort (14-4) and Nicolas Dalby (6-0).
While having faced tough competition throughout their careers, both Dalby and Parlo are undefeated as pro's and are touted as some of Denmark's biggest prospects. Rosfort is also no stranger to tough competition, as the veteran has fought the likes of UFC's Anthony Njokuani, TUF's Jeff Lawson and UFC vet Matt Veach.
Nicolas Dalby was originally scheduled to fight the Danish hard hitter, Mikkel Guldbæk (11-2-2), but due to an injury Guldbæk was replaced with undefeated prospect Acoidan Duque from Spain.
All in all it promises to be an exciting event that will certainly help spread the word about MMA in Denmark and hopefully steer a path for a bright future ahead.
Main Card:
Mikkel Parlo (DK, 6-0) vs. Marcin Tondryk(PL, 8-4)
Simon Carlsen (DK, 5-3) vs. Nick Osei(DK, 10-4)
Nicolas Dalby (DK, 6-0) vs. Acoidan Duque(ES, 5-0)
Kenneth Rosfort (DK, 14-4) vs. Ivica Truscek(HR, 17-10)
Under Card:
Joachim Christensen (DK, 6-1) vs. Wojciech Antczak(PL, 5-2)
Mulenga Chanda (DK, 0-0) vs. Ales Jezisek(1-4)
Nicola Gozzi (DK, 0-1) vs. Sorin Prunar(RO, 0-0)
Philip Fortuna (DK, 0-1) vs. Marcus Carnefjord(SE, 1-1)
For more information visit www.royalarena.dk.
"Like" MMA Viking on Facebook and follow me on Twitter for updates on all things Nordic MMA.