Espoo Ring Shark's Pro Team announced today on team's Facebook page that Espoo's featherweight star Joni Salovaara (10-4) will fight highly regarded Lithuanian WEC veteran Sergej Grecicho (11-5). The fight will be the main event of a big combat sport event that besides pro MMA fights will hold Finnish MMA amateur championship and kickboxing championship bouts. The event takes place on the 5th of May in Espoo, Finland.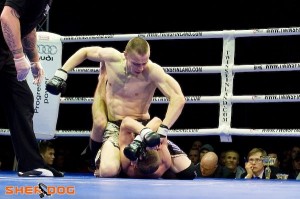 Salovaara, who is ranked #4 both on MMA Viking's Nordic Rankings and GnP.de's European rankings, hasn't fought since October of 2011 when he beat American Jeremy Pender by TKO at the Fight Festival 31. Grecicho, 5# ranked FW in Europe,  is 3-1 in his last four with the loss coming in his last fight to Sweden Nicklas Bäckström who beat the Lithuanian by points at the Botnia Punishment 11 show in March.
Another Espoo Ring Shark's Pro Team fighter on the card is bantamweight Janne "Jamba" Elonen-Kulmala who takes on Russian prospect Oleg Khramov (6-1). Elonen-Kulmala dropped a razor close decision to UK's Kris Edwards after a hard battle at the Cage Warriors Fight Night 5 event on the 12th of April.