MMA Viking is reporting live from Chicago to cover Norwegian Simeon Thoresen's bout versus David Mitchell at UFC on FOX 6 "Johnson vs. Dodson". "The Grin" tries to win Norway's second UFC win, after winning its first last April in Sweden.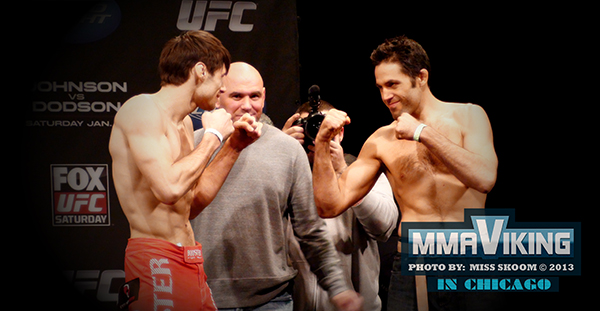 Play-by-play & Results
David Mitchell is the first fighter in the cage.  He takes off his purple belt, and waits for Norway's finest.  Joe Rogan excited that there is a fighter from Oslo, Norway.  "Very talented grappler" says Rogan on the broadcast, "A very high level ground game".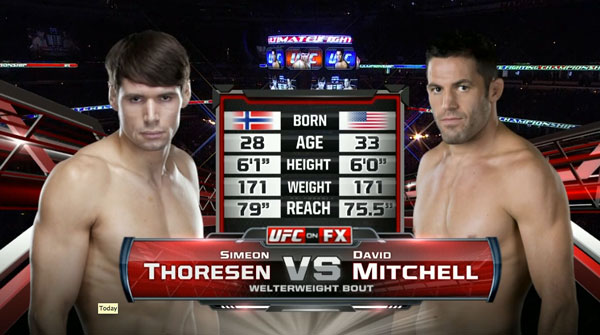 Round 1
The fighter from Santa Rosa is in the blue corner.  Herb Dean is the referee, and the two touch gloves.
Simeon is the taller of the two, and he looks to extend his jab to take advantage of his reach.  Mitchell in a little lower stance, and he tries to punch his way in.  The both exchange punches in the first round, but nobody has taken control.  Mitchell tries some kicks, but nothing too effective.  The American is looking to load up on some big punches, but Thoresen has a tight stance and keeps his hands high.  The grapplers are on the feet, and Mitchell tags the Norwegian with a right and "The Grin" smiles, but his face looks a bit red from the damage.  Now after two and a half minutes the mix it up more on the feet and Thoresen lands a nice inside kick.
Two minutes left, and the two are going after it.  A little more redness on Thoresen's face.  Big punch by Thoresen, but Mitchell returns with a blast, and the crowd is cheering in appreciation.  One minute left, and more of the same.  Uppercut from Mitchell that snaps Thoresen's head back, and that one may sway the judges.  The two tie-up at the end, and they end swinging.
MMA Viking Score : 10-9 Mitchell (Very close round)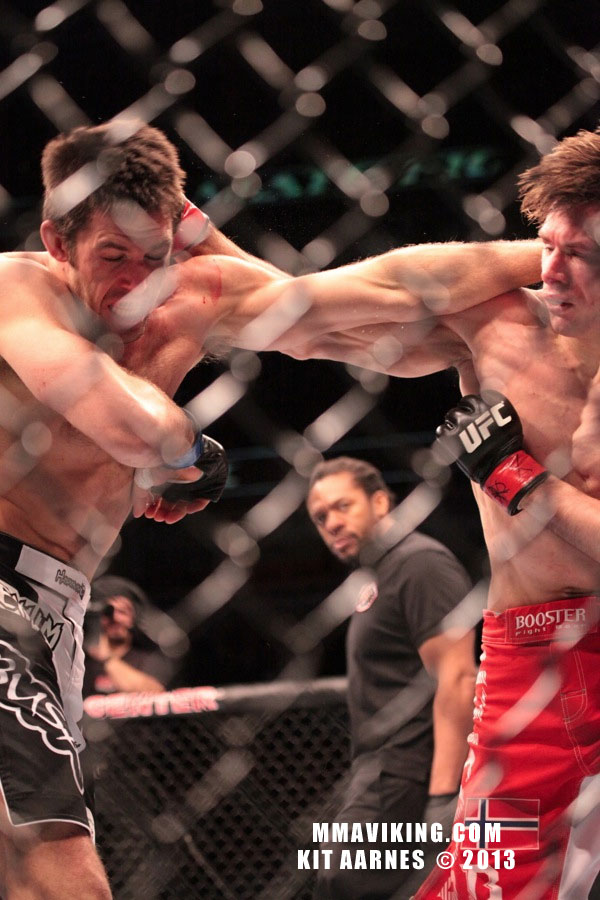 Round 2
Mitchell comes out agressive with punches and hurts Thoresen early.  Big left, and Thoresen goes to the ground, and Mitchell is quick to take his back and looks for a finsih.  Thoresen is trying to recover, and he does without getting finished, but Thoresen still looks dazed.
Bloodied, the Norwegian is on his back and takes a right hand from the standing Mitchell who looks for damage as he hovers of  Thoresen.  A leglock from Mitchell as he agressivelly goes for a finish, but Thoresen defends well, and now reverses and is on top.  Mitchell looks for a gogoplata, and puts shin under the neck of Thoresen, but defended.
One minute left, and the Norwegian is on top, but Mitchell locks up a triangle, but Thoresen defends well.  Mitchell is now on top, tryin to land some punches and a stomp to the body with 20 seconds left.  Mitchell wins this round, and Thoresen looks to have his eye injured.
MMA Viking Score : 10-9 Mitchell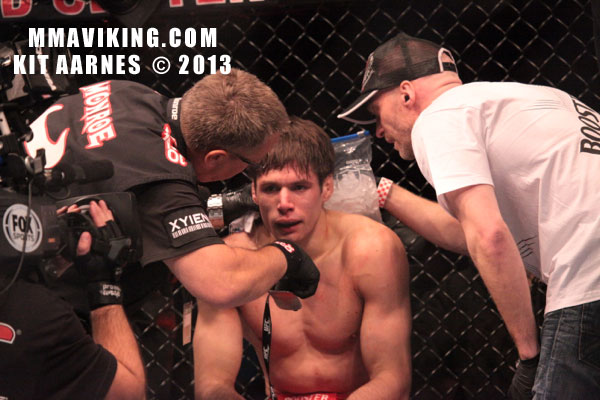 Round 3
Before the round starts, they examine the eye that looks to be closed.  They talk about the cut to the eyelid, as the doctor and the referee discuss.  "It's close to being called" says the doctor, as the round starts.  Mitchell lands some punches early, and they tie along the cage.  Tape is on the glove that comes off, and they take a quick break.  The fitht is back on, and the two exchange again.  Thoresen tries a kick on the break.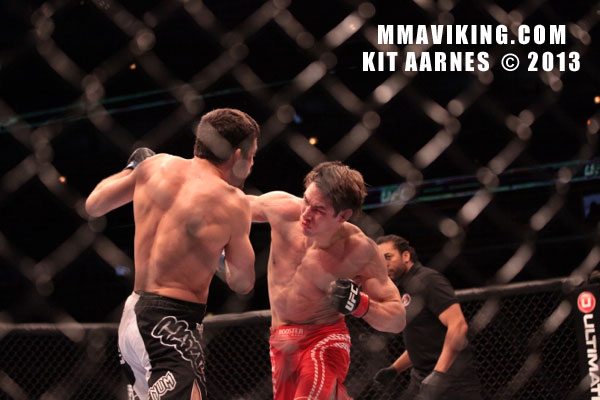 Another attempted kickand a good one two from Thoresen.  Some of the best punches of the bout from the Frontline fighter, but Mitchell has a good chin and walks through it.  Mitchell now on top, but his corner urges him to keep it standing.. and they are up.  Two and a half minutes left, and Thoresen is moving forward and lands some good punches and a kick.  An attempted knee by Thoresen and he moves forward and a great inside leg kick and punch. The wrestler goes for a takedown, but is defended.  Mitchell almost a triangle, but Thoresen defends.
NOTE : The UFC Broadcast did not show the whole fight.  MMA Viking staff in Chicago report that in the last minute, Thoresen stayed on top to finish the round after defending the triangle.
MMA Viking Score : 10-10 
OFFICIAL DECISION
30-27, 30-27, 30-27 for Mitchell
There was no interview from the winner, in a very exciting bout.
Join us on Facebook for exclusive photos and reports on Thoresen coming out during and after the fight.