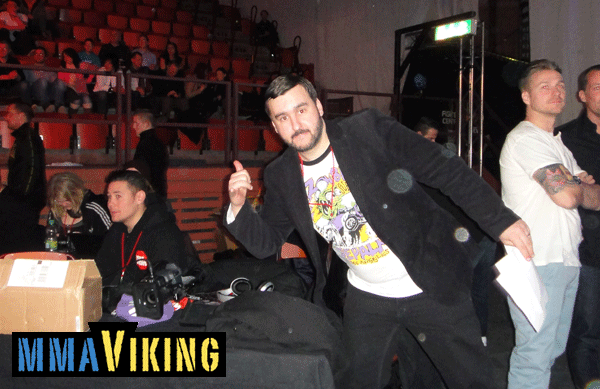 On Saturday night, I got to meet Simon Kölle one of the faces of the popular mmanytt.se.  The website reports worldwide visitors of 300,000 – 400,000 a month! He was on hand to report at The Zone FC 8 Inferno along with the rest of the MMA Nytt crew. Great guys, and thanks for all their team's work in informing and education us about MMA in Sweden and around the world. Interviews with world's most popular fighters and such figures as Dana White bring the most relevant information directly to readers on a consistent basis.
One of Kölle's most recent articles, which I really enjoyed, was an in-depth piece with the fighter, trainer, entrepreneur, and SMMAF president August Wallen at mmanytt.se/blandat/mmanytt-intervjuar-august-wallen-2. It's in Swedish, so use Google Translate if needed =)
If you are looking for someone to score your film, don't hesitate to contact Simon in another capacity as he is a multi-talented and critically-acclaimed musician that has composed CDs, Films, TV and Multimedia. Visit www.simonkolle.com for more information.