8:00am Change of Plans
The weekend getaway with my wife (no kids) to Gothenburg for shopping, dining, and relaxing –with me sneaking off to enjoy The Zone FC on Saturday night– has turned into a solo adventure with 100% MMA around the clock now that she must stay home with our sick son.  So off to Gothenburg by myself for my first live The Zone FC card! I will have more time to post and blog, so here it goes. Nothing too serious or journalistic this trip. Just taking in some fights and enjoying the ride.

First, it's sad to see that August Wallen will not be fighting.  It would have been great to see "The Strangler" live, since I'm used to communicating with Wallen as the representative of SMMAF, taking more attention to the solid fighter would have been good perspective on everything he does in and out of the cage.  He also seems to be improving with each fight. Also a late night, since I'll be up at 3am to watch Wallen's student Alexander Gustafsson at UFC 127 in Australia on ION TV.
Catching a 9:10am train from Stockholm
Traveling from Stockholm's Central Station this morning via train for a weekend in Göteborg. It sucks that there is graffiti on some of the trains here, too. I took a picture with some foul language, but I'll keep it clean with this train heading out before mine.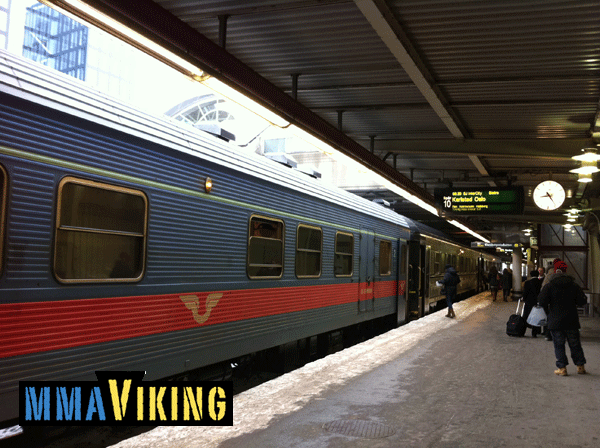 Surfing the Web while Riding the Train
Enjoying some Internet access on the train. I see on Facebook that Christian from Orcbite will be at tonight's event. He's one of the main sponsors for the gala. If you haven't read MMA Viking's interview with the martial arts practitioner/fan turned clothing entrepreneur check it out read Interview. Ha, I grabbed my Orcbite beanie and am wearing it this morning, too.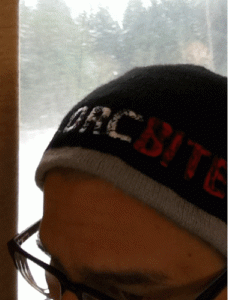 Orcbite sponsors a bunch of fighters and events, including the UFC's Alexander Gustafsson. Great exposure from the Swedish brand, now going global.  Also, here is Tormod from Norway, the winner of our 1st Facebook Fight Pick Competition (FPC). Orcbite sent a great shirt (you'll see Gustafsson wearing this often) to him for picking the most fights correctly. Thanks for sponsoring the site!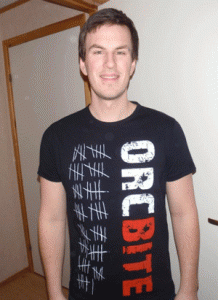 The current MMA Viking FPC Champ from Norway. Join us for FPC #3 today. Pick your fights at www.facebook.com/mmaViking. The sponsor is Jabb.se, where you can also buy Orcbite =)
Checking Out the Town
Nice 3 hour ride. Gothenburg has a great downtown. Full of shops and cafe's –it's the second largest city in Sweden, but I'm sure most people know this. They also have a Michael Jackson impersonator at the Nordstad mall =)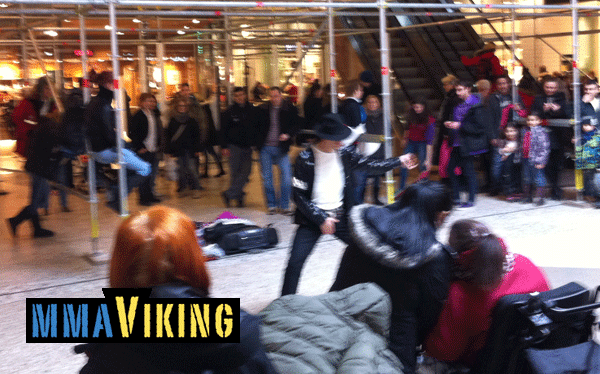 I wonder how many other MMA blogs have posted a picture of King of Pop? I'm not sure this is a good thing. Tomorrow, I will have to explore the city some more. Here's a picture of downtown on my way to my hotel.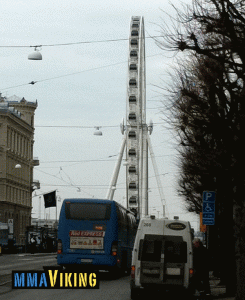 Directions and Last Minute Web Check
Checked around on the Swedish MMA websites and saw this weigh-in photo of Gustafsson at nyheter24.se/blogg/mmabloggen/ from yesterday. Can't wait to watch The Mauler fight tonight on TV! Off to Zone FC now to watch some MMA live. Looks to be about 3 kilometers away, so I think I'll just walk.
Fight Time!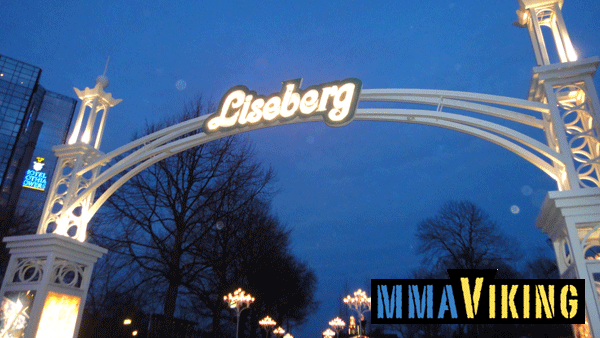 Ran into August Wallen before the first fight, and he is very disappointed that he won't be defending his title tonight due to his opponent's visa issues in Russia. Says he was in great shape and was well prepared. He goes on to say that a fight cancellation has happened before, but his true disappointment could not be hidden.  I told him that I would have gone in the cage if he needed someone to fight, but he jokingly said the SMMAF wouldn't commission the fight =)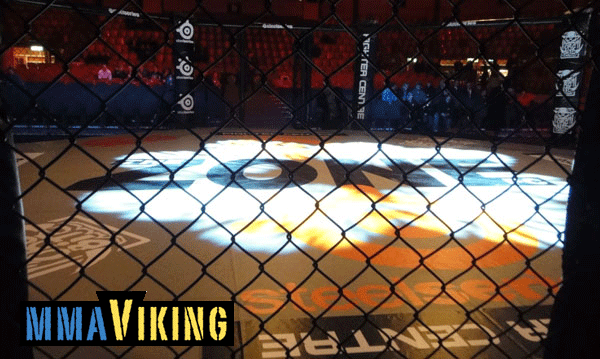 Fight card starts promptly at 7:00pm. Very well organized event, with a great buzz in the air. Looks to be about 2,000 in attendance. All sold out, minus a few seats in the upper corners. Capacity is 2,500, so probably close to that figure.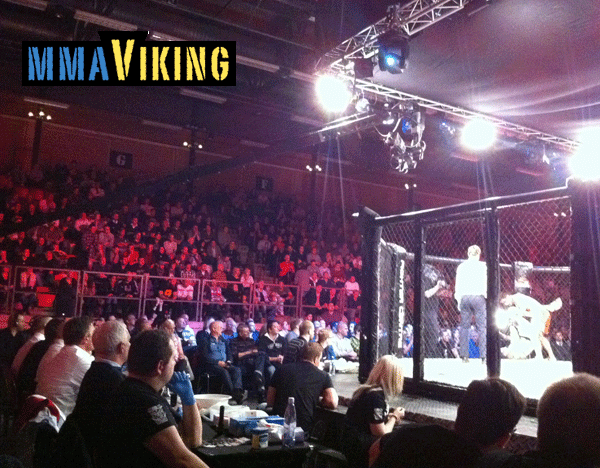 Met the crew from mmanytt.se and mmabloggen.se, too… great guys!  Read their event review and see their pictures if you want something more serious and thorough than this silly posting!
Also, had a good chat with Magnus "Jycken" Cedenblad. He looks great, and he says that he's looking forward to upcoming fights at Vision FC and then Superior Challenge in April.
Well, looks like they were missing a seat and had no accommodations for an MMA fan in a wheel chair, so they had to move me! They put me with the media (I did not try and get any media credentials for the event) guys and next to the ring girls. Not too shabby of a seat =)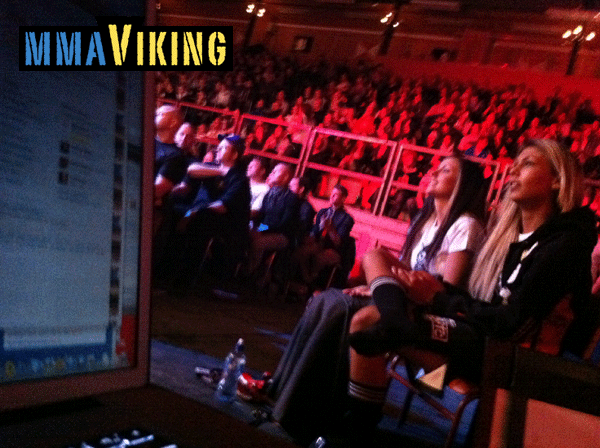 Match 1 – Ali Ameziane vs Mohammed Abdallah
It's a scrap and leather is flying in the first round.  Just straight-up brawling.  Ameziane's take-downs look like they will make the difference. He has nice finishes to his double legs, which put Abdallah on his back.  Abdallah was given a 1-point deduction.  In the first fight of the night, Ameziane wins the decision.  Score card is 29-27 across the board.
Match 2 – Simon Sköld vs. Eirik Digre
An absolute mauling. Sköld whips Digre with strikes in the first round before Digre could get anything going. I also realize that it's no fun typing during fights, so I think I'll limit this and just take in the event. Since I don't have a media pass, I feel like I can just take it all in.
Kings of Leon's Sex on Fire rocks the crowd after the stoppage.
Match 3 – Tim Waage vs. Jens Östling
Waage wins with RNC in the first round.
Match 4 – Thomas Bäck vs.Sirwan Kakai
Sirwan with strong stand-ups, including wicked leg kicks. I'm going to watch and not type for this one.
Sirwan continues with nasty leg kicks, mixed in with nice left jbs. Wow. Nasty stuff in 3rd round. Did I already say nasty? Ouch my lead leg hurts from watching Bäck take these kicks. Quality fight with Kakai showing impressive strikes, and give it up for Bäck for moving forward and swinging away. Sirwan by decision – 30-27, 30-26, 30-26. What would Jordan Breen be thinking? Yes, two more rounds!
Match 5 – Sheila Gaff vs. Hanna Sillén
Gaff lands quickly within first seconds of fight and Sillen drops to floor to absorb a few extra shots as she is laid out on the ground. Quick victory for Gaff, and the crowd is as stunned as Sillen seems to be as she rises from the floor. 8 seconds! The crowd is in shock as the German celebrates around the cage.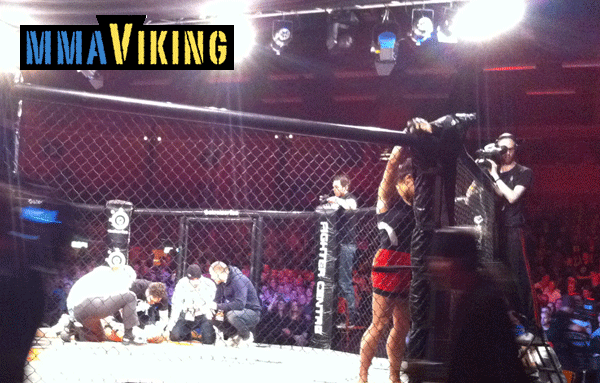 Match 6 – Gregor Herb vs. Mats Nilsson
Cheers for "Sverige", and the crowd is restless as the two grapplers work in the clinch. Both fighters trying to impose their will. Nilsson smiling going into round #3, and seems the much fresher fighter. Nilsson comes on strong at the end to secure the decision victory. Simon from MMANytt.se is nice enough to show the official scorecards. What great MMA media we have in Sweden=) 30-27 on all score cards.
Match 7 – Aboubacar Diaby vs. Victor Cheng
Cheng 1st round stoppage over late replacement Diaby. Diaby is no match for Cheng that just pounded away from the mount. August Wallen, coach, seems to take a lot of joy with the victory. Good to see a smile on the disappointed fighters face.
Match 8 – Paul Reed vs. Hamid Corassani
Great scrap. Corassani has success in round 1 with big strikes, but Reed turns it on in round 2 and stops the Swede. One shot to the head, a right hook, seemed to put the Akira on skates, and he never recovered. Good back and forth fight to end the night.

Great Night of Fights in Göteborg
Walking back to the hotel after the fights I saw this statue downtown. Looks like some old-school MMA! When it is light, I'll go back and see the history of this little monument.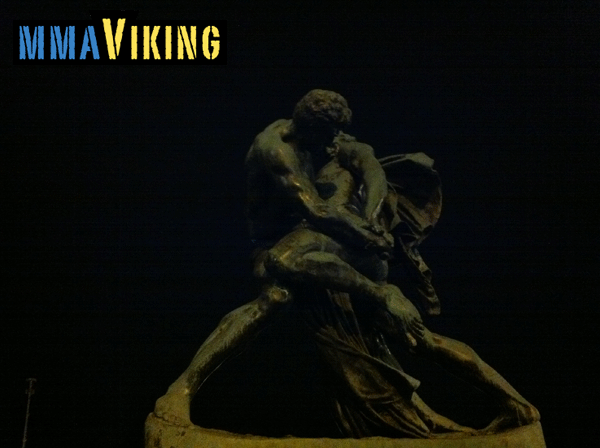 Arggghhh. My SD card reader doesn't work, so photos from camera won't be shown until late tomorrow. I added some photos I took with my iPhone, which are crappy… but better than nothing =)
3:30am (Sunday Morning) – Watching Gustafsson Live on ION!
Thank you Slingbox, which allows you to watch your TV from your computer. It's cool to hear Gustafsson enter the ring and announcing he's from Gothenburg! Watching the fight from his home town. Good luck. Fingers crossed (no spoilers here for UFC 127 until Monday)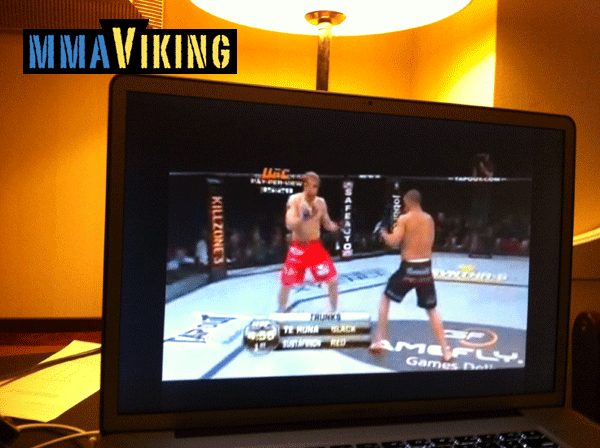 12:30pm (Sunday) – Time to Leave Göteborg
The MMA weekend was fantastic. Eight live fights at Zone FC 8 Inferno, then a full UFC card on TV. So much MMA.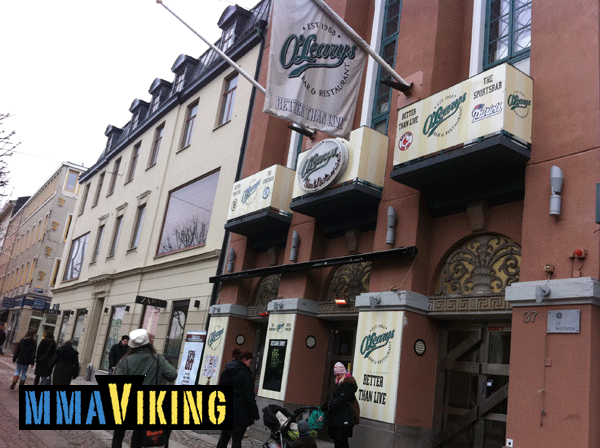 It's always strange to see your last name on a sign. There is no O'Leary's in the USA, so a bit odd to see the restaurant's around Stockholm and Gothenburg.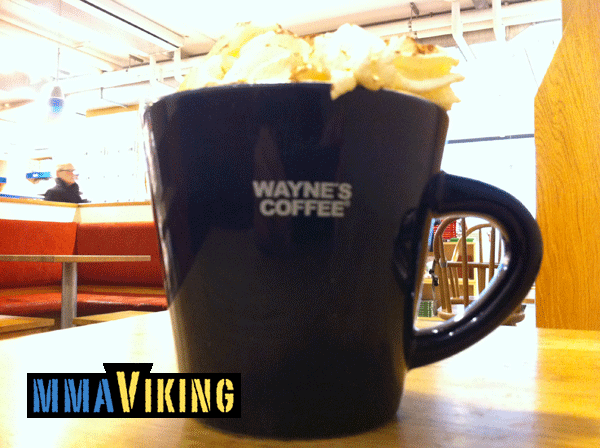 A great mocha at my favorite "American Style" cafe, Wayne's Coffee. Add whip cream, and it'll make your day.