Superior Challenge just added a match-up of former UFC veterans from Sweden, as they have matched up David Bielkheden and Besam Yousef. Bielkheden is a veteran of both Pride and the UFC coming out of Stockholm, while Besam Yousef had his last bout in the Octagon this April fighting out of Gothenburg.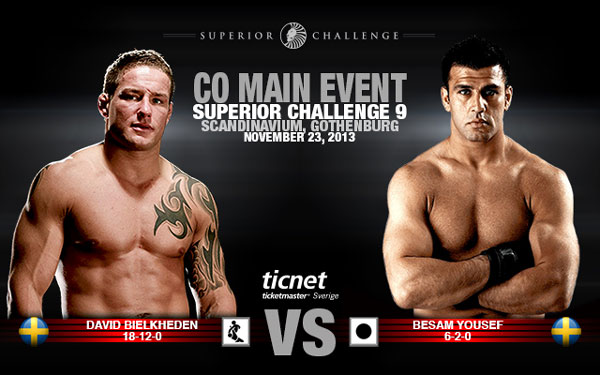 Press Release
David Challenges Besam at Home in Gothenburg
The Swedish MMA pioneer David Bielkheden from Stockholm challenges Gothenburg's most popular MMA star Besam Yousef in his hometown Gothenburg on Superior Challenge 9 on the 23rd November at the Scandinavium
The Hilti fighter from Stockholm is one of Sweden's foremost MMA athletes who also has paved the way for Swedish athletes in international events and represented Sweden in the world's largest arenas far ahead of most. Bielkheden competed at the Superior Challenge Welterweight title against reigning title-holder Daniel Acacio at Superior Challenge 6, and at Superior Challenge 8, when he met none other than Marcus "The Irish Hand Grenade" Davis. In his quest to secure the Superior Challenge belt he now challenges Gothenburg's Besam Yousef.
Besam has recently been released from his contract with the UFC was not slow to take up the challenge. During his last two fights the Gladius MMA fighter met Simeon Thoresen, who will also compete at Superior Challenge 9 and Superior Challenge fighter Papy Abedi. The popular Gothenburg fighter is clearly the favorite at home and will have the home crowd on his side.
Babak Aghavali, CEO Superior Group International:
– Stockholm vs Gothenburg, Hilti vs Gladius, who is the prime welterweight fighter of the two? Yes there are many variables that make this game very interesting from several aspects. Besides, I think it's very exciting challenges. David is determined to bring home the Superior belt to Sweden to meet anyone who gives him an opportunity to title chance. Besam is a really tough fighter and I was really impressed by his last two matches. In addition, he will have the home crowd on his side, but the question is whether there will be enough against David's experience.
David Bielkheden, athlete:
– I will take home Superior Challenge belt to Stockholm and I can face anyone from Sweden to show that I'm the best welterweight fighter in Sweden.
Besam Yousef, athlete:
– It will be really fun to fight in Superior Challenge here at home. I am convinced that it will be really awesome atmosphere in the stadium with lots of people from Gothenburg who will cheer on the home guys.
Video Interview with Bielkheden After Last Bout