Featherweights Tom Niinimäki and Niklas Bäckström will battle at UFC Fight Night Berlin tonight in the first ever Finn versus Swede bout in the Octagon. MMAViking.com is reporting live from the The O2 World Berlin, and you will see up-to date results.  See here for exclusive weigh-in pics or video of the matchup.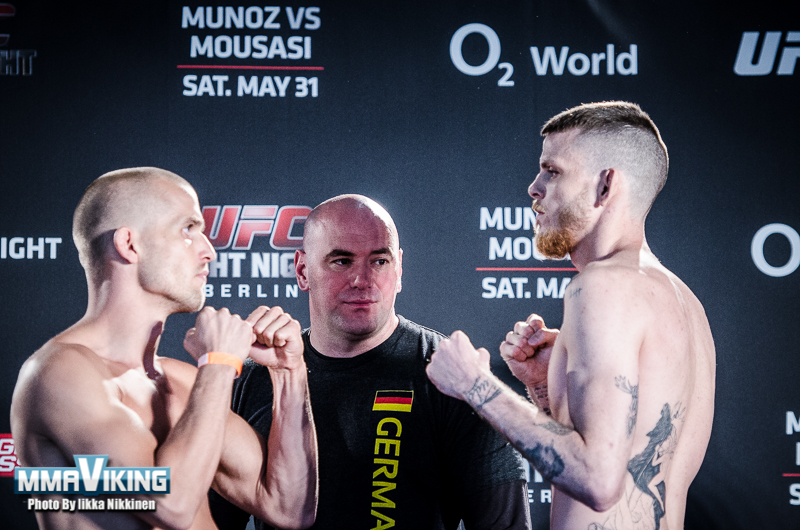 Play-by-Play
Round 1
Bäckström is the first into the arena tonight, somber and relaxed. Niinimaki enters next, stoic and as stone faced as his nickname suggests. The Finn appears to be the apotheosis of focus and determination. On the line tonight is an 11 fight winning streak (Niinimaki) and an unbeaten record (Bäckström). Stoneface and Bäckström touch gloves, and the bout is underway. Bäckström throws a solid leg kick early, and Niinimaki closes the distance with a combination punctuated with a solid takedown. Niinimaki passes into halfguard, and Bäckström puts him back in guard. Bäckström is back on his feet but Stoneface is all pressure, pushing him to the cage and taking his back briefly before securing a takedown. Bäckström is back on his feet and reverses position to control Niinimaki on the fence. Knees from Niinimaki, back against the fence. Bäckström trips Niinimaki, but Niinimaki is back on his feet. Bäckström hits a jumping Guillotine and pulls guard, squeezing with a grimace, but Niinimaki is calm, collected and full of sisu. He holds on and pops out, escaping to the feet. A hard knee starts the beginning of the end, and as Niinimaki attempts a takedown, Bäckström grabs ahold of a schoolyard headlock, which he turns into a rear naked choke, forcing the tap.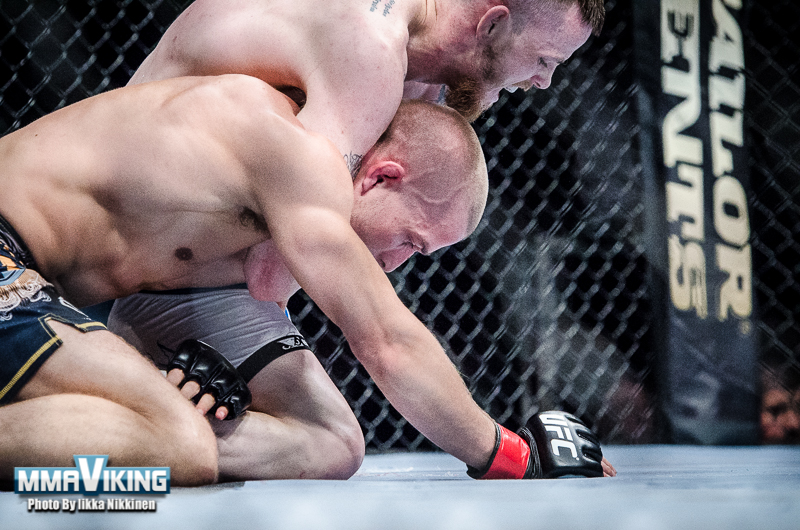 Result: Niklas Bäckström is the winner by way of submission (Rear Naked Choke), at 4:15 of round 1. 
Be sure to check back for exclusive interviews and photos.