Middleweight Swede Magnus Cedenblad will take on Krzysztof Jotko from Poland on the prelim card of tonight's UFC Fight Night Berlin.  MMAViking.com is reporting live from the The O2 World Berlin, and you will see up-to date results below.  See here for exclusive weigh-in pics or video of the matchup.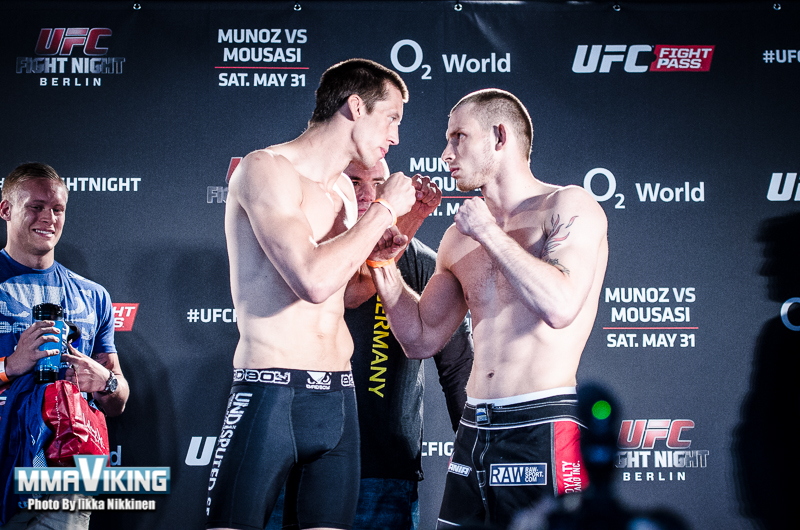 Play-by-Play
Round 1
Jatko enters the arena to an aggressive hip-hop beat, and even hits a few dance moves on his way to the cage. Cedenblad comes out, looking game, with a few dance moves of his own. As the Swede enters the cage, his face becomes a mask of focus, and he stands a towering 4 inches above his Polish opponent. A touch of gloves starts this bout and Jotko pushes Cedenblad towards the fence early, landing with a few big shots, but Cedenblad reverses him and drops to attempt a takedown. Jatko stuffs him, then reverses to put Jycken against the fence once more. Cedenblad turns the corner and trips Jatko, landing near the center of the cage in half-guard, then passes briefly into side control before being placed back in the half guard of Jatko. Cedenblad considers a D'arce briefly then relinquishes his hold. Jatko places the Swede back into his guard and Jycken looks to soften him up with a few shots from the top. The ref warns about inactivity and Cedenblad attempts to create space to work, but is quickly returned to Jatko's guard. Elbows land for Jycken, but Jatko escapes to the feet, albeit only briefly before he is blitzed by Cedenblad and planted firmly on his back for the remainder of the round.
Round 2
Cedenblad takes the center of the cage early and attempts to soften the legs and body of Jatko with kicks. Cedenblad puts Jatko against the cage, but drops his mouthpiece. The ref pauses the action, rinses the gumguard and restarts them in the center. Jatko takes the opportunity to push forward and placed Cedenblad against the cage, where Jycken lands some vicious, but legal, downward elbows. Cedenblad works knees while Jatko works with his hands. Cedenblad creates space and reverses the Pole before taking him down, passing straight to half guard. Grinding elbows from the Swede. Cedenblad controls the wrists and passes the guard, looking to find an arm triangle, but as Jatko gives his back, he escapes the Swede's grasp and takes the top position, landing in half.guard then mount. Cedenblad gives his back, and the fight looks all but lost as Jatko takes his back and sinks in a choke, but Cedenblad gets back into guard. A scramble results in a Cedenblad sinking in a guillotine against the fence. Cedenblad pulls guard, and taps his opponent.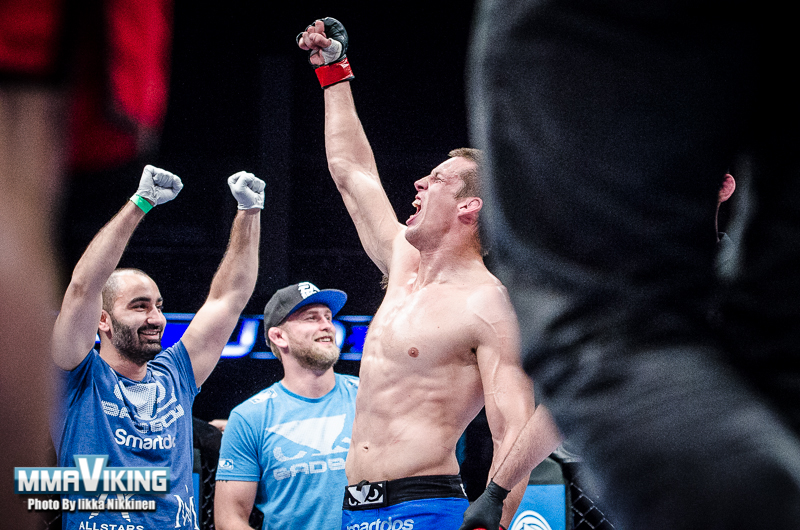 Result: Winner by way of Submission (Guillotine Choke) at 4:59 Seconds of the 2nd round, is Magnus 'Jycken' Cedenblad.
"My standup didn't work tonight" comments Jycken in the post-fight interview in the Octagon.  "Not the best performance, but I won."