Finn Minna Grusander (6-5) made her much awaited return to the cage against undefeated Irish fighter Shauna Bannon (5-0) at the Invicta Fighting Championships in Denver at Invicta FC 52.  For the most part it was Bannon using her kick-boxing to land at distance to secure the unanimous decision victory, but it wasn't without drama as Grusander was in on a tight kneebar in the third round but couldn't finish.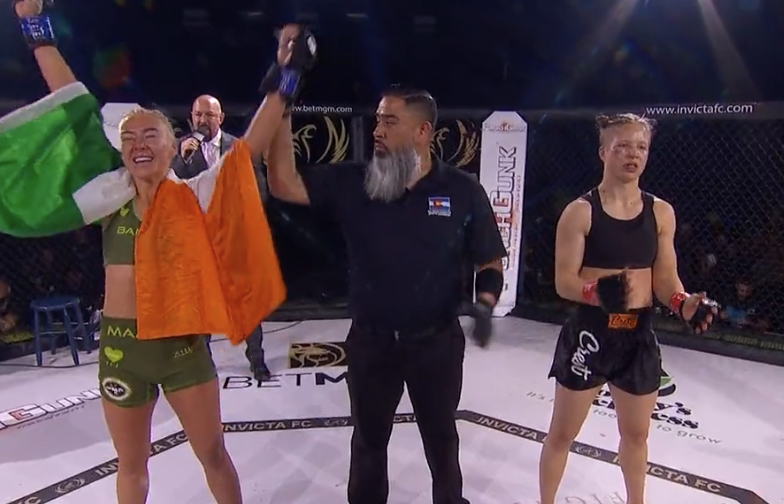 The Turku Finland fighter kept her hands high early, blocking punches.  An inside leg kick puts Bannon off balance and Minna pounces to get on top and moves into half guard to start the fight off strong!  The Irish woman is able to just power out and onto the feet after being held down.  Bannon using left kicks to attack from the southpaw stance.  Minna now closing the distance and pushes Bannon to the cage with a minute left.  Minna attempts two take-downs, but Shauna holds on to the fence twice!  Uh, the referee sees by does not award a point.  Another left kick lands and this time to the head for Bannon that gets a take-down to end the round.
Another left kick from Bannon lands to the body, but Minna in to attempt a take-down.  Up against the fence.  Nice elbow to to the face from the Finn.  "Mama B" is able to bring the fight to the ground and lands some punches as Grusander looking for a kneebar, but gives it up and ends up in a head and arm choke on her back.  Several punches to the back of the head and the referee jumps in to stop the action.  Back to the feet and a kick lands for Shauna to end the second frame.
How did @ShaunaBannon5 not tap!? #InvictaFC52 pic.twitter.com/PSrHKdTGYB

— Invicta FC (@InvictaFights) March 16, 2023
Bannon landing more kicks as she uses movement to land from distance.  Minna again ties up.  Bannon in on a take-down, but Minna in on a knee bar!  She rolls down and the knee is extended as Minna tries to pull up on the foot.  Wow, this is tight!  But, eventually Bannon is able to escape and survive the submission.
The unanimous decision goes in favor of Ireland's Bannon.