Who will win at UFC on Fox 8? Who looks like a good bet based on the odds? Although there aren't any Nordic fighters on this one, you can still get involved by clicking on the banner above or below for an awesome start bonus sign-up offer and odds.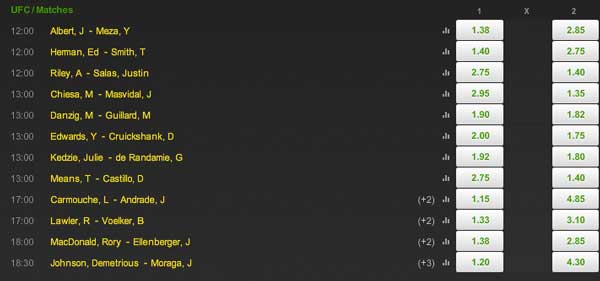 Much of the attention on this card is on the betting lines between Rory MacDonald and Jake Ellenberger. With Ellenberger's punching power, shown most recently against Jake Sheilds, the American could have a chance against the up-and-coming star MacDonald. With a 2.85 return for your 1.00 bet, this is attractive if you think Ellenberger can take the Canadian out with his power… but beware, as MacDonald's stamina will be his true advantage in the second and third round.
The main card is filled with huge underdogs, so if you like Andrade to catch Carmouche, this would be the biggest payoff. While Andrade's standup game is superior you could take a chance for a KO/TKO here.
Another attractive play may be Voelker. The late-replacement has power, and Lawler has been inconsistent in the last few years. With a nothing to lose attitude, and lack of pressure from a long training camp, there could be an upset here, too.
Demetrious Johnson's wife, just had a baby a few days ago. Could the local fighter be distracted from the fight? If you don't know John Morago, I incourage you to see the Road to the Octagon video below. The stand-out wrestler with punching power is coming for a victory. Again, if you like the story and think there may be a new champion, get a huge return on this underdog.
Weigh-in Video (Video)
Road to the Octagon (Video)
Support MMAViking.com by signing-up through Unibet. Click on a Unibet banner above or below. Good luck!