Victor Cheng fighting out of Gladius MMA, with a record of 9-2-0, will defend his title in middle weight at The Zone FC 11 – Survival the November 10th in Gothenburg, Sweden.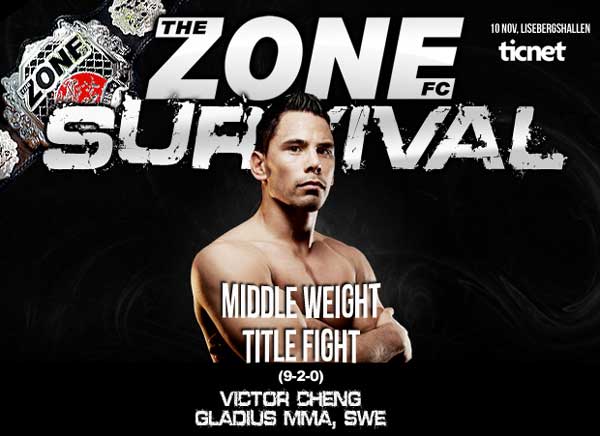 Press Release
Hometown favourite Victor Cheng will defend his middle weight title at the Zone FC 11 – Survival. He is back after fighting in Cagewarriors middle weight tournament where he reached the final but was forced to withdraw due to injury.
He is now fully recovered and is looking forward to fight in front of the home crowd once more. He says he will need to performe at his best in order to win his fight.
Interview
(Translated from Swedish from Press Release)
How does it feel to be back and defend the middleweight title in The Zone FC again?
– It feels very good to fight for family and friends again. It is an opportunity for them to get a closer look at what I do and the time I sacrifice to keep on with what I do. The fight at The Zone is a special feeling. This is where I made my debut and gone have gone many matches there. I look forward to a really tough international opposition for my first title defense.
You were ready for title fight in CW, but did not materialize due to injury. Are you fully recovered now?
– The injury was a stress fracture, fracture and ligament damage caused by overtraining. It has been a very tough year, so far purely private and combining it with fierce competition training left its mark. Now I'm back. The injury is not 100% healed but see it as a luxury to be a little tender in the body after a hard day at work.
What do you feel when you step into Lisebergshallen?
– It feels wonderful to have family, friends and fans at the location cheering. Their support has given me more opportunities to peak performance. It is also in my hometown. It is a great comfort to fight at home.
What can the audience expect compared to the past?
– As it looks now, you will not be able to complain about my resistance and I will have to perform at their best to win my fight at The Zone FC.