MMA Viking's Nordic MMA Awards 2013 roll on with Breakthrough Fighter of the Year pick. Many Nordic fighters stepped up to the next level this year but it was a massive welterweight from Sweden that even seized the opportunity at middleweight on the biggest stage to take the biggest leap forward.
Breakthrough Fighter of the Year:
Nico Musoke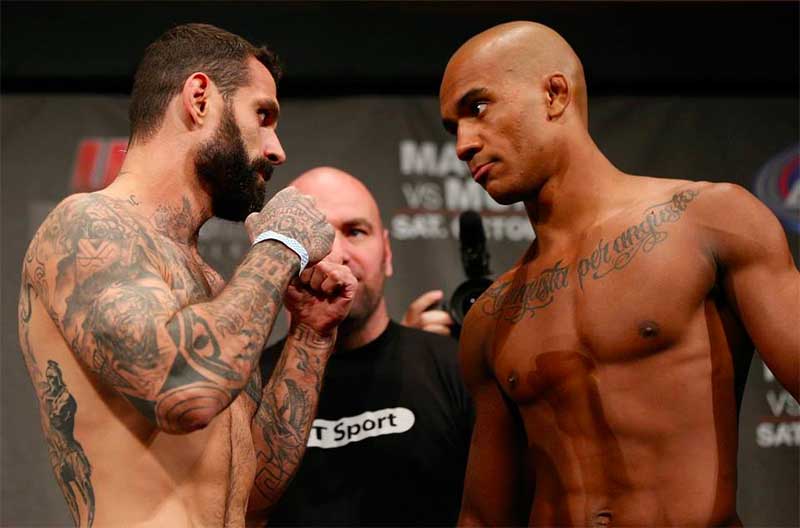 When you make your UFC debut with 16 days notice, do it one notch above your usual weight class and face off with a dangerous UFC veteran, you might lose your head and suffer defeat before the fight actually even happened. But that was not the case with Sweden's Nico Musoke (11-2) who stepped up when the opportunity called and fought on two weeks notice against Italian striker Alessio Sakara at UFC Fight Night 30 in October in London. Once the cage door was shut, Musoke showed right away that he wasn't blinded by the bright lights of the Octagon.
The two went at it straight from the bell and had heated striking exchanges on the feet that saw both guys wobble from strikes. On the ground Sakara ended up on top and landed solid strikes on the Swede before Musoke spinned his hips and caught Sakara's arm to a deep armbar. With the arm secured Musoke rolled on his belly and finished the job by cranking the arm. Submitting Sakara, who is a BJJ black belt under the Nogueira brothers, was a huge accomplishment for the young Swede.
The victory over Sakara was Musoke's second win of 2013. In June he won a decision over Venezuelan Ronny Utrera at the Golden Ring event in Sweden. The Allstars gym fighter is returning to welterweight division for his second UFC fight.  In February the 27 year old Swede will next meet Brazilian Viscardi Andrade at UFC Fight Night 36 in Brazil.
Musoke's 2013 award for Breakthrough Fighter of the Year follow's the 2012 award given to Iceland's Gunnar Nelson.