MMA Viking's 2013 Nordic MMA Awards march forward with the Knock Out of the Year. Superior Challenge 9 event saw multiple impressive knock outs like Yosef Ali Mohammad's flash knock out in the heavyweight bout and Dexter Dyall Wallin's brutal KO that made his opponent face plant on the canvas.
Knock Out of the Year:
Anton Kuivanen at Superior Challenge 9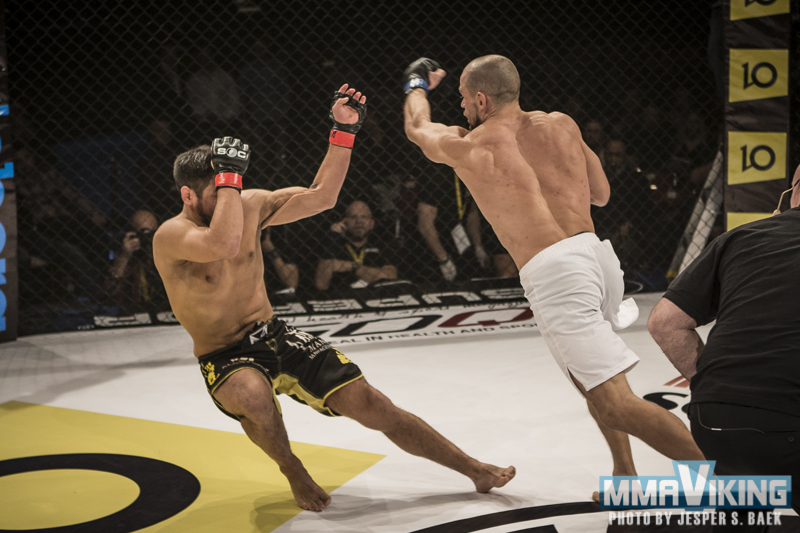 Our pick however was Anton Kuivanen's explosive and technical knock out of Diego Gonzales at the Superior Challenge 9 in November 2013. Beforehand it was estimated that the Finn holds the advantage on the feet while the Swede should be better on the ground. Kuivanen, who had suffered a knock out loss himself in his last fight, came to Gothenburg with loaded guns and did his job quickly.
With just 40 seconds into the bout with Gonzalez, the Finn blasted the Swedish veteran with a stunning 1-2 combination where the overhand right connected clean and sent Gonzalez crashing down to the canvas. After a follow up strike on the ground Kuivanen showed great sportmanship and signaled to the ref to stop the fight as his opponent was clearly hurt. Due to questionable referring Kuivanen had to seal the deal with couple of more strikes before the fight was stopped.
Helsinki based Kuivanen (20-7) is now 3-1 after his three fight run in the UFC. Kuivanen won a clear decision over tough TUF vet Jason Pierce in May but suffered a surprising set back in September when he was knocked out at 30 second mark by American Eric Reynolds at Cage 23.  The win over respected veteran Gonzalez got the Finn back on track. At Grand Combat Entertainment in mid December Kuivanen scored another impressive knock out when he put away Spain's Oriol Gaset with a crushing knee at just one minute in to the bout.