Sweden's promotion International Ring Fight Arena (IRFA) returns to Stockholm on October 19th. The organization begins to build its card with Sweden's Mohammed Abdallah versus Zebaztian Kadestam at IRFA 5.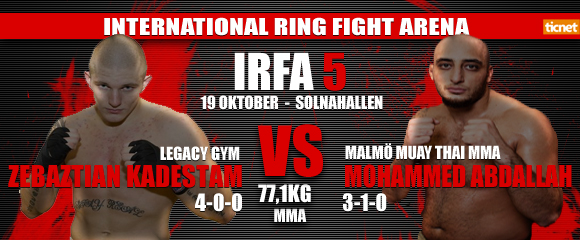 Abdallah comes out of Malmo Muay Thai MMA and has a 3 win and 1 loss record. The welterweight put his name on the Nordic MMA scene by beating Emil Weber Meek after the Norwegian broke his arm in 2012. Abdallah has since won two fights at Trophy MMA, including his most recent against Krzysztof Marczuk in June by TKO.
Kadestam is undefeated with a 4 win and 0 loss record. He trains in Asia at Legacy Gym, and his most recent bouts have been at Pacific Xtreme Combat (PXC) in the Philippines. He most recently beat Ronald Jhun in February at PXC 35 by TKO in round 1.
Stay tuned for more bouts at the IRFA promotion. IRFA 4 brought out many Nordic stars including Sirwan Kakai and Lina Eklund.
The bouts at Solnahallen can be purchased at Ticnet