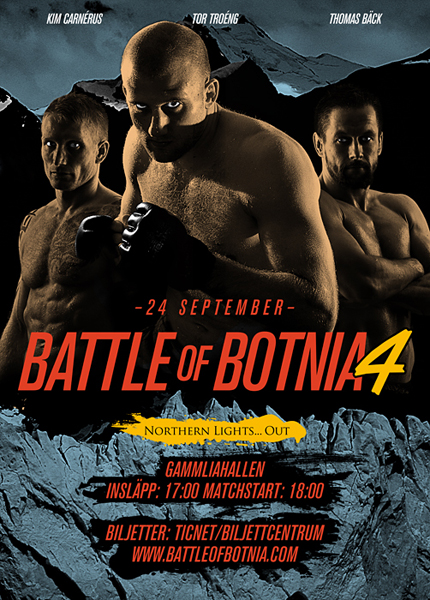 Today Tor Troéng revealed the poster for Battle of Botnia 4 on his website (picture). While the full fight card for the September 24 event in northern Sweden's Umeå is not yet complete, it is certain that hometown hero Tor Troéng will take on the UK's Valentino Petrescu in the main event.
Additional bouts announced on the Battle of Botnia official website include Sweden's David Häggström versus Greg Knapp from Wales, undefeated up-and-comer Andreas Ståhl will take on Domingos Mestre, Thomas Bäck versus Leandro Gontijo. Other fighters making appearances include Kim Carnérus and Pavel Lukashin.
For more information:
www.battleofbotnia.com
www.tortroeng.com
"Like" MMA Viking on Facebook and follow us on Twitter for updates on Battle of Botnia 4 and other Nordic news.