The long-running Botnia Punishment promotion is putting on an exciting card featuring several top Nordic fighters.  The event titled "X" on Friday, September 23, brings together talented local Finnish fighters, plus athletes from France, Norway, and the Czech Republic in Seinäjoki, Finland.
"We want to support young, talented fighters" – Botnia Punishment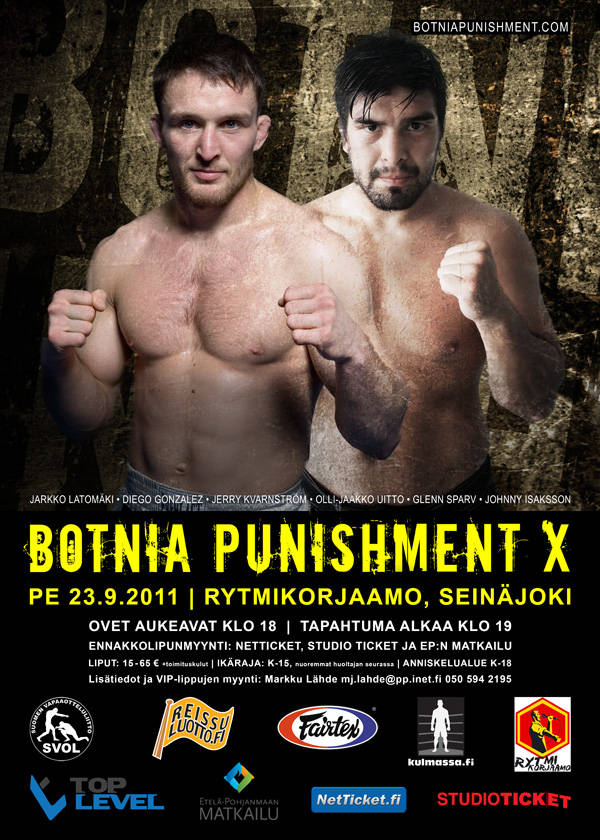 In this exclusive interview with MMA Viking, we talk to Tomi Nevanpää, who along with Markku Lähde, carries much of the workload of Botnia Punishment.
Interview
MMA Viking : Can you tell us a bit about your organization's history for those of us not familiar with the Botnia Punishment promotion?
Nevanpää : The first event was held in 2003 in city of Kauhajoki. Back then we had a different name which was changed to Botnia Punishment a few years later. In our first event we had boxing and MMA (shootfighting) fights, but later on we have focused on MMA.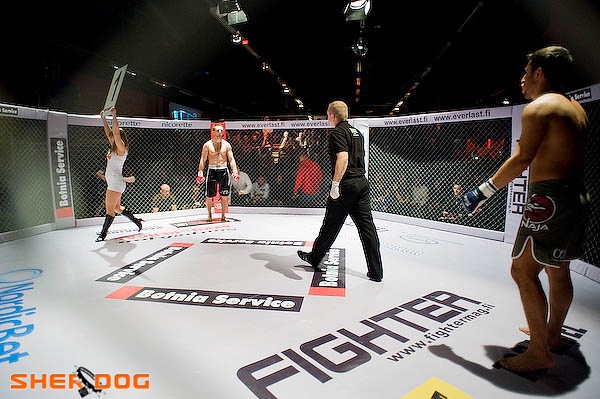 In 2008 we had webcast airing in pay-per-view basis, being the first Finnish MMA-promotion providing the opportunity to see the event live. We also produced a documentary about Jarkko Latomäki which was aired on a national TV-channel. In addition to organizing events, we have TEAM Botnia Punishment which includes 9 fighters who are managed by Markku Lähde.
We have good and reliable reputation as an organizer and because of that we have had very good fighters in our events. Nowadays Markku Lähde and I carry the most responsibilities in setting up the events. Basically the work distribution goes like this; Markku does the match-making and the work with the fighters and the event, and I handle day to day operations. Our newest member Aapo Kortesluoma will also have some responsibilities in this event.
We also have Botnia Punishment championship belts in two weight-classes, in lightweight and in welterweight. The main purpose with these belts is to support young, evolving fighters in their careers.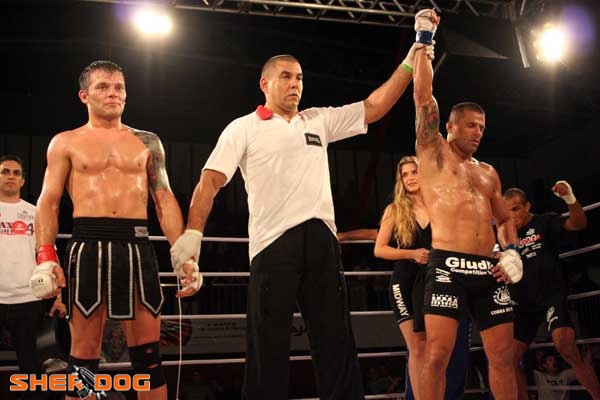 Our basic principle with fighters from our region is to offer a chance to belong to our TEAM and with that to provide professional training and match opportunities. Currently in Kauhajoki, TEAM Botnia Punishment is preparing for the matches with Brazilian Marcelo Giudici. He has 3rd degree in BJJ and he also has long experience in MMA and in other martial arts. Marcelo will spend one month in Pohjanmaa (area in western Finland) with the TEAM.
MMA Viking : How does Botnia Punishment differ than Fight Festival and Cage?
Nevanpää : Botnia Punishment is a regional event and our area of operation is western Finland. Fight Festival and Cage have so far focused their activities in the metropolitan area and Finn Fight events are held in Turku under the Shooto-organization.

We do not compete with other organizations, because it's beneficial for all of us and for the sport of MMA that we can organize events all around Finland and multiple times a year. We collaborate with other event organizers. Especially we have to mention Carelia Fight in Imatra and Fight Night in Lappeenranta.
MMA Viking : Can you tell us a bit about upcoming "X" card and the main event?
Nevanpää : As mentioned before our purpose is to provide our fighters the opportunity to get a match in their hometown. We want to support young, talented fighters and that's why we have a couple of amateur matches in the undercard.
Two of our fighters will make their pro debuts in the upcoming event (Aho and Hautala). We also have in the card two young fighters, Sparv and Isaksson, both of which are still undefeated in their pro careers. We expect a lot from both of these boys in the future. Sparv will start his international career later this year, in November when he fights in Denmark, in Cage Fight Live event against Danish Nicholas Dalby.
Hometown boy Olli-Jaakko Uitto faces French Manuel Sully, both of them have only one loss in their records and both have their losses from their previous matches. They are both accustomed winning fights, so coming from losses is a new situation for them. This match gives them a chance to regain themselves.
We are happy to provide the audience a match between Thomas Hytten and Jerry Kvarnström. Thomas is a well-known and respected fighter in Finland, and his victory over Eklund showed how dangerous he can be. Jerry is a fighter with a big mouth but he can also back his words up. Having a long background in wrestling, he is a very strong and explosive fighter. This is a fight that will get everyone on their feet.
Our main event is Jarkko Latomäki vs. Diego Gonzalez. Every MMA fan in the Nordic countries certainly knows these two tenured fighters, who also have experience in fighting in international events. At this moment both of them need a boost in their careers and a victory in this match will certainly bring it. They are both very strong on the ground, but differ as a fighter in other aspects. We don't want to start speculating their strengths and guess whose hand will be raised at the end…. we'll leave that to other people. But one thing we can say about this fight is; please enjoy, this is MMA from the top of the Nordic countries.
MAINCARD (UPDATED)
-75kg 3×5 min
Jarkko Latomäki, Team BP / Shooters MMA 18-7-0 vs Diego Gonzalez, Hilti BJJ, Sweden 13-5-0
-65,8kg 3×5 min
James " Scraps " Saville, Caged Steel, England vs Thomas "Moon Lee" Hytten, Team Hell Boy, Norway 9-7-1 (Jerry "AD/HD" Kvarnström, TuTo MMA, Finland 10-1-0 dropped out of the fight against Moon Lee due to sickness)
-77,1kg 3×5 min Botnia Punishment Welterweight title fight
Olli-Jaakko Uitto, Team BP 7-1-1 vs Manuel Sully, Parebellum Combat Club, France 6-1-0
-77,1kg 2×5 min
Glenn Sparv, Team BP 3-0-0 vs Jan Doskocil, GFC Team / UFC Hradek Kralove, Chech Republic 4-0-0
-66kg 2×5 min
Johnny Isaksson, Team BP, Finland 3-0-1 vs Filip Macek, GCF Team, Chech Republic 5-2-0
-70,3kg 2×5 min
Tomi-Jussi Hautala, Team BP / Shooters MMA 0-0-0 vs Lauri Kinnunen, MMA Utti 0-2-0 (Updated Sept 17 – This fight has been cancelled. Kinnunen broke his hand, and Hautala was already sick.)
-68kg 2×5 min
Juhani Aho, Team BP / Shooters MMA 0-0-0 vs Tommi Marttinen, Mikkeli Full Contact 1-0-0
UNDERCARD:
3×3 min, -87kg
Mika "Kamina" Kuronen, TUTO MMA vs Matias Rantala, Mäntän Sutemi (Updated Sept 16 – Rantala is out with broken rib. Officials seeking new opponent.)
3×3 min -77,1kg
Jesper "Testo" Mattlar, VKK vs Kai Karar, TKU
3×3 min -65,8kg
Daniell Winiarcyck, KKU vs Samuel Muuronen, Edge Vantaa
3×3 min -63kg
Timo Suihkonen, KKU vs Tuomas Grönvall, GB GYM Hki
Tickets for the event are available here
"Like" MMA Viking on Facebook and follow us on Twitter for updates on Botnia Punishment and Nordic MMA news.