Reza Madadi (14-5), a tough Swedish veteran, came up short against Joe Duffy (16-2) in the final bout of the Fight Pass Prelims at UFC London. The Iranian-Swede fought hard, but sustained more damage over the 3 round affair, and dropped a unanimous decision to Duffy, who was both humble and gracious in his victory.
Live Results
Round 1: 
Madadi and Duffy meet in the center of the cage, but Duffy pushes forward to take the center. Madadi attempts a takedown, thenbreaks and sends a knee up the middle. Duffy hits Madadi with a big kick to the body, but the Swede beckons him forward before he hits him with a blast double that takes the Irishman to the mat. Duffy starts to struggle to his feet, and Madadi picks him up and slams him. Duffy, however, uses that slam to create a scramble, and obtain the top position, where he settles into half guard, then eventually into Madadi's guard. The Swede attempts an armbar, but Duffy uses it to escape into side control and cradle Madadi. The Swede struggles, and regains his guard. Duffy is unphased by position, and rains down some hard elbows. Madadi, however, attempts a guillotine at the earliest opportunity. The Irishman escapes the attempt, and applies pressure from the top. A hard elbow cuts the crown of Madadi's head, and gush of blood is loosed from the rent flesh.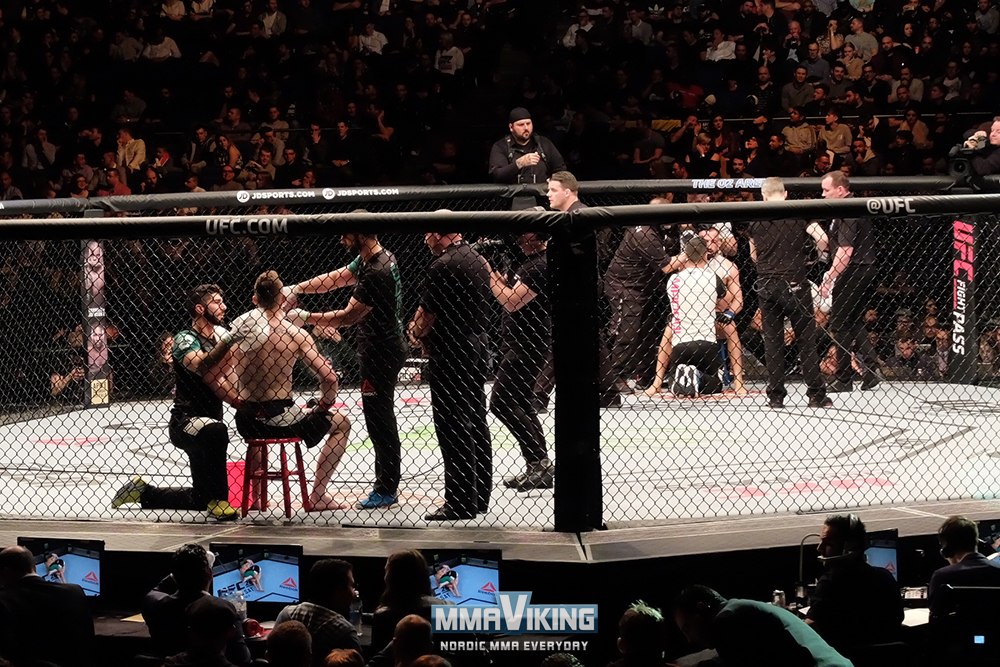 Round 2:
The two emerge from their corners once more, and Duffy throws a side kick to open. Duffy uses his hand speed to put his jab on Madadi's chin, then looses a kick to the head. Madadi now bleeding openly. Duffy nails the Swede with a hard knee, followed by his hands. Madadi beckons him on, but looks visibly shaken. A spinning backfist is attempted by Madadi, who then shoots for a takedown. Duffy stuffs it, then hits Madadi with a 1-2, followed by a headkick. Duffy's jab is constant, but Madadi fires forward with a right hook. Madadi is clawing at his eyes, he appears unable to see through the sheet of red on his face. Duffy counters a right hook by Madadi with a savage knee, but is unable to quell the pressure of the mad dog, as he shoots for and lands a takedown. If Madadi is relentless, Duffy is similarly unrestrainable, and he escapes to his feet to punish Madadi with another knee. A hook kick lands on the side of the Swede's head, but the last ten seconds is a virtual doldrum in comparison to the fevered pace throughout the rest of the round.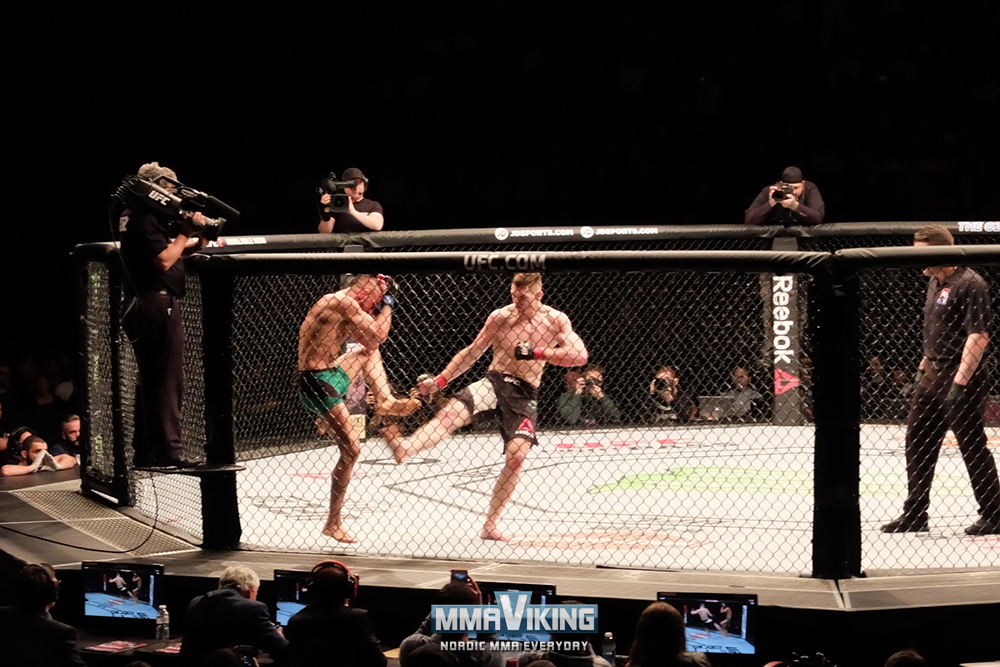 Round 3:
The final stanza opens with Duffy looking confident. Madadi opens with a jab, but Duffy counters with his lightening-quick right hand. 1-2 for Duffy. Madadi wings his way in to clinch, but Duffy shrugs him off. Madadi attempts a spinning back kick, but Duffy will have none of it. Duffy pressures Mad Dog to the cage, and the Mad Dog attempts a single leg. Duffy fights off the takedown chain, and the two struggle as Duffy reverses Madadi on the cage. Duffy separates with an elbow, then begins to put on a clinic of knees and kicks with varied success. Duffy throws a left hook, ducks under Madadi's return fire, then cracks the Swede with another of the same, followed shortly by a right uppercut. Madadi attempts a spin, but Duffy steps in to nullify. Madadi attempts another takedown, but Duffy punishes him with shots as he pressures him to the cage. Madadi marches forward and almost eats a sidekick, but nothing else lands in the final moments of this savage war.
After 3 rounds, the judges render a unanimous decision (30-27) for "Irish" Joe Duffy.