Sweden-based Bruno "BC" Carvalho will step back into the Cage Warriors cage for the second time in 2013 when he faces Jack Mason. MMA Viking confirmed the bout with the Allstars Training Center fighter and trainer. Cage Warriors officials released the following today.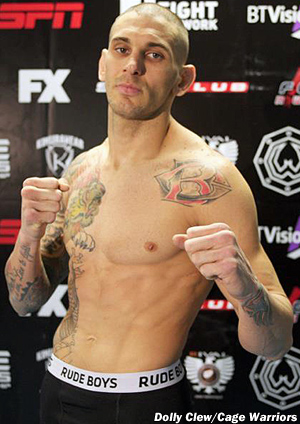 Press Release
THE BILL for Cage Warriors 57 has been boosted further today by the addition of a welterweight contest between Jack Mason and Bruno Carvalho (pictured).
The experienced pair are both in confident mood heading into the bout, which is set for the main card at Liverpool's Echo Arena on Saturday, July 20.
Mason (24-11), who'll be fighting for Cage Warriors for the 10th time in his career, has been in a rich vein of form since making the cut from middleweight last year.
The 30-year-old Englishman has been victorious in his last four bouts, the most recent of which saw him secure a unanimous decision win over Collin Reuter in the main event at CWFC Fight Night 8 last month in Al Fujairah, United Arab Emirates.
Now hovering just one place outside the UK's top 10, Mason said: "I'm thrilled to be facing Bruno Carvalho in Liverpool. He's been highly-ranked on the European scene for a very long time so it's a hugely exciting match-up for me.
"Beating Carvalho is going to put me right up there in the rankings and vying for title contention. He called me out after my last two fights and he's now been granted his wish. All I have to say to him is be careful what you wish for."
Carvalho (15-6) fights for the first time since March, when he rebounded from a loss to Cathal Pendred by seeing off the challenge of Steve Dinsdale by second-round TKO at Cage Warriors 52 in London.
A Brazilian currently based in Sweden, 31-year-old Carvalho is a BJJ black belt who holds victories over former KSW middleweight champion Vitor Nobrega, Dream veteran Tatsuya Mizuno, former Pride middleweight Jean-Francois Lenogue and The Ultimate Fighter 11 contestant Kyacey Uscola.
"I think this is a good match-up for me. I'm looking forward to making a statement and showing everyone that I'm on top of this division," said Carvalho.
"I won't need to study my opponent because I train every day with top guys who are stronger than him in all ranges. I'll stop this fight in the second round at the latest."
More Cage Warriors 57 fights are still to be announced so keep track of Cage Warriors on Facebook and Twitter.
MAIN CARD
Antoni Chlewicki v Paul Daley
Ronnie Mann v TBA
Mauro Chimento v Danny Roberts
Bruno Carvalho v Jack Mason
Lee Chadwick v Mats Nilsson
PRELIMS
Chris Fishgold v Marcin Wrzosek
Mohsen Bahari v Matt Inman
Lewis Long v Saul Rogers