Finland's Juho Valamaa (4-1) is on a strong rise in the welterweight division. The FinnFighters Gym fighter's only defeat came in his pro debut but since that fight it has been all victories for Valamaa who has won his last four fights. And all of them by first round finishes so no wonder the Finn is starting to gather some hype behind him. At the Cage 22 on 11th of May the Finn will lock horns with French striker Shamil Ismailov (4-1) who steps in for injured Olli-Jaakko Uitto.
MMA Viking had a chat with Valamaa at GB gym in Helsinki where he was training with Anton Kuivanen, Tom Niinimäki, Kai Puolakka who all have fights at Cage 22.
MMA Viking: We saw you last time when you had a fight at the Cage 21 in February in your hometown in Turku. How have you been after that?
Valamaa: I've been good. I had to take some time off from training as I hurt my shoulder that fight but it was nothing too serious. A muscle was torn a bit but it healed with rest and I could soon return to training.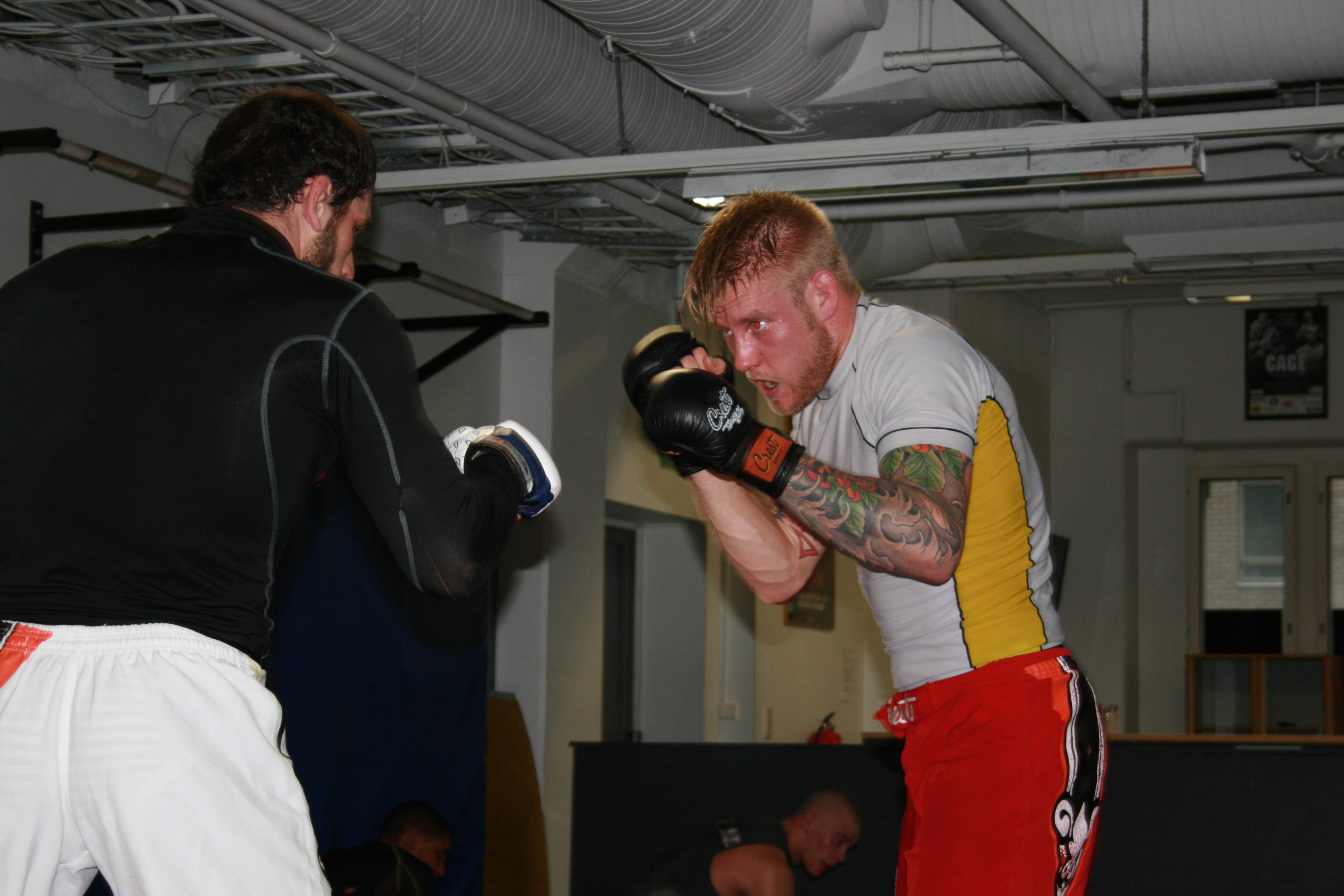 MMA Viking: How has the training gone for the fight at Cage 22?
Valamaa: It's gone well. I have been healthy now, no injuries at all which is always a good thing. My teammates have had fights recently so I've been sparring hard with them to get them ready.
MMA Viking: Some of the key FinnFighters Gym fighters like Juice Saarinen and Tipi Hirvikangas have been sidelined lately due to injuries. Has this had a negative affect on your training regimen?
Valamaa: Of course it changes things somewhat. Especially Juice's absence has affected as he has been my main sparring partner. We have just had to find new sparring partners and we've managed to do that. Luckily we have a wide reserve of fighters at the FinnFighters Gym.
MMA Viking: Your last four fights have ended quickly with all of them by first round finishes. How is this next fight going to go?
Valamaa: Well, lets say I have been training so that I can go full rounds. My conditioning will not be a problem.  But yeah, I'm excited to fight again. It's going to be a hard battle and I'm really looking forward to it.
MMA Viking: Are you going to go "off season" after this fight like most of the fighters in Finland?
Valamaa: Yep, that's the plan. We'll change my training program for the summer. Cut down on the fight specific training and do more basic conditioning and stuff. After Cage 22 I'll probably fight sometime in the fall next.
MMA Viking: Thanks for the interview Juho and all the best with your fight at Cage 22. Shout out to anyone?
Valamaa: Coaches Vesa Vuori and Sampo Pänttäjä have been helping me a lot lately so big thanks to them. Also thanks to my sponsors Crest fight gear and Fast supplements for their support.