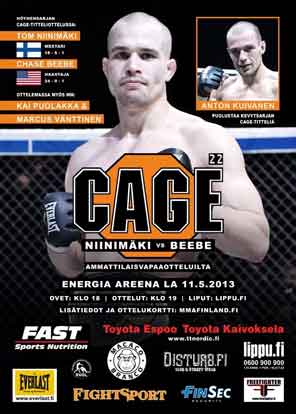 Cage 22, that takes place on 11th of May in Vantaa, Finland, has a strong card with great mixture of established and highly regarded veterans on the main card and talented up-n-comers on the under card.
In our first preview piece we take a closer look at main card's welterweight bout between Juho Valamaa and Shamil Ismailov along with the preliminary fights where the young and hungry talents try to make a name for themselves. Cage matchmaker Olli Hartikainen commented the fights to MMA Viking.
WW: Juho Valamaa (4-1) vs Shamil Ismailov ( 4-1), France
Finland's Juho Valamaa (4-1) is on a strong rise in the welterweight division. The FinnFighters Gym fighter's only defeat came in his pro debut but since that fight it has been all victories for Valamaa who has won his last four fights. In the cage the Turku brawler lives by great conditioning and hard nosed attitude that allows him to apply relentless pressure to his opponents. Valamaa is a strong grappler with a dangerous submission game and exhausting clinch work.
Shamil Ismailov, who is Russian born but fighting out of France , comes to this fight with a record that is identical with Valamaa's. After losing his pro debut by split decision, Ismailov has finished all of his next four opponents: three by submission and one knock out. Besides holding a promising MMA record Ismailov also has a 9-1 record in professional boxing with eight of the wins coming by knock out. Ismailov fights with aggression and isn't afraid to go toe to toe on the feet. On the grappling department it seems that his ground game is on a higher level than his wrestling.
Hartikainen: "Valamaa meets short notice replacement Shamil Ismailov who has very good hands thanks to his boxing background. Ismailov also knows how to submit people. He took the KOC title in his last fight from Jason Ponet with a leg lock. Valamaa is in excellent physical condition and has a wide arsenal of weapons to choose from. He creates constant pressure to his opponents that is very taxing to them. Valamaa will not give an inch of room to breathe on the feet or on the ground which is his strongest point."
Prelims
LW: Kennet Mattson (5-2) vs Aleksi Mäntykivi (2-1)
Hartikainen: "Mattson is a much more experienced fighter than Mäntykivi. Mattson is a skilled fighter and moves really well on the ground. Mäntykivi's answer to Mattson's strengths are confidence, strong wrestling and better physical attributes. "
LW: Patrik Pietilä (0-0) vs Rasul Khataev (1-0)
Hartikainen: "Pietilä and Khataev are both comfortable fighting on the feet so we should see brisk striking action in this one."
FW: Mika Hämäläinen (2-0) vs Jere Varila (0-1)
Hartikainen: "This is pretty much a classic striker versus grappler match up that was planned to happen at Cage 21 already. Varila has big reach advantage on the feet and he is the better striker of the two. Hämäläinen is strong as a bull so he hits hard and also holds the advantage in grappling. "
BW: Tuomas Grönvall (1-0) vs Miika Kauppinen (2-2)
Hartikainen: "I think the crowd will see leg wars in this fight as both guys are very good at leg locks."
LW: Jani Salmi (2-2-) vs Juho Kahranaho (0-2)
Hartikainen: "Both guys did very well as amateurs but have struggled a bit in pro fights. Kahranaho hails from an extensive Karate background which brings confidence to his stand up. Salmi's best qualities are his fierce physical strength and wrestling. Salmi has suffered his last two defeats due to lack of patience in the cage."
Our partner Unibet.com offers interesting odds for the Cage 22 fights. Click on the banner above to get the best sign-up bonus there is and to earn money with your favorite fighters!
Stay tuned for more Cage 22 news from MMA Viking. Cage 22 will go down on the 11th of May in Vantaa, Finland. MMA Viking will of course be on the spot in full force and bring you live play-by-play, full results and post-fight interviews!