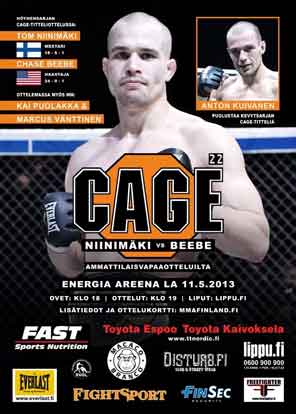 MMA Viking's Cage 22 previews continue with a closer look at the welterweight match up between Finland's Kai Puolakka (9-3) and France's Mickael Lebout (7-2). Unibet.com has Puolakka as the favorite at 1.25 with Lebout being the underdog at 3.50.
Helsinki's own Puolakka has steadily improved over the last few years and beaten a chunk of solid fighters while doing so. The ever improving Finn is now six and one in his last seven. The lone loss came to Swedish top prospect Nicholas Musoke at Cage 18 where after a hard fought battle Puolakka got caught in a guillotine choke in the third round. His last three wins are all over respectable competition. At Cage 17 Puolakka showed that he is not afraid to go for risky moves when he pulled out a flying triangle at one minute mark of the fight with French veteran Gary Kono. In a clash of top Finn welterweights at Cage 19 Puolakka took home a decision victory over Johan Vänttinen after a grueling battle. The Finn's last win came at Cage 21 in February in Turku where Puolakka again used his favorite submission technique, the triangle choke, on Ukrainian Evgeni Fomenko and got the tap in the second round.
Puolakka is a modern day allrounder who is willing to fight in any area of the game. The long limbed Finn has good reach for welterweight and knows how to use it. He has beefed up considerably over the last two years and that shows especially in his strong clinch work and offensive grappling. On the feet Puolakka's striking is boxing centered with stinging knees in the clinch. On the ground he uses his long legs well to control his opponents posture but also to wrap them up in submissions. One of the Finn's best attributes is that he doesn't tense up in the cage and has the ability to stay calm under pressure.
Kai Puolakka vs Gary Gono at Cage 17

Frenchman Lebout has gathered an impressive 7-2 (plus one no contest) pro record in just two years. While his record lacks of big notable wins, it was Lebout's fight with previously mentioned Swede Nico Musoke that confirmed him to be a dangerous and gutsy fighter. After a rough first round that saw Lebout hitting the canvas from Musoke's strikes, the Frenchman bounced back with a vengeance and took over the control with aggressive grappling and clinch work (full play-by-play).  Lebout has a grappling heavy fighting style. He likes to instigate clinch when ever possible and go for takedowns from there. On the ground Lebout has good technique in both controlling his opponents and attacking with submission holds. Lebout isn't the biggest welterweight out there but he compensates that by being a well conditioned athlete with a large gas tank.
Mickael Lebout vs Aaron Bland at KK 5

Cage matchmaker Olli Hartikainen commented the match up to MMA Viking:
"Lebout got robbed out of a win when he fought Musoke in Sweden last year. And after a close fight Puolakka got choked out by Musoke  at Cage 18. Puolakka is on terrific physical shape right now. Tuomas Murdoch's coaching has done wonders to him. Quickly rising Finn is very close to getting a shot at the Cage welterweight belt. Victory from this fight would seal the deal"
Summary: This fight should be a high paced, back n forth battle with lost of exhausting clinch work, submission attempts and large volume of punches thrown. Puolakka should hold the advantage on the feet with crisper striking. The Finn should also have the size advantage on his side. On the ground things are dead even with both guys coming in with slick and aggressive submission games.