MMAViking is in Fryshuset, Stockholm reporting from tonight's event Vision Fighting Championships 5, one of the years most anticipated events in scandinavia. Unfortunately as most of you know the feather weight bout Between Niklas Bäckström and Martin Svensson is cancelled after Svensson failed to make weight.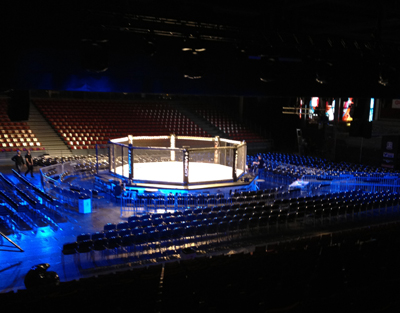 The doors has opened and people are beginning to take their seats. The first bout was schedule to start at 18:00 but hasn't started yet. below you'll find tonights most up to date fight card.
Oskar Sollevi 3-1-0 vs. Botan Tokay 3-0-0
Oskar Sollevi has made his way to the cage as Botan Tokay makes his way to the cage followed by top fighters Assan Njai and Joakim Engberg.
Round 1
Both fighers are trying to get some shots off and the fight goes to the ground, Sollevi on top in Botans guard. Botan lands an up kick to the chin of Sollevi from the guard. Didn't look like it was intentional. Sollevi gets some time to rest. Doctor comes in and has a look. Sollevi seems dazed. The bout is stopped by the doctor. Sollevi wins by DQ. Unfortunate ending to the nights first bout.
Jonatan Salminen Pro Debut vs. Dennis Erdogan 0-2-0
Next fight is up. Erdogan makes his way to the cage to the tunes of Bob Marley. A lot of pressure on Erdogan, coming off a two fight loose streak. A little more than half of the seats filled as the second bout of the night is about to start.
Round 1
And we are off. Bout number two has started. Salminen takes the center of the cage and lands a good 1-2 combo. Erdogan lands a strong straight left that stunns Salminen. A lot of blood pouring from Jonatan, or from both. Erdogan has Salminen clinched up against the cage. Salminen turns it around and lands good knees from the clinch followed by some huge punches that drops Erdogan and the ref steps inn. Winner by TKO Jonatan Salminen.
Håkon Foss 1-0-0 vs. Nicklas Danielsson 1-0-0
Jack Hermansson and Mohsen Bahari in Foss´s corner. Though fight for Foss as he faces prospect Nicklas Danielsson. Both of the made appearances at Vision Fight Night in Karlstad this spring. Foss won by armbar and Danielsson with a TKO victory over Dennis Erdogan.
Round 1

Front kick TO THE FACE lands by Foss early in the round. Danielsson takes the center and lands a huge right overhand that drops Foss. Foss tries recover and works a high guard but gets passed. Danielsson advances to half guard. Foss survives the early onslaught of Danielsson. Foss regains guard but is limited in his movement as he is pressed down against the cage. Nicklas works his ground and pound and connects with a few punches, nothing major though and the ref stands them up. Foss presses forward and is welcomed with some hard looping punches that lands hard. Danielsson gets one last takedown before the round ends. Strong first round by Danielsson.
MMAViking scores the round 10-8 to Danielsson
Round 2
Danielsson looks to get a takedown in the beginning of the round and they end up in the clinch. Referee breaks them up. Danielsson looks for the takedown again after a brief exchange. They end up on the ground after Foss misses a flying front kick and gets tagged mid air, Foss reverses and ends up on top for a brief moment and tries for an armbar, he is unsuccessful and loses position. Foss is mounted briefly before getting back to guard. Foss tries for a triangle but Danielsson slips out. End of round 2.
MMAViking scores the round 10-9 Danielsson.
Round 3
Foss comes out aggressive, to aggressive and gets put on his back again. Foss looks tired as his corner screams at him to get up. The ref stands them up and Nicklas looks to take him down, Nicklas does not want to keep this fight standning. Foss throws sloppy kicks that Danielsson catches. A kick possible landed to the throat of Danielsson on the ground stops the bout and the doctor is called in to have a look at Danielsson. After having a look at the replay it appears that Foss hit the eye of Danielsson. The fight continues and Danielsson takes Foss down once more. Powerful wrestling displayed by Danielsson. The referee stands them up again. Foss misses with an uppercut and gets mowed down again. Poor takedown defense shown by Foss. The round ends and it's pretty clear who will get his hands raised by the end of this bout.
MMAViking scores the round 10-9 Danielsson
The winner by unanimous decision is Nicklas Danielsson.
Main Card
Cheryl Flynn Pro Debut vs. Pannie Kianzad 1-0-0
We are live again and it's time for tonights womens bout. Pannie walks in with a "just bleed" t-shirt, very classy.
Round 1
Pannie engages early and lands with a few nice ones. Pannie has Flynn against the cage methodically landing punches from the clinch. Flynn doesn't have an answer for Pannie. Pannie is just picking her shots in the clinch. The ref Bobby Rehman steps in and stops the bout, more because of Flynns inability to defend herself intelligently than of actual damage by Pannie.
Winner by TKO Pannie Kianzad.
Lauri Väätäinen 6-5-1 vs. Fernando Gonzalez 3-0-0

Fernando looks focused coming down the catwalk. The only HILTI fighter getting to fight in tonights event out of the four original, Bäckström, Mohamad Babadivand and Frantz Slioa.
Round 1
Huge crowd support for Fernando as the bout start. Lauri opens up with fancy kicks and Fernando takes the fight to the ground and goes for a kneebar. In practice Fernando has been looking really good on the ground, something he displayed in his last outing at The Zone where he defeated prospect Per Franklin (4-1) with a guillotine. Fernando passes and establishes his position. Lauri scrambles to get up but gets caught with a tight guillotine and taps!
Winner by submission Fernando Gonzalez
Frantz Slioa 3-0-0 vs. Carlos Prada 3-3-0
This bout has been canceled. The rumor is that Prada hasn't brought medical documentation from the doctors check.
Glenn Sparv 5-1-0 vs. Jonatan Westin 4-2-0
Round 1
Sparv is the bigger fighter out of the two. Once again a huge crowd support for the local fighter. Westin lands big early and drops Sparv. Sparv gets half guard and is trying to recoup but Westin gets mount and lands punches before getting back in Sparvs half guard. Sparv gets guard but Jonatan lands with big ground and pound. Westin passes to half guard. The referee might stand them up if nothing happens. Westin passes and looks for the crucifix position. Sparv looks for a kneebar but gets punished by the Swede. Westin mounts and looks for the RNC. He doesn't get it and lands some huge punches. Will Sparv be able to last to the end of the round? He does! Impressive grappling displayed by Westin.
MMAViking scores the bout 10-9 to Westin.
Round 2
Both men comes out swinging, no one lands though and they end up in the clinch after a failed take down attempt from Westin. Sparv reverses and lands a couple of punches that dazes Westin. Westin clinches and his corner wants him to work for the take down. Good take down defense from Sparv though. Sparv looks so calm, calm in the way only finish people can do. Westin gets the takedown after being reversed in mid air by Sparv, he's got top side position with 30 seconds left.
MMAViking scores the round 10-9 Westin.
Round 3
Sparv stands upright exploiting his chin as the third round starts. He's probably looking for a finish (no pun intended) in this round. Westin needs to pressure Sparv so he can't get his shots off. Westin looks a little bit tired though, a lot of muscle on that kid. Westin catches a kick and takes Sparv down. Weston passes but Sparv regains the guard. Sparv need to make something happen here. Sparv bitchslaps Westin as he tries to pass and the ref stands them up. Jardinesque punches from Sparv in the end of the final round, it's not enough to get the W. Sparv looks happy though.
The verdict is in and the winner is, Jonatan Westin via a majority decision!
Olivier Pastor 17-11-0 vs. Joni Salovaara 11-5-0
Round 1
We are off. Big kicks by Pastor. Salovaara cathces a kick and takes Pastor down. Surprisingly many finns in the crowd giving Joni support. Pastor reverses and end ups in top half guard. Very slick reversal. Not many punches landed on the ground, by any fighter. Referee Bobby Rehman stands them up. Joni lands some kicks off his own, ducks under a hook and takes Pastor down. Someone in the crowd yells something in finnish ending in heelhookki, I think that means heel hook. The round ends with not much action taking place.
MMAViking scores the round 10-9 Joni "Heel Hookki" Salovaara.
Round 2
Pastor connects with a punch that sends Salovaara wobbling. They end up in the clinch against the cage. Both fighters are having trouble pulling anything of significance off. Salovaara lands a whizer take down and is looking to pass Pastors half guard. Few to none punches thrown by Salovaara on the ground. The ref might stand them up again with 40 seconds left. Pastor is looking for a Kimura, he swithches to an armbar but Jani gets loose for a brief moment before getting caught in a triangle just as the time runs out.
MMAViking scores the round 10-10
Round 3
Very tentative striking from both fighters. They are very evenly matched but neither of them seems to find their game. Pastor takes Salovaara down but not for long. Pastor is looking to land big now and Jani takes him down. Salovaara looks to land more punches on the ground now. Pastor is being active off his back though, threatening with sub attempts. The ref stands them up again and Pastor stalks Jani.
MMAViking scores the round 10-10
The verdict is inn and we have a winner by majority decision, Joni Salovaara.
Co-Main Event
Mickael Lebout 7-1-0 vs. Nico Musoke 9-2-0
Huge home town support for Nico Musoke. Nico is one of the most promising fighters in Sweden and looks to put another win on his record.
Round 1
Nico is looking to land big, getting in close before letting his hands go. Solid striking by Nico who is landing methodically. A well placed right hand puts the french fighter on the canvas. Nico lets him up. I smell a knockout coming. Nico is stalking but the french fighter isn't giving up whitout a fight. Nico gets a takedown but stands up again. Lebout goes for a take down but Nico remains standing. Nico separates and lands another solid punch to the dome of Lebout. Lebout goes for another takedown but gets reversed by Nico who ends up on top. Very solid first round by the swede.
MMAViking scores the round 10-8 for Nico Musoke.
Round 2
Big leg kick landed by Nico, and again! Another heavy leg kick landed, and once more! Nico is landing that right hook all day! Nico is not rushing this but taking is time. Lebout counters and tosses Nico on his back. Nico is working his wall walk but Lebout is looking for an opening. Lebout mounts! and is starting to drop heavy leather on the swede. Lebout takes Nicos back and is looking for a RNC, Nico however is remaining calm. 40 seconds remaining of the round. Nico reverses and just barely avoids a triangle from Lebout. The round ends and Lebout walks back to his corner looking very tired as oppose to Nico who looks very fresh.
MMAViking scores the round 10-10
Round 3
This round will determine this bouts victor. Nico opens up with another lowkick. Lebout is looking for a takedown but Nico is doing a good job defending. Lebout takes Musoke down, just briefly though as Nico stands up. Both fighters look tired now and Lebout is taking control if this round with offensive clinch work. one minute left in the round. Lebout gives everything he has with ten seconds left. Lebout won this round.
MMAViking scores the final round 10-9 Lebout
The score cards are in and we have ourselves a… draw!
Main Event and Feather Weight Title Fight.
Artemij Sitenkov 14-8-0 vs. David Häggström 6-1-1

In the pre fight video Sitenkov said "I know I'm a foreigner fighting in Sweden so a win by points is not an option for me". Lets hope we see a main event with some mean intent by both fighters.
Round 1
Sitenkov clinches early and pulls guard. Sitenkov is working his rubber guard. Threatening with both armbars and triangles. Häggström has not been able to throw a single punch from the top so far. The ref stands them up and Häggström is now pressing forward. Häggström is actively avoiding Sitenkovs clinch and is now beginning to find his mark with both kicks and punches. And now knees. Very impressive striking on display by the swede. Sitenkov did a wise thing pulling guard early. Let's see if häggström allows that to happen again.
MMAViking scores the round 10-9 for David Häggström
Round 2
Sitenkov is moving forward with knees from the clinch. Häggström counters and clinches allowing Sitenkov to jump guard again. The ref stands them up again, a bit early one might think. A swift headkick landed by Häggström before he gets pulled down into Sitenkovs guard again. David passes after Sitenkov tries for a leglock. The ref stands them up again. Sitenkov clinches after a front kick by David and jumps guard again. Sitenkov is looking for submission but the ref stands them up again. The round ends and David takes this round home too.
MMAViking scores the round 10-9 Häggström
Round 3
Sitenkov clinches and rolls for a kneebar, David defends but this isnt't over yet. David establishes top position and passes to side control. The interesting thing is that Häggström hasn't been able to throw more than a few few punches from the top. That shows that he has to respect and nullify Sitenkovs submission game a lot. Sitenkov is always active and dangerous. The ref stands them up and Häggström lands a front kick to Sitenkovs face. Sitenkov closes the distance and jumps guard once more. one minute left on the clock and Sitenkov needs to make something happen fast. The ref stands them up and Häggström lands a big kick to the midsection dropping Sitenkov. Sitenkov taps as Häggström is pouncing and the bout is over. Winner by submission, David Häggström!