Cage Featherweight Title Fight: Tom Niinimäki, Finland (19-5-0) vs. Walel Watson (11-5-0), USA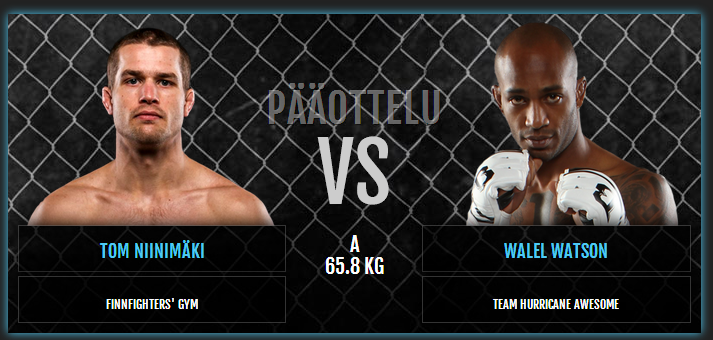 Cage featherweight champion Tom "Stoneface" Niinimäki defends his belt again against an American challenger that is this time UFC veteran Walel "the Gazelle" Watson.
Finland's Tom Niinimäki has been patiently waiting for his shot at the Big League. While doing so the Finn has racked up amazing ten consecutive wins with six finishes. Most of the wins have come over high quality opponents like Chase Beebe, Brian Pearman, Sergej Grecicho and Yunys Evloev to name a few. At Cage 22 Niinimäki defended his belt against former WEC champion Chase Beebe. The fight was pretty one side affair as Niinimäki outstruck and outgrappled the gutsy American for three rounds. As a fighter Niinimäki is a complete package. His striking is crisp and technically sound with punches, kicks and knees in his arsenal. Niinimäki's wrestling and ground game are also top notch these days, thanks to hard work with the grappling wizards at the famed FinnFighters' Gym. Niinimäki is a sizeable featherweight with a good gas tank.
Walel Watson is best known for his four fight stint in the UFC. Watson entered the promotion with a bang when he beat down Joseph Sandoval with kicks and punches in a minute in his debut at UFC Live 6. After the successful debut things didn't Watson's way as he lost the three next fight and got cut from the UFC. Against Yves Jabouin the American had a close fight that was mostly fought on the feet but in the fight against TJ Dillashaw he was completely outgrappled for three rounds. Mitch Gagnon cleaned Watson's clock with a hard punch and finished the job with a rear naked choke. Since getting released from the UFC Watson has had two quick fights against dudes with 0-9 and 0-14 records. Watson is an aggressive striker who specialty is his strong kicks. While Watson is skilled on the ground, it's his wrestling and takedown defense that has lead him trouble in many of his fights.
Summary: Watson will bring the heat to the cage with his fierce kicks and constant forward movement. While Niinimäki has the fire power and skills to answer Watson's attacks on the feet too, it would be safe to assume that the Finn will use his superior grappling to dictate where this fight will take place. Like Niinimäki showed against Beebe, he can throw even high level wrestlers on their heads when needed. While Watson has the reach advantage on the feet, it is Niinimäki who will have the advantage in size and strength.
Tom Niinimäki "Another Day, Another Dollar" Minidoc by CloudCutsCoop

Walel Watson vs Anthony Moore (0-14)